BTS' Formation Story Proves They Might Have More In Common With 1D Than You Think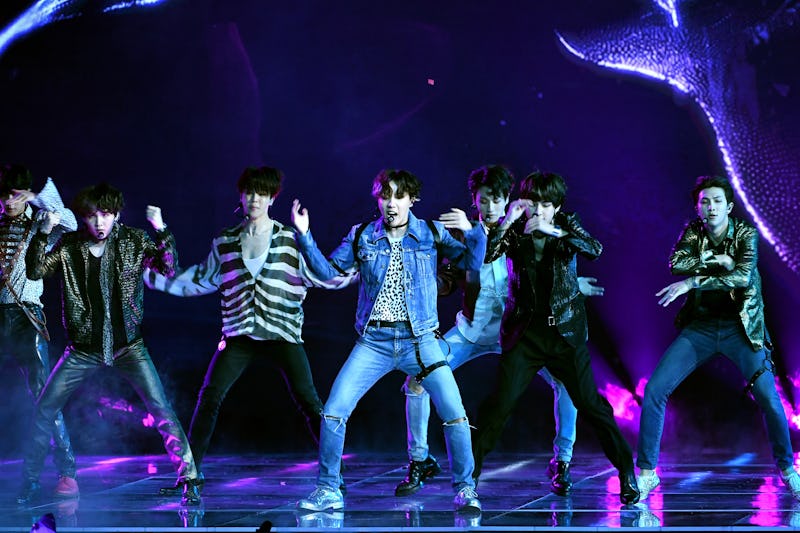 Kevin Winter/Getty Images Entertainment/Getty Images
BTS fans, or should I say stans, are probably the most ferocious and dedicated out of any base right now. Known as "The BTS Army", they've spread the word of the K-pop band globally, so that soon enough, you won't be able to miss them. Hailing from South Korea, BTS — which stands for "Bangtan Sonyeondan" ("Bulletproof Boy Scouts") or "Bangtan Boys," not "behind the scenes" — are surely the biggest boyband on the planet. The storm's about to hit the UK as there's just a few months until they bring their "Love Yourself" tour over here, but how did BTS first form?
The band is made up of seven boys — its frontman RM (Rap Monster), alongside Jin, Suga, J-Hope, RM, Jimin, V, and Jungkook. They first got together back in 2010, but it's only recently that they've scored international success. That might be down to the increasing globalisation of music. Most of BTS' lyrics are in Korean, but that doesn't seem to bother English speaking fans anymore. There's been a boom of global flavours on the radio, the biggest example being the enormous Latin hit "Despacito". And now BTS are climbing the UK charts too.
This month they were the first K-pop band to enter the UK's Official Vodafone Top 40 with their catchy hit "Idol". The track reached 36 of the charts, only two days after it was released. It's also amassed 113 million views on Youtube as of writing, just 6 days after its release. In fact, in broke Taylor Swift's "Look What You Made Me Do" record for the most streams in 24 hours on YouTube, as Billboard reported. "Idol" also topped the iTunes Worldwide Chart over the weekend, as Metro reports, beating big hitters to the top from the likes of Ariana Grande.
The seven boys were originally picked over a series of auditions in 2010, as ET reports. The ginormous South Korean conglomerate Big Hit Entertainment hosted them, with the view that they would be making the next global success story. They've achieved it. As CBC reports, the band then went into dormitory style boot camps, where they learned all the skills necessary to be a successful pop-star. It wasn't until three years later, in 2013, that the band made their debut with their album 2 Cool 4 Skool, which peaked at number 14 on the Gaon Album Chart. They worked hard to do it, too. The band later told Adele Roberts of BBC Radio 1 that "When we had our debut, we practiced 12-15 hours a day." They didn't quite reach the heights of international fame until 2017 when they won the Top Social Artist at the Billboard Awards. Their win marked the band's breakthrough in the U.S., which very quickly trickled down to the UK.
What makes them stand apart from most K-pop acts is that BTS write most of the lyrics themselves. "At first, they didn′t participate a lot, but these days, they′re really into it," rapper Suga told M Wave in 2017. They often choose to write songs that are socially conscious, covering themes like mental health and even LGBTQ rights, as reported by SBS. The latter is a highly contentious issue in South Korea, with same sex love still being punishable with one year in prison. It just makes the band even more commendable for speaking out on it.
Although there aren't fixed roles in the band, Rap Monster is the clear leader. BigHit Entertainment CEO Bang Shi Hyuk revealed to Xports News last year that after seeing him rap, Hyuk was inspired to create a hip hop group. But BTS have become so much more than that. They're all dancing, singing, rapping, preaching dewy skinned boys who are not only set to take over The O2 in a few months' time, but the entire world for many years to come.