Kim Jong Un's American BFF Is Apparently Going To Be In Town For The Trump Meeting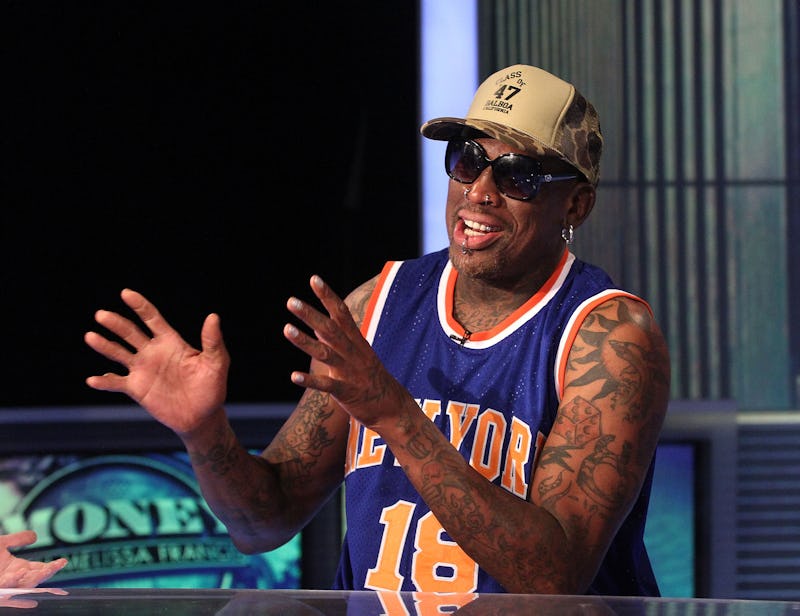 Laura Cavanaugh/Getty Images Entertainment/Getty Images
The two could not be any more different. One is a former NBA star known for his wacky antics and the other, a dictator commonly linked to human rights abuses. Dennis Rodman and Kim Jong Un came to meet years ago, and the most unlikely friendship between the basketball celeb and North Korean leader has lent Rodman a special status in North Korea. It means something on the international diplomacy scale too: Rodman will apparently be in Singapore for the unprecedented summit between Kim and Trump, according to the New York Post. In fact, the former Chicago Bulls player could even be a part of the negotiations between the two leaders.
"No matter what you might think about his presence. One thing's for sure — the ratings will be huge," a source said to the New York Post. "A lot of times, in situations that involve complex diplomacy, countries like to identify ambassadors of goodwill, and whether you agree with it or not, Dennis Rodman fits the bill."
Rodman has certainly built up that good will. The 6'7" five-time NBA champ first met with Kim in 2013, after being invited to the communist country, according to The Guardian. The invitation was based on childhood idolization; Kim was a fan of the Chicago Bulls in the 1990s, when Michael Jordan cleaned up that decade with six championships. Playing right next to Jordan was Rodman, who established himself as one of the best defensive players during that time. But though his basketball skills were strong, it was his loud hair colors, lots of piercings, and wild, off-court activities that kept his media spotlight warm. When Rodman met with Kim, the two apparently got along well, with Rodman saying some nice things afterward about the dictator.
Since then, Rodman has visited Kim a total of five times. According to Business Insider, the baller sees himself as a sports ambassador to North Korea and gives himself part of the credit for the historic summit. There is no question that Rodman occupies a unique position. He is one of very few American citizens who has met face-to-face with the leader.
"I don't want to take all the credit. I don't want to sit there and say, 'I did this, I did that.' That's not my intention," Rodman told TMZ in an April interview. "My intention was to go over and be a sports ambassador to North Korea so people understand how the people are in North Korea. I think that has resonated to this whole point now."
For Kim's birthday last year, Rodman presented a copy of The Art of the Deal, Trump's ghost-written book that's part memoir and part negotiation how-to. Apparently, the gift helped the supreme leader better understand President Trump and who he is.
"I think [Kim] didn't realize who Donald Trump was at that time, I guess, until he started to read the book and started to get to understand him," Rodman said to TMZ. "Donald Trump and Kim Jong Un are pretty much the same."
Interestingly enough, Rodman also has a connection to Trump. The former basketball star was on NBC's reality show The Apprentice but was given the boot and a resounding "You're Fired!" after he misspelled Melania Trump's name on a poster. Rodman had written "Milania" instead.
The president and Kim are set to meet at the Capella Hotel, a luxury resort located on Sentosa Island in Singapore, according to the New York Post. The resort is as nice as it gets, with coastal views and a lush rainforest backdrop. The two are expected to discuss the denuclearization of North Korea as well as sanctions on June 12 in the morning — which will be the night of June 11 in the United States. It's true that this summit is unlike anything we've seen before, and with the possibility of three unpredictable personalities working together, global diplomacy has never been more fascinating.