Doug Jones Got Into Politics Way Before That Senate Seat Opened Up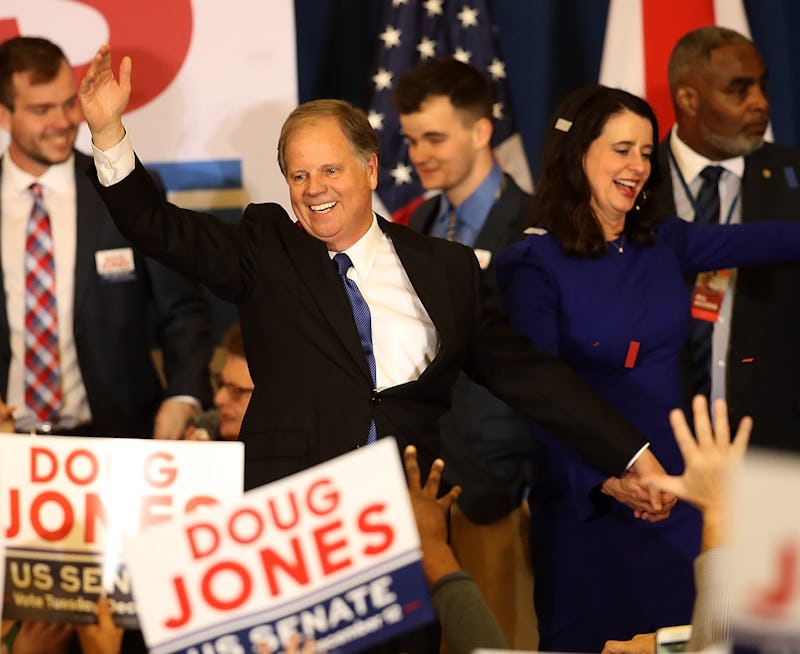 Justin Sullivan/Getty Images News/Getty Images
For the past several months, all eyes have been on Roy Moore, the former Alabama judge who was largely expected to win a Senate seat in the December special election. But following a stunning victory on Tuesday, many are turning their attention to Doug Jones, a lawyer who got into politics and has now become Alabama's first Democratic Senator in decades.
Though Jones has been largely overshadowed by his opponent, he's an experienced lawyer in his own right, having been involved in several high-profile legal cases. The most well-known of his cases were the prosecutions of two Klansmen involved in the bombing of a Birmingham Baptist church. The bombing, which took place in 1963, left four girls dead.
The men responsible were Ku Klux Klan members who weren't tried until 1977. At that point, Jones was a second-year law student who, according to The Washington Post, would skip class to sit in on the trial. Twenty years later, Jones was a U.S. attorney in Alabama who successfuly brought charges against two additional Klan members who assisted in the bombing.
Jones also secured an indictment against Eric Rudolph, an abortion clinic bomber who killed a police officer and wounded a nurse in 1998. Prior to being confirmed as a state attorney under then-President Bill Clinton, Jones served as a criminal defense attorney. He had made strides to get into politics before, though, briefly pursuing a Senate run in 2002 before facing fundraising issues that led him to drop out of the race. (According to the New York Times, the 2002 campaign ultimately fizzled before the primary even took place.)
Fundraising proved to no longer be an issue in 2017. According to Federal Election Campaign data, the Jones campaign out-raised the Moore campaign 2 to 1, raising $11.5 million altogether.
Jones' opponent was known for a string of flamboyant campaign appearances and controversial past behaviors. Jones himself, though, was more soft-spoken on the campaign trail.
Among his top priorities, according to his campaign website, were health care, the economy, the environment, and civil rights. That emphasis on civil rights — and Jones' support for the black community — ultimately helped take him over the edge in the December election. Some exit polls indicated that black voters, who account for 26 percent of Alabama's population, comprised 28 percent of voters in the election.
Political analysts have surmised that Jones' victory was, for some voters, ultimately about keeping Moore out of office. Though Moore caught heat in the final months of his campaign for allegations that he had behaved inappropriately with teenage girls, he had a long history of other controversial behavior. At a September rally, he said the last time America was "great" was before the Civil War — when slavery was legal — and in separate instances he had demeaned Muslims and the LGBT community.
As The Washington Post noted, black voters were the first group Jones thanked in his Thursday-night victory speech.
You know, I keep hearing about the different communities in this state. The African-American community, thank you. My friends — my friends in the Latino community, thank you. To all my Jewish friends, happy Hanukkah.
Overall, Jones provided a stark contrast to Moore. As many Moore supporters pointed out, Jones supports a woman's right to choose, though he has also said he supports Alabama's current abortion laws (which generally restrict late-term procedures). He also supports DACA and has rejected the construction of Trump's border wall between the U.S. and Mexico, saying the $20 billion it's projected to cost could be put to better use. On Tuesday, Jones became the first Democratic senator to be elected in Alabama in 20 years.