This British Royal Scandal Basically Changed The Course Of History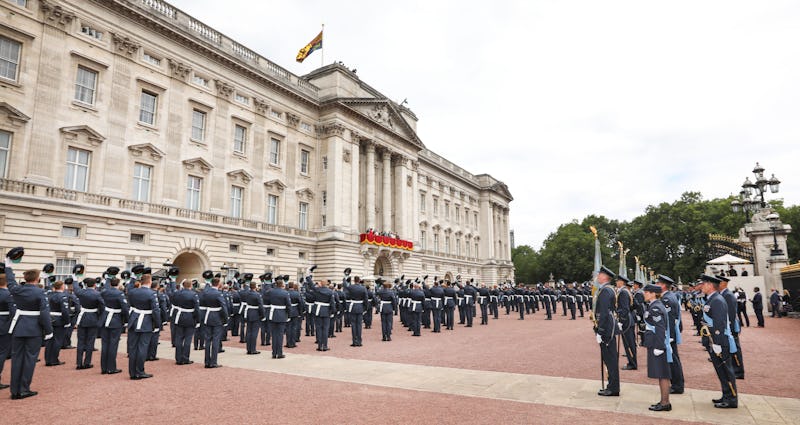 Handout/Getty Images News/Getty Images
There are chance meetings and seemingly minor conversations that change the course of history. When King Edward VIII met Wallis Simpson, they began a love affair that would cause him to walk away from his family, the monarchy, and his role as divine ruler of England — that's some serious stuff. The ABC two-part docuseries The Story Of The Royals premieres on Aug. 22 and explores not only their relationship but how it affected, well, the whole of the modern monarchy, but how did their paths initially cross?
Edward VIII's abdication is especially important because of England's previous rules of succession — when Edward VIII was king, the firstborn male in the family would be king, no matter if there were any women, per the documentary. But when Edward VIII said goodbye to all that, it made George VI the head of the British empire, and, because he had no sons, his daughter, Queen Elizabeth II, took to the throne when George VI died and has given us almost 70 years of uninterrupted rule — the longest, according to The Independent, of any British queen or king ever. If Edward VIII hadn't met Wallis Simpson and abandoned his post as king to be with her, well, history, as we know it, could be completely different. From one relationship!
According to E!, Maryland native Simpson ended up in England in the late 1920s because of her then-husband, Ernest Simpson, who was born in New York City to British parents. After the Simpsons got married, they headed across the pond, where they could hobnob with the elite of London society. Wallis Simpson met Edward VIII, then a prince, in 1931, E! reported, through her friend, Thelma Furness, who was actually involved with the prince at that time. Furness' sister, invited both the Simpsons, still then married, and Edward VIII, to a fox-hunting weekend at her home. The rest, as they say, is history.
Andrew Morton, the author of Wallis In Love: The Untold Life Of The Duchess Of Windsor, The Woman Who Changed The Monarchy, wrote in his book that Wallis Simpson aspired to queenly ascension, and when Edward stepped away from the monarchy in 1936, these dreams were dashed. According to Morton, there was no way Edward VIII could marry Simpson without causing a full-out constitutional crisis, and so, instead, he opted out of the whole mess to be with Simpson. As reported by Morton, Queen Mary, Edward VIII's mother, never got over the abdication, writing to him, "It seemed inconceivable to those who had made sacrifices during the war that you, as their king, refused a lesser sacrifice."
According to Morton, Simpson and Edward VIII's relationship deteriorated over the years, and when Edward VIII died in 1972, Simpson wasn't even in the room. She died, according to The Guardian, in 1986, two months before her 90th birthday. She is buried next to her husband, near Queen Victoria's royal mausoleum at Frogmore, near Windsor Castle (which is where Meghan Markle and Prince Harry got married in May 2018).
The same as any headstrong woman of her time, Simpson is frequently depicted in history as a scheming social climber. However, the only person who knows for sure what her aspirations were is Simpson herself, and she is no longer around to defend herself. One thing, though, is for certain — one chance meeting at a fox-hunting weekend in 1931 set off a relationship that would change the modern world as we know it.