Halsey & G-Eazy May Have Met In A Completely Normal Way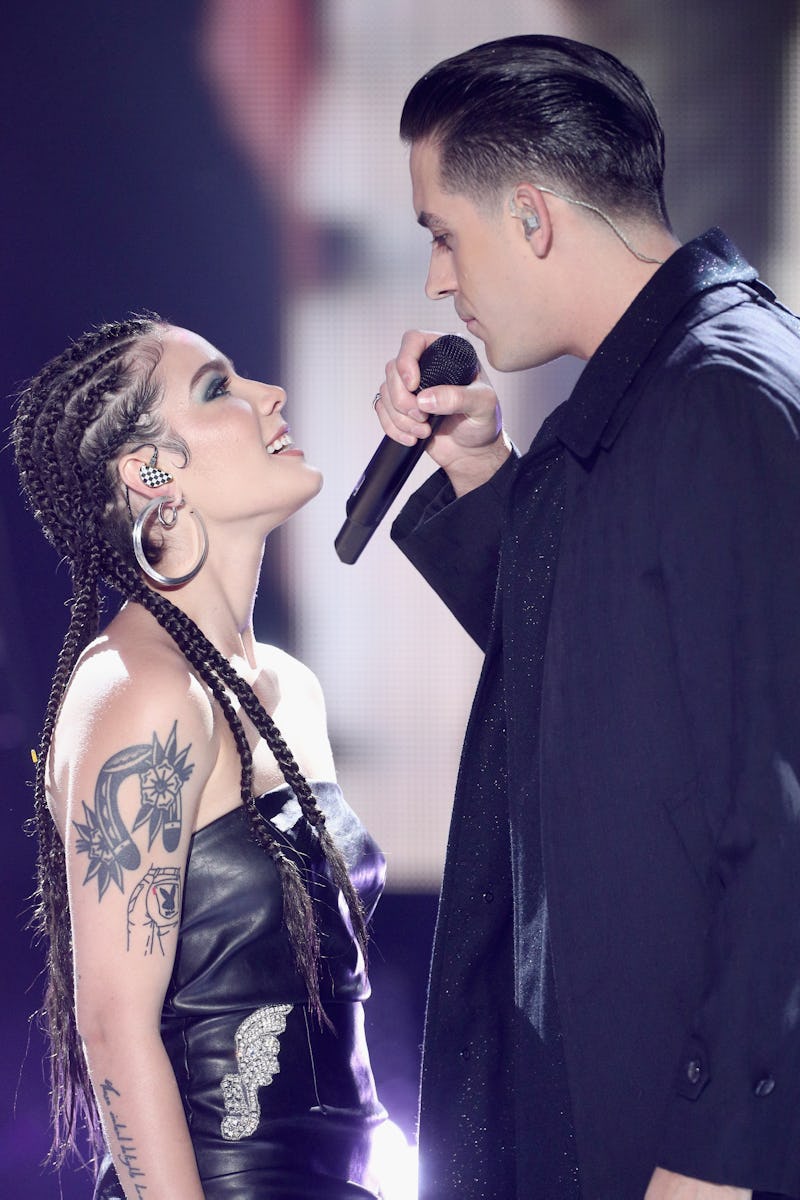 Frederick M. Brown/Getty Images Entertainment/Getty Images
Last August — in a move otherwise known as "the smooch that rocked the internet" — Halsey and G-Eazy shared their first-ever onstage kiss, cinching the debut performance of their now-hit duet, "Him & I." And, from that moment on, fans of the duo's musical partnership (turned real-life love affair) have been waxed obsessed with the nitty-gritty's of their relationship. In particular, fans are wondering how Halsey and G-Eazy first met. Because, while the couple's routinely mushy Instagram posts suggest they're definitely not hiding anything, neither musician has opened up too much about their romance's origins or exactly how they met.
"Him & I" is the second single off G-Eazy's fourth studio album, The Beautiful & Damned, which officially dropped via RCA Records on Dec. 5. The intense, sultry hip-hop track has gleaned massive popularity, both domestically and abroad. A few weeks ago, on Jan. 3, "Him & I" snagged the No. 15 spot on Billboard's coveted Hot 100 list. The track's budding success seemed to parallel the rumors of a potentially burgeoning romance between Halsey and G-Eazy, who've managed to incorporate a hearty dose of PDA into the vast majority of their joint musical acts, including the music video for "Him & I."
During a Dec. 21 interview with Paper following his album's release, G-Eazy addressed the swirling dating rumors and provided an exceedingly vague tidbit of information as to the story of how he and Halsey first met. "At a party, I'll leave it at that," the 28-year-old rapper said. And that was that. No mention of timing or locale; just "a party." Still, in an interview with Fuse immediately preceding the duo's debut "Him & I" performance, G-Eazy revealed that he'd been wanting to work with Halsey for quite some time. "I think she's an incredibly talented artist who has accomplished so much at such a young age," he said, singing the 22-year-old artist's praises. "She killed the record," he continued. And, judging by the couple's star-crossed antics both onstage and via social media, it seems safe to say that, at least, they've been reveling in their music-infused love affair since last summer.
Rumors of potential sparks between Halsey and G-Eazy took off as soon as fans caught wind of the duo's inaugural lip-lock (which played out onstage at New Orleans' historic Blue Nile music venue on Aug. 30, during G-Eazy's 2017 Bud Light Dive Bar Tour). And while the actual timeline of their relationship — especially in its early stages — remains somewhat unclear, from a third-party's perspective, the couple's grand tour de romance only seemed to pick up in the aftermath of that explosive first kiss. According to an eye-witness tweet following the performance, apparently, G-Eazy confirmed that Halsey was already, in fact, his "boo."
Then, following the Blue Nile show, Halsey penned and posted the first of what would eventually become an extended series of swoon-worthy Instagram posts about her musical beau. Accompanying a sort of sultry photo set of the pair performing "Him & I" onstage for the first time, Halsey wrote, "thank u baby," and tagged G-Eazy.
And thus began the epic, social media-fueled expose of the behind-the-scenes happenings of Halsey and G-Eazy's Just in case there's anyone out there who hasn't perused Halsey's Instagram account over the last several months, their romantic updates basically amount to this: lots of kissing, smiling, laughing, and cuddling, both on-stage and off. Seriously, though. Lots of kissing.
So, even though die-hard fans of their real-life love affair might not be fully aware of the in's and out's of the musical couple's romantic origins, rest assured: if Halsey and G-Eazy's public declarations of affection are any indiction of their real-life relationship, it seems the couple's romance (in keeping with their chart-topping record success) is still going strong.