How Ivanka Trump & Jared Kushner First Met Actually Makes So Much Sense
by Priscilla Totiyapungprasert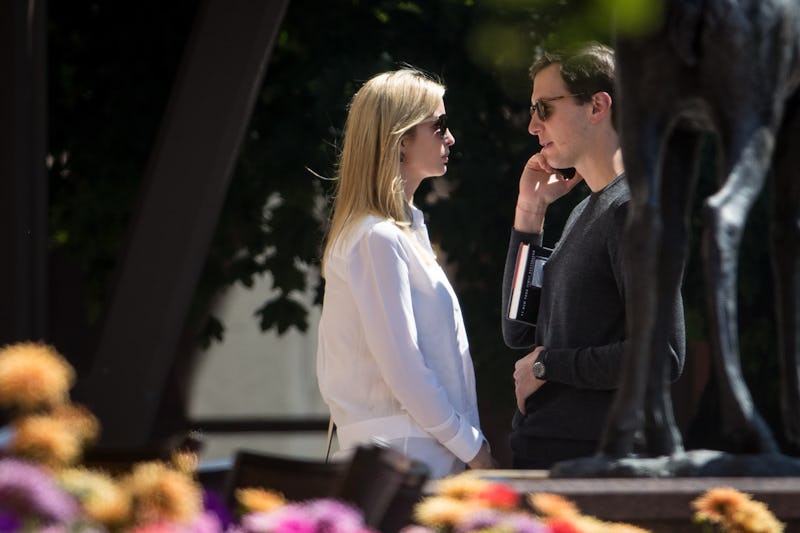 Drew Angerer/Getty Images News/Getty Images
They're probably the most famous power couple in the White House, but how did Ivanka Trump and Jared Kushner meet in the first place? Once upon a time, before they began working in the White House, Ivanka and Jared were just two wealthy New York business people falling in love. Nowadays people see them as the couple that was supposed to help moderate President Trump, their dad and father-in-law.
If you only have vague notions of what exactly Ivanka and Jared were getting up to before their foray into politics, you're not alone. But outside their jobs as senior advisers to the president, Ivanka and Jared do have personal lives and there was a time when they — like many couples — were dating, breaking up, and getting back together again.
For Jared and Ivanka, their story began with a networking meeting in 2007. A commercial real estate broker and another friend of Donald Trump set up a lunch appointment between the then 25-year-olds so they could talk business. "They very innocently set us up thinking that our only interest in one another would be transactional," Ivanka told Vogue in a 2015 interview. "Whenever we see them we're like, The best deal we ever made!"
Ivanka and Jared started dating quickly afterward. Their romantic relationship didn't stop real estate from being a continuous theme in their dates, however. The Vogue profile recounts a business conference where Ivanka describes a date night with Jared:
So, my husband's idea of a date night somehow always involves me looking at one of his development sites. So we went to this great restaurant in Brooklyn on Saturday, and all of a sudden I find myself standing on the roof of the Whole Foods in Gowanus in the pouring rain. At midnight. And he's showing me this giant site he just bought. I'm like, "Huh. So this is why you chose that restaurant."
Jared and Ivanka's work ethic, similar backgrounds, and hectic schedules also made it easier for them to understand each other's careers. "There are a lot of work-oriented dinners that he may have — and while a normal girlfriend in an unrelated field would find it incredibly boring — it's fascinating to me," Ivanka told New York Magazine in 2009, the year they got engaged. In the interview, Ivanka described Jared as her "hero" and their relationship as "very mellow," preferring to go to the park or have dinner parties with their friends rather than hitting the clubs.
Despite their seemingly strong compatability, the New Yorker reported, there was one thing that did cause them to split in 2008: religion. Kushner's parents raised him to be Modern Orthodox Jewish. Ivanka wasn't Jewish and the couple broke up over the religious difference. Jared and Ivanka later rekindled their romance, however, and Ivanka converted to Judaism so they could get officially engaged. To complete her conversion, she studied under a rabbi on the Upper East Side, reported New York Magazine.
In a traditional order of events, next came marriage and the baby cradle. Ivanka and Jared got married in 2009 and had their wedding at Trump National Golf Club in New Jersey. Over they following years they had three children together: Arabella, Joseph, and Theodore. Before Trump became president, home was a luxury, four-bedroom penthouse on Park Avenue.
But the family would eventually leave their glamorous NYC digs behind to follow President Trump to Washington D.C. No longer just figures in the New York socialite world, Ivanka and Jared are now well-known names throughout the country. And unlike during their New York days, the public is now closely watching how Ivanka and Jared are influencing — and not influencing — the Trump presidency. You can't help but wonder if 14 years ago, Jared and Ivanka ever imagined their lives taking a turn into politics.