All Signs Point To Kendall Jenner & Blake Griffin Being Set Up By These 2 Famous Friends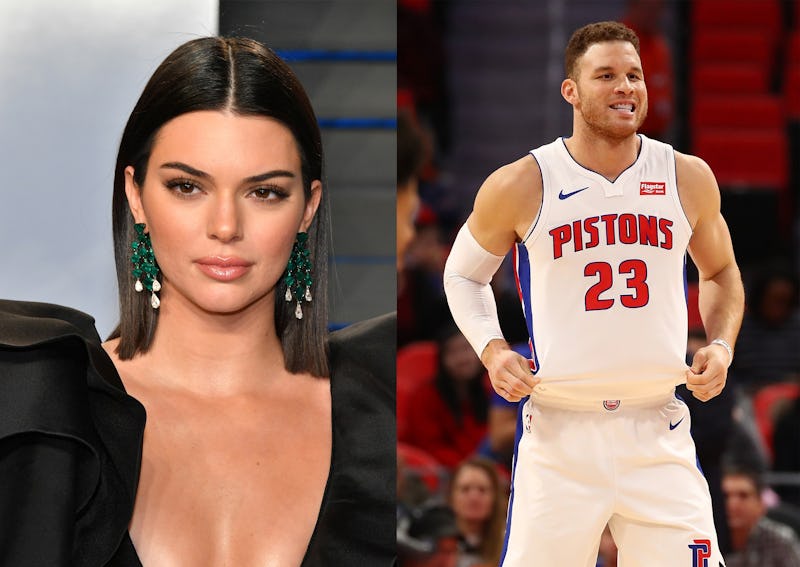 Dia Dipasupil/Getty Images Entertainment/Getty Images; Gregory Shamus/Getty Images Sport/Getty Images
It's been a little more than seven months since they were first spotted out together, but now that the reality star-turned-supermodel (kind of) opened up to Vogue about her maybe-boyfriend, fans might be wondering how Kendall Jenner and Blake Griffin met. In the interview published on March 14, Vogue spoke to Jenner after Valentine's Day, and asked her if she had a boyfriend. While she refused to divulge any specific details, she did mention that she was calling the reporter while "visiting a friend" in Michigan — which is where Griffin, a power forward for the Detroit Pistons, happens to be based.
"I like my private life," Jenner told Vogue. "Yeah... no. I'm happy. He's very nice," she said without naming a name. "I have someone being very nice to me."
Since Jenner and Griffin have been super tight-lipped about their are-they-or-aren't-they status, it's hard to say for sure how they first crossed paths. Based on some of their earliest outings, however, it seems as if they may have originally been set-up by friends — and, if Jenner's comments to Vogue in February are any indication, they are still being very nice to each other.
Rumors about Jenner and Griffin originally started swirling after they were spotted hanging out at a Hollywood club in early August 2017, according to TMZ. That same week, TMZ snapped them leaving a fancy restaurant, with each of them hopping in separate cars.
Paparazzi caught Jenner and Griffin going out to dinner again on Aug. 31, 2017, TMZ and E! both reported. They were joined by Jenner's friend Hailey Baldwin and Griffin's fellow NBA buddy Chandler Parsons, who a TMZ source said were not dating in a June 2017 report, but were just friends.
OK, bear with me here: Baldwin, as most Kardashian-Jenner fans probably know, has been friends with both Kendall and Kylie Jenner for years. Parsons, a small forward for the Memphis Grizzlies, and Baldwin were spotted hanging out by TMZ back in June 2017. Parsons and Griffin palled around a ton that summer, but Griffin was reportedly still engaged to fellow athlete, and mother of his two children, Brynn Cameron.
It wasn't until Sept. 7, 2017, however, that a source told Us Weekly that Griffin and Cameron had actually split back in July. So, if Baldwin and Parsons were hanging out over the summer, and Parsons and Griffin were hanging out over the same summer, and Griffin split with his fiancé around July, then it's probably safe to say that since Griffin and Jenner were first snapped together in August, they were likely first introduced by... Baldwin and Parsons. Phew.
Again, none of this has been confirmed by any of the parties involved (and probably never will be judging by Jenner's Vogue profile), but it kind of makes sense, right?
Jenner and Griffin have slowly eased into the public eye together over the last several months, and Jenner told Vogue that's the way she likes to play it when it comes to dating. While commenting on rumors that she is gay, she said, "I think it's because I'm not like all my other sisters, who are like, 'Here's me and my boyfriend!' So it was a thing for a minute because no one ever saw me with a guy." She continued, "I would always go that extra mile to be low-key with guys, sneaking around all the time. You don't want to, like, look crazy."
In the end, though, we may never know how or when Jenner and Griffin first met. (But, hey, Kendall: Can you send me a sign if my assumption is spot-on?) The only thing that really matters is that they're both happy, and that whoever is "being very nice" to Jenner keeps doing just that.