The Stars Of TLC's Newest 'Little' Reality Series Have Some Big Challenges Ahead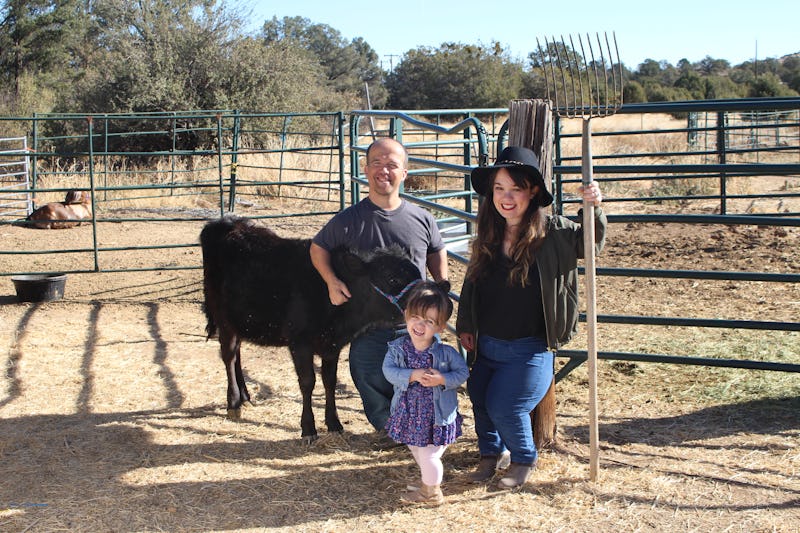 TLC
TLC is all about bringing a multitude of ways of life to the forefront of its programming, and with its newest venture, their audience will get a taste of what it's like to run a farm from the view of one particular family. Little Life on the Prairie is another home-life reality series, this one focusing on the Webnars, all of whom have achondroplasia dwarfism, per The Washington Post. But to set the clock back well before they decided to take on a working farm: how did Lauren and Nate Webnar meet?
Ahead of the Aug. 20 network premiere, there's little information out there about the family. The network's press release states that the now-married Webnars were raised in super different environments, so they didn't grow up together, and presumably met later in life. Nate "was raised on a hobby farm in rural Wisconsin, while Lauren is a quintessential city girl with zero farm experience," the release says. The two also appear to lay pretty low on social media, so there aren't any juicy Instagram or Twitter details to glean about the origins of their relationship.
But in the first few moments of the season premiere (which was made available online last week for those with a cable subscription log-in), Lauren reveals that the two met at a birthday party for a mutual friend, and from there, their relationship was pretty much a done deal. "I thought he was very handsome and he had a warm smile, and it was just easy," she says.
Judging by the promos, that's about the only thing that'll be easy for the couple and their family as they adjust to life on a farm after years of living in the city. Nate and Lauren are shown grappling with the fact that between the plans for the farm and their journey to have another child, their lives' savings are pretty much spent, putting an added pressure on all their endeavors.
They want a bigger family, and have an adorable 4-year-old daughter, Juniper, already. But their achondroplasia dwarfism has lead to them conceiving two other children who were unable to survive outside the womb. The trailer shows the couple dabbling in IVF treatments, and all the stresses that come with trying to facilitate a healthy pregnancy and birth.
According to the U.S. National Library of Medicine's website, achondroplasia dwarfism is the most common form of short-limbed dwarfism — it affects 1 in 15,000 to 40,000 newborns. And according to the National Human Genome Research Institute, when both parents have achondroplasia, the chances of them having a child with "normal stature" is only 25 percent, so it's not uncommon for additional complications to arise as a family tries to grow.
Lauren and Nate have gone through so much together already, even before a camera crew was hired to document their every move. They definitely seem to have done their homework when deciding what they want to do in all aspects of their lives, and it's clear that they haven't let any condition stop them from working toward their goals. They're just a family trying to make the best decisions for themselves, which is something anybody can relate to, no matter their circumstances. So when Little Life on the Prairie airs, the Webnars will have plenty of people rooting for them.