Mandy Moore & Taylor Goldsmith's Relationship Is Adorably Normal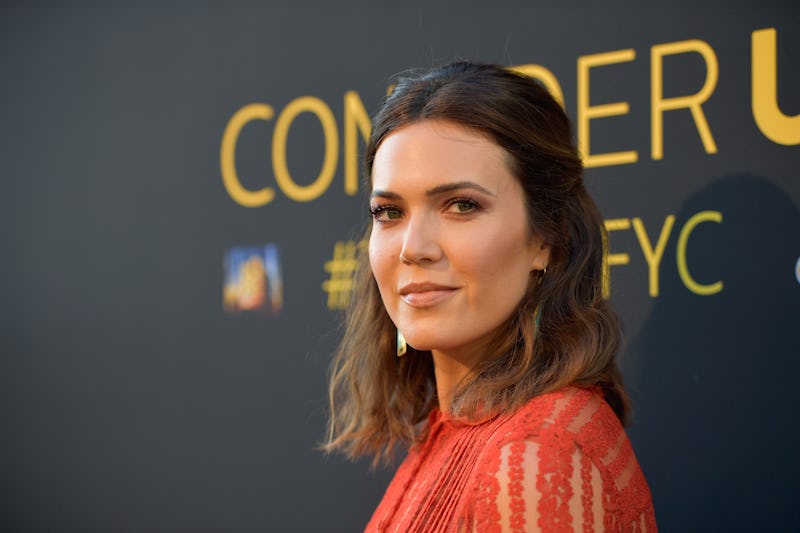 Matt Winkelmeyer/Getty Images Entertainment/Getty Images
Mandy Moore may be involved in one of the cutest love stories ever on This Is Us, but she's found love offscreen, too. According to E! News, she's engaged to musician Taylor Goldsmith. So, how did Mandy Moore and Taylor Goldsmith meet?
The two have been going strong for about two years. Yet, the couple has yet to confirm how exactly they met, which isn't surprising since they are usually a low-key, private pair. That said, with them both being musicians, it's possible being in the same circle brought them together since Goldsmith is a member of the band Dawes. And even though they haven't shared how they first got together, Moore has shared some cute photos and tidbits about her relationship, including when they started dating.
Moore was previously married to singer Ryan Adams, but the two called it quits after six years of marriage in 2015. She's since opened up before about how she's in a really happy place now. At a Create & Cultivate conference, the actor told her friend Raina Penchansky (via Us Weekly),
"I love my community of friends and family. I love my life right now ... I'm in a wonderful relationship and I have a job that I love and I'm so challenged by and satisfied with. That kind of makes all the difference."
Moore doesn't speak out on her relationship with Goldsmith often, but she did talk about her beau to InTouch Weekly and only had the sweetest things to say about him. Moore told InTouch, "I am very happy! [Taylor] is a gem of a person. I really lucked out." Sounds like things couldn't be going better for the pair.
According to Moore's own Instagram post from July 12, she and Goldsmith have been dating for about two years.
Moore captioned the photo, "The best 2 years. Never not smiling with you, T." Since the photo was posted in July, it's safe to say that Moore and Goldsmith have been dating since around that time in 2015. Hopefully, Moore will show off her sparkler when she hits the red carpet at the Emmys to celebrate This Is Us' 11 nominations. Maybe she'll even offer up some more details on their relationship.
While she hasn't confirmed the engagement herself, her This Is Us co-stars couldn't wait to gush about the good news. Chris Sullivan, who plays Toby, told Us Weekly, "It's pretty great. Her now fiancé, Taylor, is quickly becoming one of my favorite people. He and I just finished doing some recording together. I think that they are a beautiful pair."
Jon Huertas, who plays Miguel, told Us, "My TV wife is engaged! I'm happy for her. I want her to join the club. We can talk marriage stuff. I don't [know] if they're thinking about kids yet."
The two may not be thinking about kids at this moment (although, Moore has said, "I want to have kids in the next couple of years."), but they surely are thinking about something they have in common: music. Goldsmith is currently the major musician in the relationship as the frontman for Dawes, but Moore was a singer in her own right. Who could ever forget "Candy"? She seems to be getting back to her music roots as Rebecca Pearson on This Is Us. Maybe her fiancé will inspire her to get back into releasing her own music?
Moore has also inspired her future hubby. The actor starred in Dawes' latest music video for "Roll With The Punches". Thankfully, things are going much better for Moore and Goldsmith in the real world.