'RHONJ' Star Margaret Josephs Met Her Husband In A VERY Dramatic Way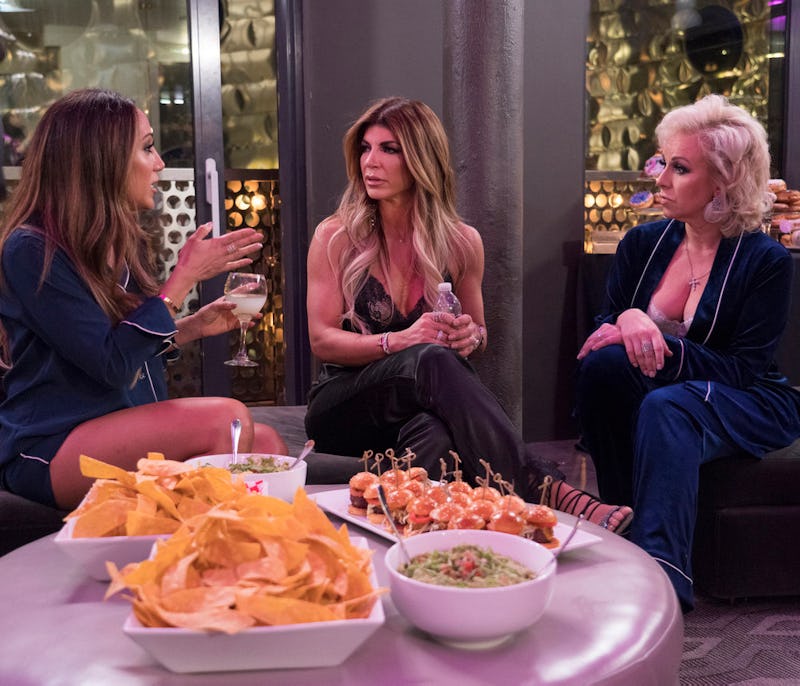 Greg Endries/Bravo
It's not every day that a Real Housewife is in a happy, healthy relationship — many of the women end up divorced or single, making the "housewife" moniker a real misnomer. But in the case of New Jersey's own Margaret Josephs, well, she found a good man and kept him around. So how did Margaret Josephs and Joe Benigno meet, anyway? This Real Housewives Of New Jersey pair is the real thing (pun intended).
The one bad thing about this relationship is that Margaret and Joe met while she was married to her ex-husband, Jan Josephs. According to Bravo, Joe was working for the Josephs as a contractor when Margaret and Joe started having an affair. Is it kosher? Not exactly. But life is infinitely complicated, as any adult person knows, and sometimes, you fall in love with a person that you're totally not supposed to be falling in love with. Maybe Margaret should have ended her marriage sooner, but that's not always easy, either. In an interview with fellow Bravo Housewife Brandi Redmond, Margaret explained that she was able to pinpoint the exact moment when her "torrid affair" with Joe became something more. She said:
"One time, Joe and I stayed at a hotel together. The Bowery, we used to stay there, when we were having our torrid love affair. It was snowing; there was a snowstorm. But it was puddles, puddles, puddles, and we had to get in a taxi, and it was huge puddles. Of course I had my high heels on, and he didn't want me to step in the puddle. So he stepped in it with his boots on so I could step on his foot to get into the cab. I was like, I'm totally marrying this guy."
Real Housewives Of New Jersey frequently shows both Joe and Margaret canoodling, so it's nice to see that their years-long relationship is still going strong. But that's not to say that it's been easy for Margaret after being with Joe. She is close to Jan, her ex-husband, but according to an interview with Entertainment Tonight, getting her stepchildren — with whom she had a falling out with after she divorced their father — to speak to her again has been difficult.
"It's not that we don't text message, and I check in on them and I also have my [biological] son … who I'm very close with, [and] he's always with his brothers and sisters," she told ET. "So it's just, we're not together at holidays. We're not together every day. We don't speak every day. So, we're disconnected … we're not totally back together, but we're working on it.
Margaret went on to say that even though her stepchildren were grown when she and Jan divorced, it didn't make it easier. "It didn't make a difference how old everybody was, we were all so close and spent so much time together, I think it cut very deeply," she said.
For now, Margaret is working on the relationships from her past and focusing on her future with Joe, one fabulously decorated Real Housewives Of New Jersey party (remember her birthday fete?) at a time.