Mark Hamill Met His Wife At A Very Unexpected Place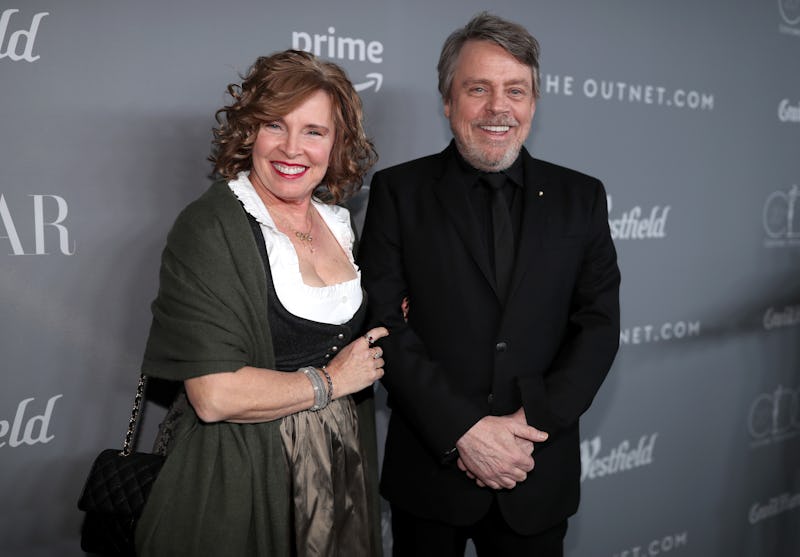 Christopher Polk/Getty Images Entertainment/Getty Images
While it may seem like every celebrity couple is breaking up these days, there are some Hollywood legends who'd beg to differ. For example, Mark Hamill and Marilou York have been married for almost 40 years. And if their appearances at red carpets together are any indication, they're just as happy now as they were when they got married on December 17, 1978. So just how did Mark Hamill and his wife meet? The story might surprise you — and it has nothing to do with Hollywood.
Hamill shared with People magazine in 1981, he and York met during one of his routine dental visits. York was working as a dental hygienist — and apparently, when she walked into the waiting room, Hamill liked what he saw, as he explained in what is now a very dated sounding interview.
"She came into the waiting room in jeans, white coat, breasts like melons, looking like a Vargas painting," Hamill told People. "I said, 'They let you dress like that at work?' She said, 'Yeah. Next.'"
Hamill's comment apparently worked on York, and they hit things off with a date that included seeing Annie Hall. But it wasn't always smooth sailing for the couple. The actor told People that after he started gaining Star Wars popularity, he and York broke up before eventually re-coupling.
"I had to taste groupies and fame," Hamill told People. "I went to Las Vegas to date 38-year-old showgirls. I wanted to scale all these women. That was exciting for about the first 10 minutes. Eventually, I wanted something to hold onto — and a family."
And after Hamill and York's wedding, they did indeed start a family. As noted by Bored Panda, they now have three children: Nathan, Griffin, and Chelsea Elizabeth. Nathan has followed in his dad's footsteps, too. According to Heavy, Nathan appeared in the background of Star Wars: Episode I – The Phantom Menace, though his two roles weren't credited. These days, Hamill's two sons are both artists, Heavy notes, and his daughter, Chelsea, works at his company, Amazing Invisible Inc. York works for the company, too.
While their children have long grown up, Hamill and York are still having fun together at various Hollywood events. This week, York accompanied Hamill to the Oscar Wilde Awards, where he was being honored. Their daughter joined them at the event, too — they're definitely a family that sticks together.
These days, Hamill's words about his wife have come a long way since that 1981 interview. The actor regularly posts sweet messages of appreciation for York on Twitter. In February, for example, he tweeted, "Today is the perfect day for letting @MarilouHamill know how grateful I am for having her in my life. She makes the ordinary seem extraordinary & I just want to thank her for being my everything. #MademoiselleML."
Hamill also shared a sweet message in December to mark their 39th anniversary. "And they said it wouldn't last... #LovinMademoiselleML," he captioned a photo of the two of them at their wedding.
And while Hamill's been in the entertainment industry for decades, his career — like his marriage — appears to be doing better than ever. The actor will receive a star on the Hollywood Walk of Fame on March 8. Fans also campaigned for Hamill to earn an Oscar nomination for his performance in The Last Jedi. The actor didn't earn the nod, but there are still plenty of people who believe it was one of his best movies yet. And, he'll still be at the awards show as a presenter, possibly with York as his date.
Wherever Hamill's career takes him, it looks like York will be by his side. These two know the secret to a lasting relationship, and they're always a joy to see together at events.