Meryl Streep & Don Gummer Are An Impressive Couple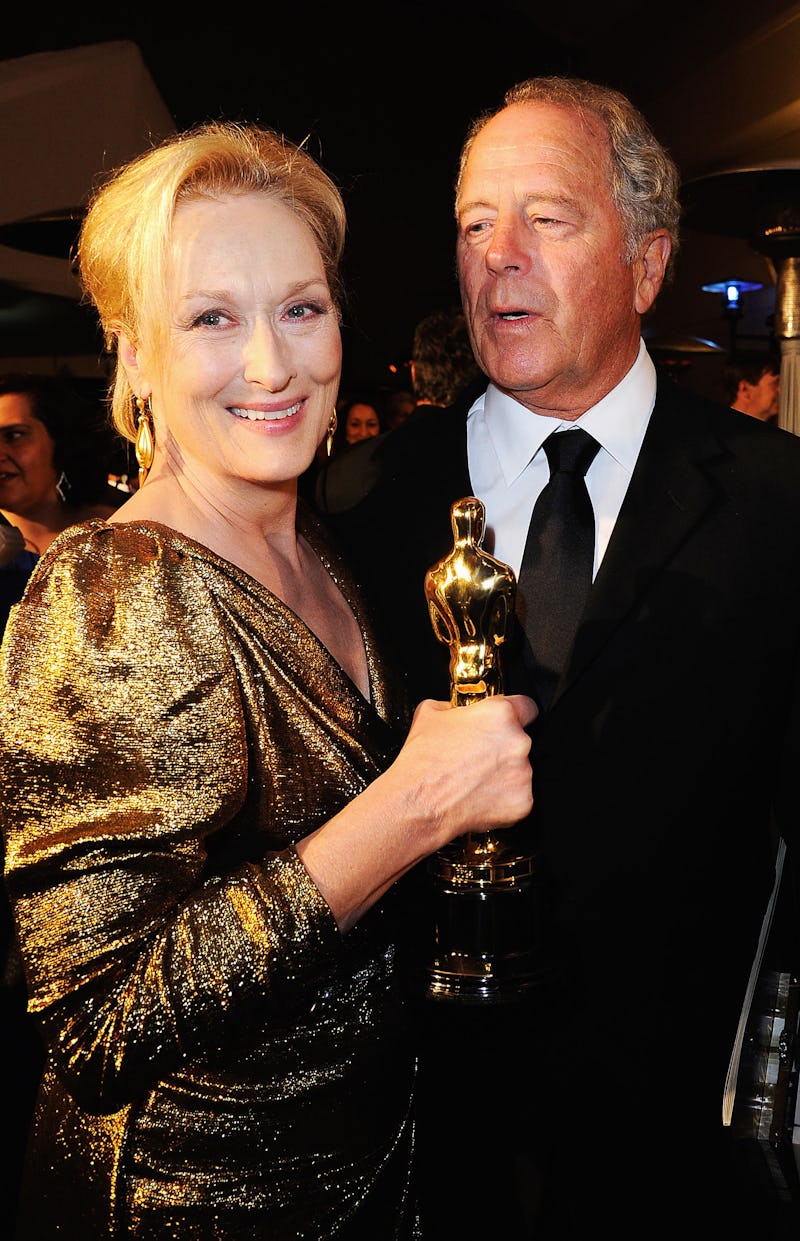 Kevork Djansezian/Getty Images Entertainment/Getty Images
Meryl Streep is perhaps the most celebrated actor of our generation. She is literally like the Beyoncé of acting (or maybe Beyoncé is the Meryl Streep of singing?). She can do it all and she does it all extremely well. While her career is very well documented, her private life is a bit more under the radar — or at least it was for me. I knew she had four children, but I didn't know much about her husband, Don Gummer, who she's been married to since 1978. A long marriage like that is an impressive feat in Hollywood, so how did Streep and her husband meet? Turns out, their meeting was a result of a very tragic circumstance in Streep's love life.
Streep and Gummer met after the death of another love of her life, John Cazale, in 1978. According to her biography, Her Again: Becoming Meryl Streep, by Michael Schulman, Streep met Cazale during an audition for Shakespeare in the Park in New York City, and they were cast opposite each other in Measure For Measure. The couple swiftly fell madly in love and moved in together before he discovered he had terminal lung cancer. According to the biography, a section of which was published by Vanity Fair, not long after being diagnosed, Cazale passed away.
It was then that she met her future husband, Don Gummer, a sculptor who was a friend of her brother's. According to the book, in a segment printed in People, Streep stayed in Gummer's vacant apartment while he traveled abroad, and they corresponded through letters. When he returned, they ended up living together, marrying only six months after the death of Cazale. Since then, the couple have had four children — Mamie, Grace, Louisa, and Henry — and are the rare long-term Hollywood couple who are still together after 38 years.
While their meeting might not have had the most ideal or romantic of origins, Streep and Gummer clearly have a loving and supportive relationship that they each are very devoted to. Gummer is often by her side at her work events, and Streep took a moment to publicly thank her husband in her acceptance speech for Best Actress at the 2012 Oscars. She said,
"First I'm going to thank Don because when you thank your husband at the end of the speech they play him out with the music, and I want him to know that everything I value most in our lives you've given me."
That's the kind of love we should all strive for!