How Did Mike Meyers Come Up With Tommy Maitland On 'The Gong Show'?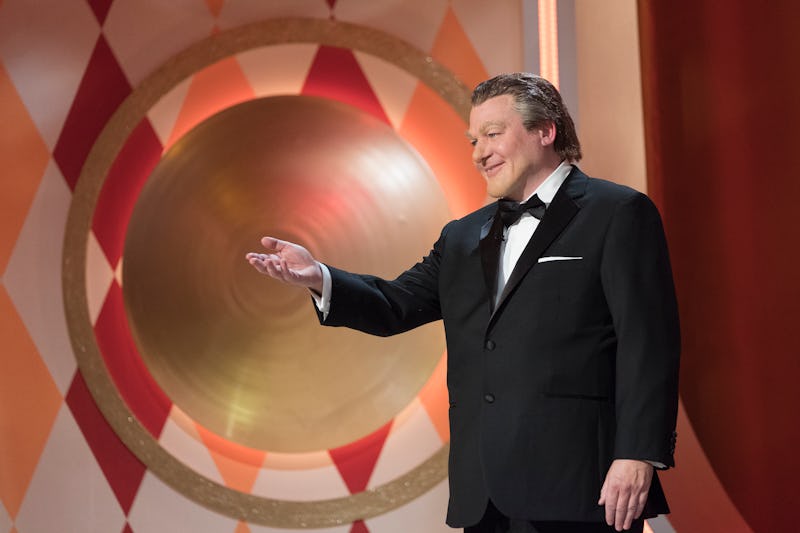 Eddy Chen/ABC
So you may have recently heard that the 1970s hit series, The Gong Show, is officially making a comeback on ABC. With that announcement, you also may have heard that the show's revival is being hosted by Mike Myers...sort of. The new Gong Show is actually being hosted by Tommy Maitland, a character who may or may not have been created by Myers, and you're probably trying to figure out how the comedian came up with Maitland, if he did create the persona. Well, it's a little hard to say since no one working on the show will actually admit that Mike Myers and Tommy Maitland are the same person, a detail noted by The Hollywood Reporter. There hasn't been any word publicly regarding whether or not Maitland was created by Myers or the producers of the new Gond Show.
For starters, even though he's all-in on not breaking character, it's very safe to assume that Tommy Maitland is Mike Myers in disguise. But the 54-year-old actor is taking a method acting approach for this new gig, which means it'll likely be very hard to get him to break character and speak on why and how he ended up playing Maitland in the first place. In fact, Myers is so set on keeping up the charade that ABC even created a very lengthy biography for Maitland before The Gong Show officially aired in June. To add, The Huffington Post reported that Myers also wasn't up for doing any press leading up to the revival's premiere, as a rep for the show responded with "The host is Tommy Maitland, and he's currently unavailable," after being reached out to for comments.
The legendary British host, as his ABC biography calls him, appeared on Jimmy Kimmel Live! to promote the show alongside executive producer Will Arnett back in May.
So it might just be a while before we can actually get to the bottom of the real story behind Mike Myers' creation of Tommy Maitland. But that isn't such a bad thing, since, no matter what character he plays, it's refreshing to see Mike Myers make a return to acting after nearly a decade.
For now, we should probably just appreciate the comedian's comeback and heed the advice of the game show host in question: "Turn off your brain. We're just here for funsies."