The Miz & Maryse Are A Match Made In WWE Heaven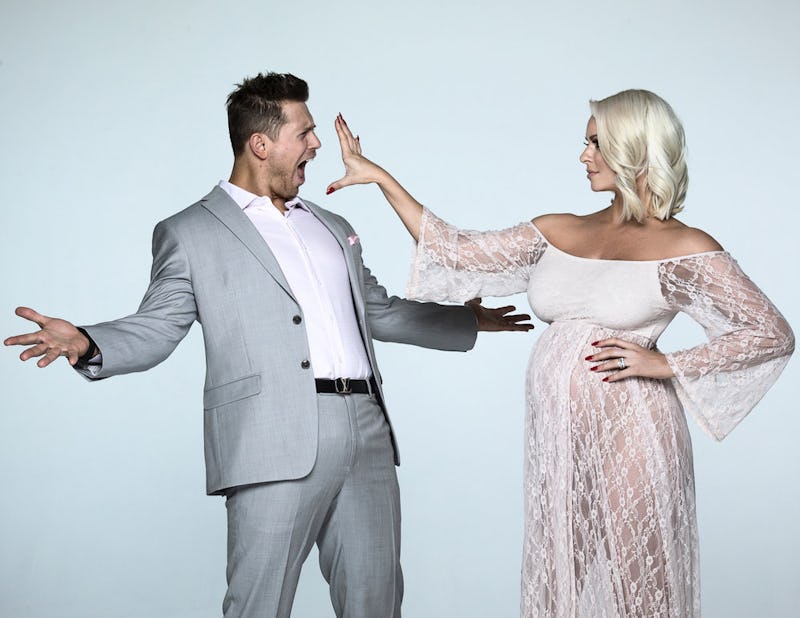 USA
USA Network is welcoming a new couple, Mike "The Miz" Mizanin and Maryse, to its lineup of reality shows this summer. Although many viewers already know them as WWE wrestlers, not as many know how Miz and Maryse of Miz & Mrs. met. Although the show will follow the daily lives of a pair of lovebirds and WWE reality stars, professional wrestler Mike "The Miz" Mizanin urges viewers not consider his show reality TV. Why, you might be asking?
Well, his answer to that question in an interview with The Wrap was kind of ambiguous, but it implied that not everything featured on the show is unplanned, but rather, unscripted. "I look at it more as a docuseries, documenting first time parents in the entertainment industry," he said, referring to his wife and their newborn daughter. Sort of like professional wrestling, in a way.
The two were introduced to one another in 2006 by way of the now-defunct WWE Diva Search, a talent competition held by the professional wrestling program. After having been with the organization for a while and gaining experience in the industry, per Heavy, Miz was named the host of the competition while Maryse was a contestant. According to her IMDb biography, she's originally from Canada and spoke mostly French when she and Miz first met. Her past experience had been mostly with beauty pageants and modeling.
"He was so mean to me," Maryse said in a video interview with Wrestle Talk TV, referring to her first interactions with Miz. "Oh my God. I couldn't speak English, and he was rubbing it in my face. He was just like, 'You can't speak English. What are you doing here? You can't work with the biggest sports entertainment company in the world if you don't speak a word of English,'" she recounted.
Despite Miz's doubts, Maryse championed her way to the top eight of the competition, per Heavy, and it's lucky for him that she did. It wasn't until a year later, though, according to an interview Miz did with Cosmopolitan, as reported by Heavy, that the two of them made a real connection. "She was picked, but we didn't start dating then," The Miz told Cosmo. "About a year later we started talking after one of the Raw events. I was like, 'Man if only I could get a girl like this. One of these days I will get a girl like this and I will be so happy.' And I did!"
Since then, Maryse has held multiple positions at WWE and has earned the title of WWE Diva Champion, per her IMDb bio. Her most recent endeavor with the franchise has made her Miz's manager, as described on WWE's official website, and their real life marriage has become an integral pillar of the contemporary WWE Smackdown storyline.
"I'm having the most fun I've ever had in my career," Miz said in an interview with Sportskeeda. "I get to hang out with my wife every single day. She brings a whole new confidence to myself and to everything that I'm doing." And now, after welcoming a baby girl named Monroe Sky (who already has an Instagram, by the way) in March, they couldn't be happier — until the drama unfolds on Miz & Mrs. that is. There's got to be at least a little, right?