TLC Design Stars Nate & Jeremiah Have The Most Touching Love Story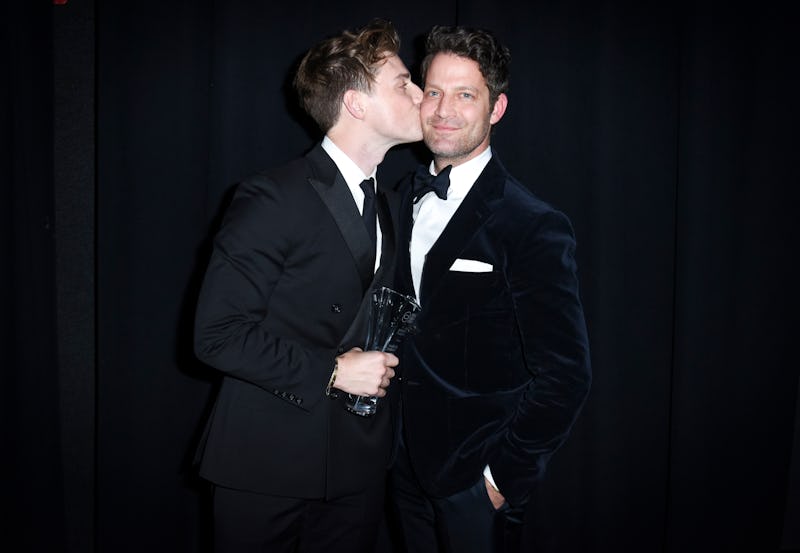 Vivien Killilea/Getty Images Entertainment/Getty Images
Although many would argue that Chip and Joanna Gaines of HGTV's Fixer Upper are the end-all, be-all of design entertainment romances, they may have some competition. Wildly successful interior designers Nate Berkus and Jeremiah Brent from TLC's Nate & Jeremiah By Design are a dynamic design duo to be reckoned with. Not to mention their love for each other and their children (they announced the birth of their second child, Oskar, earlier this month) is impossible not to aww-over.
Sure, Chip and Joanna have quite the love story themselves (Chip says knew he was going to marry Joanna at the sight of her picture in her dad's automotive shop, per PopSugar), but Nate and Jeremiah have come a long way to build the life they have together, and how they met is just as sweet.
They've been able to combine their individual, successful design careers to create something that complements both of their aesthetics and showcase it on their own reality show, Nate & Jeremiah By Design. Nate comes from the Oprah Winfrey Show, where he was the resident interior designer and transformed over 100 spaces, according to his introduction on By Design. Jeremiah started his own design firm after being inspired by his gig as the personal assistant to fashion designer Rachel Zoe on her reality show The Rachel Zoe Project.
"I learned professionalism working for her and really understood first-hand what it takes to create a business of my own," Brent told Gotham. And although he's no longer in fashion, he told Hillary Sawchuk in an interview as a part of her series, "A Drink With," that he is also glad he worked for Zoe because it brought him his first date with Berkus. He also admitted that he was sure they were meant to be long before it. He knew right away that Berkus was the one for him.
"Ten seconds," he told Sawchuk. "We were friends for years and then we randomly ran into each other at a mutual friend's birthday party. He said, 'We should go out antique shopping,' because I was in New York for the weekend and I thought, 'Great. Can't wait to go antique shopping.'" It turns out that was the best day of antique shopping Brent had apparently ever experienced, because from that point on, the two were a done deal.
Now, on top of both of their individual business endeavors, including Nate's wildly successful interior decor line sold at Target, they have come together to save homeowners from their money pits of home renovation projects on Nate & Jermeiah By Design.
Some might wonder if working together hinders their romantic relationship, but according to Brent, it does quite the opposite. "Honestly, we both respect each other so much, professionally and personally," he told Gotham. "We push each other to do better and be better in our work. Some of our best work comes out of working together." They are the physical manifestation of the saying, "True love conquers all."
Their relationship is sacred to the both of them, especially because it follows the grief and trauma Berkus underwent after losing his partner, photographer Fernando Bengoechea, in a 2004 Tsunami while the couple vacationed in Sri Lanka.
"He's a part of our love story, there's no two ways about it," Brent told Oprah in an interview the two participated in on her show. "I oddly feel connected to him, and I honor that story."
Brent has been instrumental in helping Berkus move on while continuing to honor Bengoechea's legacy, and that's what make's their relationship so strong. Their love for each other is radiant, and it overflows to the people they're around, whether it's those they help in restoring their homes or those they visit through the television screen. Although fans have to say goodbye to Chip and Joanna for now, they can get their fix for a picture-perfect love story and incredible home design from this fun-loving couple.