Here's What Obama's Fourth Of July White House Celebrations Looked Like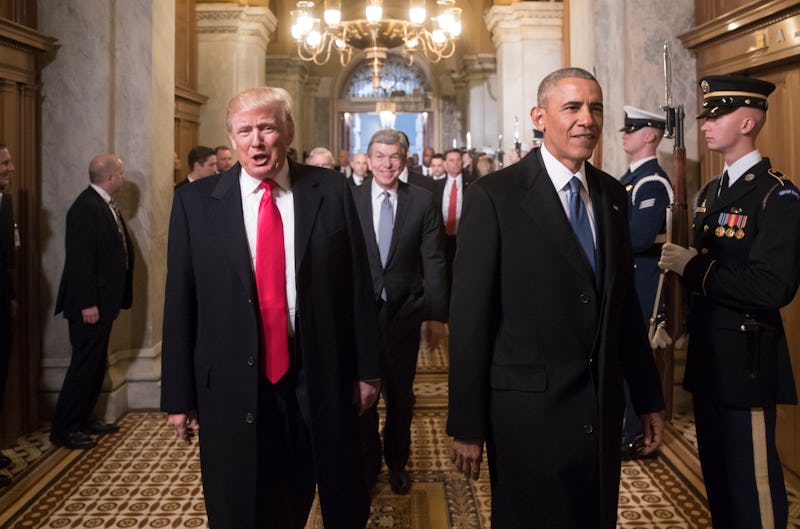 Pool/Getty Images News/Getty Images
While the White House will welcome military families for its traditional Fourth of July picnic, concert, and fireworks display, President Donald Trump's Fourth of July plans look a bit different from his predecessors. But how did Barack Obama spend the Fourth of July when he was president? There's at least one presidential Fourth of July tradition that President Trump won't be observing as America celebrates its 242nd birthday this year.
The Fourth of July is a popular day to become a U.S. citizen. According to ABC News, nearly 14,000 immigrants will swear an oath of allegiance to the United States this Fourth of July at dozens of naturalization ceremonies held across the country. But, in contrast to previous years, no one becoming a U.S. citizen Wednesday will have their oath administered by the U.S. president. Although both Obama and former President George W. Bush marked the Fourth of July by presiding over naturalization ceremonies, President Trump has never observed the tradition.
In 2014, Obama told the more than two dozen U.S. military members and service member spouses taking their Naturalization Oath of Allegiance at the White House's Fourth of July celebration that the event was one of his favorites to host. While Obama admitted that at least part of his fondness for the event was due to the barbecue and fireworks planned for later, he said he most enjoyed being able to see the culmination of each person's long journey to citizenship.
"Many of the them have worked and sacrificed for years to get to this moment," Obama said of all those taking their oath of citizenship that day. "All of them have done it for something none of us should ever take for granted: the right to be called an American, from this moment, and forever after."
Obama went on to say that immigrants' willingness to make sacrifices for U.S. citizenship should give Americans hope and confidence about their country's future. "As long as there are men and women like all of you who are willing to give so much for the right to call yourselves Americans, and as long as we do our part to keep the door open to those who are willing to earn their citizenship, then we're going to keep on growing our economy, we'll continue to journey forward, and we'll remind the world of why the United States of America is and always will be the greatest nation on Earth," he said.
Obama hosted a first Fourth of July naturalization ceremony in 2012 too, helping 25 active-duty service members hailing from 17 different countries to swear citizenship oaths before picnicking with hundreds of military families on the White House lawn. Although President Trump has yet to observe the tradition, Obama wasn't the only president to celebrate the Fourth of July with a naturalization ceremony.
Former president Bush helped 72 people swear U.S. citizenship oaths at a Fourth of July naturalization ceremony in Charlottesville, Virginia, in 2008. "From this day forward, the history of the United States will be part of your heritage," Bush told the newly sworn in citizens. "The Fourth of July will be a part of your independence day and I will be honored to call you a fellow American."
At the time, Bush was reportedly the fourth sitting president to have overseen the annual ceremony. Gerald R. Ford, Harry S. Truman, and Franklin D. Roosevelt also oversaw Fourth of July naturalization ceremonies at Thomas Jefferson's historic Monticello plantation in Charlottesville, CNN has reported.
While President Trump won't mark this year's Independence Day by helping to swear in any new U.S. citizens — rather his "zero tolerance" immigration policy has engulfed the country in debate — he will uphold the tradition of hosting the White House's annual Fourth of July picnic and fireworks.