Paul Thomas Anderson & Maya Rudolph Have The Sweetest Love Story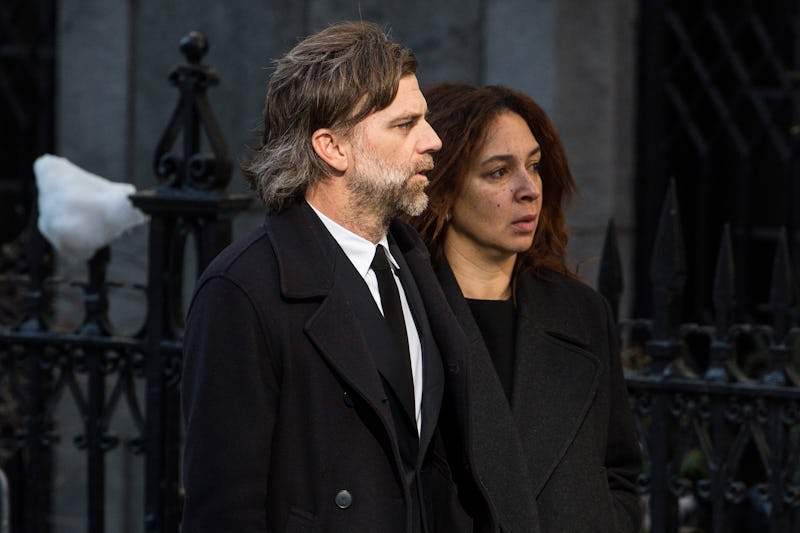 Andrew Burton/Getty Images Entertainment/Getty Images
The Oscars are just around the corner, and Paul Thomas Anderson's Phantom Thread is up for a whopping six awards, including Best Director and Best Picture. In numerous interviews, Anderson's said the film was inspired by a particular moment in his own long-term relationship with SNL comedian Maya Rudolph. But it's their entire relationship, from how Paul Thomas Anderson and Maya Rudolph met through the 16+ years together that followed, that led to the film so many critics are lauding.
Phantom Thread follows the relationship dynamics of fussy fashion designer Reynolds Woodcock and recalcitrant anti-muse Alma as they struggle between submitting to the other and asserting themselves in love. While not the rosiest portrait of romance, the movie is more honest about the everyday struggles of identity and expectancy when people join together, and ends in a contented balance. Alma and Woodcock's solution to a lasting relationship is certainly unorthodox, but it works for them.
In a Collider interview, Anderson said as a control freak himself, having the flu forced him to slow down. Being sick made him vulnerable, physically and emotionally, and while being cared for, "I looked up and my wife (Maya Rudolph) looked at me with tenderness that made me think, "I wonder if she wants to keep me this way, maybe for a week or two." The news came as a surprise to many, partly because most people weren't aware Anderson and Rudolph were a couple, let alone that they've been together for over a decade with four kids.
Since the admission, critics and fans have wondered how much Phantom Thread reflects Anderson and Rudolph's life together. The two are notoriously silent about their relationship and home life, so clandestine even the paparazzi rarely catch them. And yet the few hints dropped point to a genuinely loving and happy couple. For instance, one of their rare candid photos got this sarcastic reaction from Anderson:
And on a recent reddit AMA, when asked "how often does Maya make you fall down laughing?" Anderson responded, "every day." Still, news about the couple is rare; it's hard to pinpoint when they even became a couple. Anderson broke up with longtime partner Fiona Apple around 2000, after the release of her album When The Pawn... and Anderson's film Magnolia. A Grantland article lamenting the '90s power-couple break-up notes that Anderson tagged along with Apple to a Saturday Night Live rehearsal for the February 19, 2000 show, where she was the musical guest. It's where Anderson met Adam Sandler, who inspired the director to write Punch Drunk Love specifically for the actor... but did Anderson meet anyone else while there?
It's certainly possible, as Rudolph joined Saturday Night Live herself in 2000. For the SNL episode with Apple singing, Anderson didn't just sit in the audience. He went out of the way to write and direct a separate sketch for the show, "FANatic", featuring Ben Affleck as Anna Nicole Smith's biggest and most disturbed fan. It's pretty likely he spent some time getting to know the cast and crew, and it's likely that it was here where Anderson met Rudolph for the first time.
And yet there's little solid information beyond that confirming their early relationship. A 2003 Brooklyn Paper blurb notes Rudolph was part of Anderson's entourage at a Brooklyn screening of Punch-Drunk Love, but doesn't even hint that they were dating, though that was likely the case at the time. Their relationship was so clandestine, a 2003 Independent interview about Punch Drunk Love name-checks Apple as his current girlfriend.
In 2014, Rudolph acted in one of Anderson's films for the first time, Inherent Vice. At the time, Rudolph said in a Variety interview, "I love watching [Anderson] work. It's so exciting to see someone who's so clearly their own and has so much confidence about their own vision. It's beautiful to watch." Recently talking to GQ, Anderson "described an average day in his average life: four kids and a beautiful partner named Maya Rudolph and a house in Tarzana that he drives in from each morning."
16 years, four kids, and one film appearance later, Anderson and Rudolph seem to have found total contentment in their lives together as a couple.