Pharrell & His Wife Were Friends First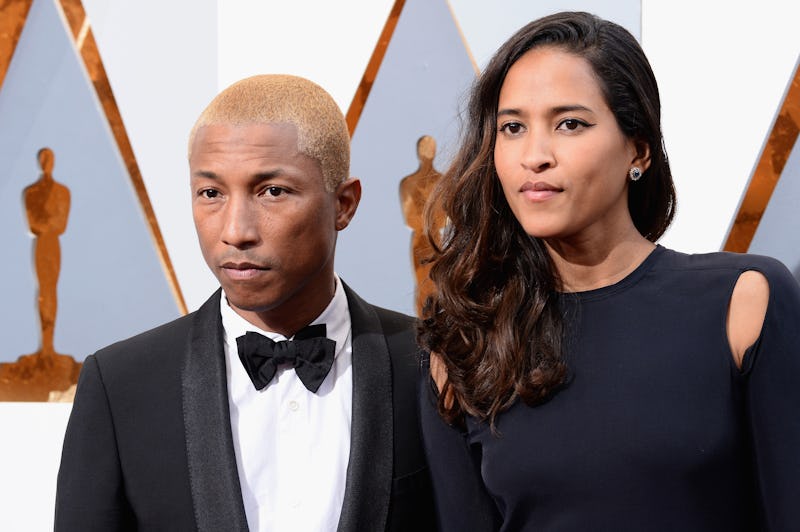 Frazer Harrison/Getty Images Entertainment/Getty Images
As the co-chair of the 2017 Met Gala, Pharrell Williams is sure to turn out his best red carpet style as per usual, especially since the theme this year is in honor of Comme de Garçons' legendary founder and designer Rei Kawakubo. And by his side and equally fabulously outfitted will likely be his wife, Helen Lasichanh. Though the model is quite private and usually stays out of the public eye, she always turns heads with her style. Williams, who is known as one of the biggest producers and musicians in the business, and for being an ageless vampire, used to also be a super eligible bachelor. So, how did Pharrell Williams and Helen Lasichanh meet, settle down, and grow their family with four kids? Their romance has been a long road.
The couple got engaged in 2012, after dating for more than five years, according to Rolling Stone, and being friends for more than two years before that. In an interview with Oprah in 2014, Williams admitted he was immediately drawn to Lasichanh, but the feeling wasn't mutual at first. "She just stood out. I was like, 'Who and what is that?'" he told Oprah. "I knew at some point something was going to happen. I was just so enamored by the moment I was having with her. I just wanted to read that book. I didn't care what was in it."
Sweet words from the huge-hatted man, but at the time Lasichanh was in a relationship. "She didn't answer half my text messages. She had a boyfriend and she wasn't interested," he said. He and Lasichanh were friends for more than two years before they started seeing each other.
Williams also told Oprah that he and his now-wife bonded over — what else? — music. Specifically, their mutual love and appreciation of A Tribe Called Quest, which Williams says was a deal breaker and all of his serious girlfriends past had to share his Tribe love.
Being the unconventional and fashion-forward couple that they are, Williams and Lasichanh got married in Miami in 2013, taking their wedding photos on a yacht. Both the bride and groom wore fabulous plaid outfits, and Usher and Busta Rhymes performed at the reception, as Us Weekly reported, because it was Pharrell Williams' wedding, so of course he had the pick of any entertainment he wanted.
Williams and Lasichanh are the parents to four children. Rocket was born in 2008, and Williams called him "the best song he's ever co-written" with his "bestie" Lasichanh. "It's awesome," he told Savannah Guthrie on the Today show in 2013. And in January, Williams and Lasichanh welcomed triplets into their family. Maybe the couple is trying to make a whole album of children. Whatever the case, Lasichanh definitely makes Williams feel like a room without a roof. (There was bound to be at least one "Happy" reference here.)