A Look At Pink & Carey Hart's Relationship History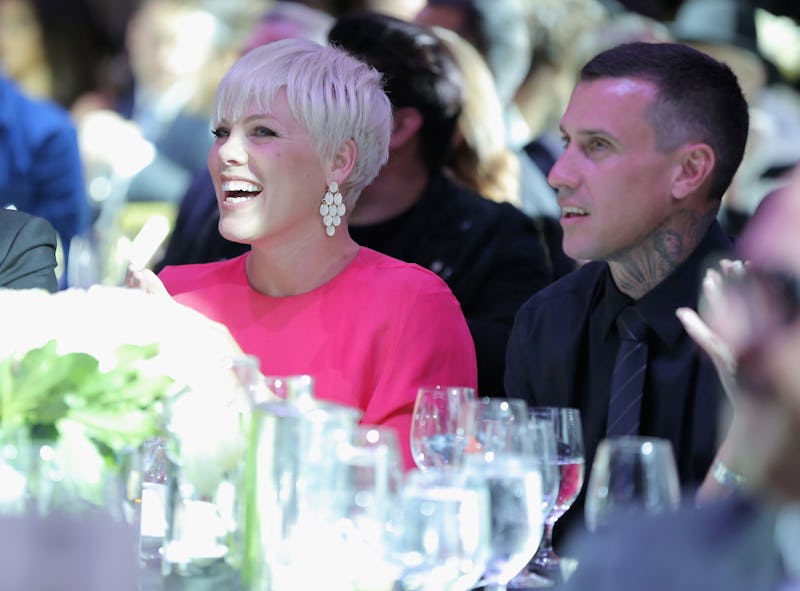 Chelsea Lauren/Getty Images Entertainment/Getty Images
When you think of relationship goals, Pink and her husband, motorcross racer Carey Hart, might not be the first celebrity couple to come to mind. They've had highly publicized breakups and a few years ago they nearly got divorced. But though their on-again/off-again relationship has led to some of Pink's best music, the couple is now rock solid after celebrating their 11-year anniversary and welcoming baby number two. But how did Pink and Carey Hart meet?
Considering that the couple is known for being daredevils, it's not surprising that Pink met Hart at the 2001 Summer X Games in Philadelphia, according to Pop Sugar. In an interview with USA Today, Pink revealed that it was partially Hart's bad boy persona that attracted her to her now-husband, but she quickly grew tired of his antics. "After you spend a couple of nights in the hospital with him when he's broken, the excitement wears off," she explained.
The couple dated until 2003, when they broke up for the first time. After about a year apart, they reconciled, becoming engaged when Pink proposed to Hart during his race at the Pro 250 class finals in Mammoth, California. She wrote "Will you marry me?" on a sign she held up as he rode by, adding "Serious!" to the bottom when he failed to stop after seeing the sign the first time.
Although the couple took another highly publicized break in 2008, they reconciled in 2009 and by 2010, Pink was pregnant with their daughter, Willow. The singer gave birth in December 2016 to the couple's second child, a son named Jameson. And stop with those breakup rumors — Pink and Hart seem to be stronger than ever. The singer recently took to Instagram to celebrate her marriage, posting a picture of them kissing on a red carpet and writing:
Yum yum yum yum yum yum yum yum yum yum yum 👅 that's one for every year care bear. I really like you this week. #happyanniversarymylove I'm very lucky to be able to say that you're mine. Thanks for sticking around 💘
Even though Pink and Hart might not appear to be the "perfect" couple, in some ways they truly are #relationshipgoals. Life isn't always a fairytale, and relationships aren't always smooth sailing. Pink and her husband have shown fans that it's possible to have rough times with your partner and make it out the other end better than ever. As Hart told People, "Sometimes you have to take a couple of steps backwards to move forward." Many couples would surely raise a glass to that.