Rachel Weisz & Daniel Craig's Story Started Long Before They Even Got Together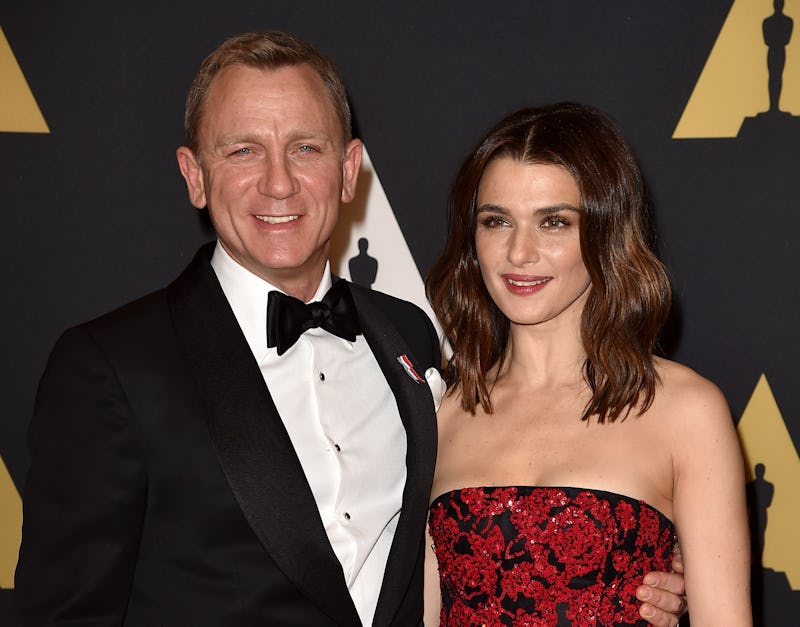 Kevin Winter/Getty Images Entertainment/Getty Images
In typical Hollywood fashion, Rachel Weisz and Daniel Craig started dating after filming a movie together — but they'd actually met years before that. The couple just announced that they have a baby on the way, so how did Rachel Weisz and Daniel Craig meet? Their love story is super sweet, and it sounds like these two have a great relationship.
As Metro explains, Weisz and Craig met while in college, but they only started dating after filming 2010's Dream House together. According to Glamour U.K., the two of them had been friends since 1994, but it wasn't until they starred in the movie together that their relationship took a romantic turn. Apparently, it was a whirlwind romance; less than a year after they started dating, they got married in a small ceremony, Metro notes.
According to Hello! magazine, which called the pair "one of the most private couples in Hollywood," the only guests at the ceremony were two of the couple's friends, along with Craig's daughter and Weisz's son.
Back in 2012, Craig told GQ U.K. that they opted to have a private wedding, because a public ceremony would be like "sharing a secret." Even today, the two of them are so private that they don't even have social media accounts (at least not public ones), and it seems like that's unlikely to change anytime soon.
Weisz and Craig didn't shy away from sharing the happy news that they're expecting with fans, though. The baby on the way will be their first child together. Weisz revealed that she's pregnant during an interview with The New York Times published on Friday, April 20.
"I'll be showing soon," Weisz told the Times' Maureen Dowd. "Daniel and I are so happy. We're going to have a little human. We can't wait to meet him or her. It's all such a mystery."
Though the couple is notoriously private, they've shared tidbits over the years about how they keep their marriage strong. During this week's Times interview, Weisz said that she's "very happy being married," even though she and Craig don't share many details about their relationship.
"I really take my hat off to them," Weisz told the Times, referring to other celebrity couples who, as Dowd puts it, "make their 'coupledom' part of their brand." Weisz also said that she and Craig are "just really crap at talking about our private lives." So don't expect them to start sharing more about their relationship just because they're having a baby.
Earlier this year, Weisz revealed to the U.K.'s Evening Standard that before dating Craig, she wasn't sure she wanted to get married at all. She told the outlet,
"I never thought I would get married. It was not an ambition of mine. It was the opposite. I couldn't relate to romantic comedies — marriage seems to be the whole point of them. Then it just happened, happily, at a more mature moment."
It sounds like her mind has changed a lot since she felt that way — she and Craig seem to have their relationship down to a science. And it sounds like they enjoy some pretty traditional hobbies in their spare time, too. Weisz told The Mirror in 2015 that she and Craig love to cook together at home. And in this week's Times profile, Dowd notes that Weisz and Craig "prefer talking about books and poetry and music to social media." They may not be an in-your-face celebrity couple, but it sounds like their relationship is just perfect for them.