Shawn Mendes & Hailey Baldwin Have Definitive Answers About Those Dating Rumors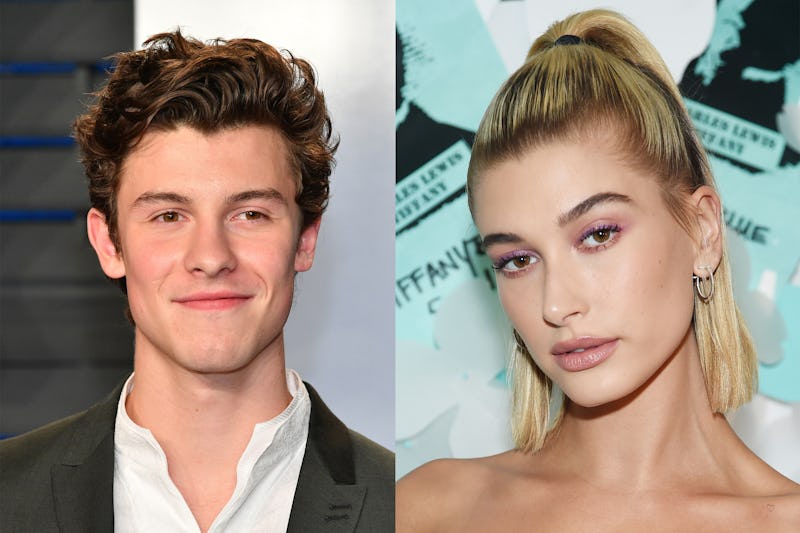 Dia Dipasupil/Getty Images Entertainment/Getty Images; Jamie McCarthy/Getty Images Entertainment/Getty Images
Two of Hollywood's hottest young stars, Shawn Mendes and Hailey Baldwin, are headed to the 2018 Met Gala together, according to Us Weekly. Seeing as though the pair are friends and have faced dating rumors, you might wonder: How did Shawn Mendes and Hailey Baldwin meet? Well, it appears that they go way back.
The pair are so close now that they're even reportedly going to one of fashion's biggest nights together. (Although Us notes that they might not walk the red carpet together.) But, it's unclear exactly when and how the two met originally. Based on their Twitter interactions, though, it appears that their connection dates back to at least 2013. In a now-deleted tweet from October 2013, Baldwin reportedly said, "Hey Shawn Mendes, let's date so you can sing to me all day. I'm joking but not really..." A month later, Mendes responded and kept the cute little back-and-forth going. The singer tweeted, "Just finding out now that @haileybaldwin tweeted at me!"
So, there wasn't exactly an overt love connection here or anything, but it is fun to see just how far back their friendship goes. While it appears that Baldwin and Mendes are friends — and they've said so themselves — the two have been plagued by relationship rumors after being spotted hanging out together on multiple occasions throughout 2017 and early 2018.
According to J-14, Baldwin was in attendance at Mendes' Brooklyn concert in August 2017. The model posed with many fans at the performance and seemed to really enjoy the night out. Even though the romance rumors raged on, Baldwin could have totally just been there to support her friend's concert.
After Mendes and Baldwin were also spotted together at the model's own Halloween party in 2017, the romance rumors reached new heights. The young star, who co-hosted the party with good friend Kendall Jenner, was reportedly seen getting cozy with the "Treat You Better" singer at the event, per People. A source told the publication, "He had his arm around Hailey and stayed by her side all night." They also told People that they then left the party holding hands.
Shortly after, they were yet again seen together, this time at an MTV EMA Awards after-party in November 2017. At the event, they posed for a selfie with Rita Ora and were reported to have been "French kissing" at the party, according to The Sun.
In addition to all of these events, Mendes posted a photo of himself and Baldwin on April 3, which only added fuel to the relationship rumor fire. Yet, based on both Baldwin and Mendes' prior comments, it would appear that the two really are only friends.
In March, Baldwin revealed her relationship status to Us Weekly and her response was super straightforward. When asked whether she was seeing someone, she replied, "Currently, I'm not."
Mendes had a similarly definitive response to the news recently. In an interview with NRJ radio in Norway, the singer said that he's not dating the model, despite their Instagram photo together. He said in April, "Hailey and I are just friends." The "Stitches" singer also gave some background on their photo, which helped sparked those relationship rumors. "So she sent me the photo because I did the show she's hosting, it's called Drop the Mic ... So, anyways, I did the show and I'm really good friends with Hailey, we're truly really good friends," Mendes explained. He said that Baldwin wanted to post the photo, but believed that the internet would go wild for it. But, he decided to post it anyway, and people did go a bit wild over it.
So, based on Mendes and Baldwin's statements, it doesn't appear as though there's anything romantic going on. Instead, it seems that the two will both attend the 2018 Met Gala together, as friends.