How Did The Las Vegas Shooter Get So Many Guns Into His Hotel Room?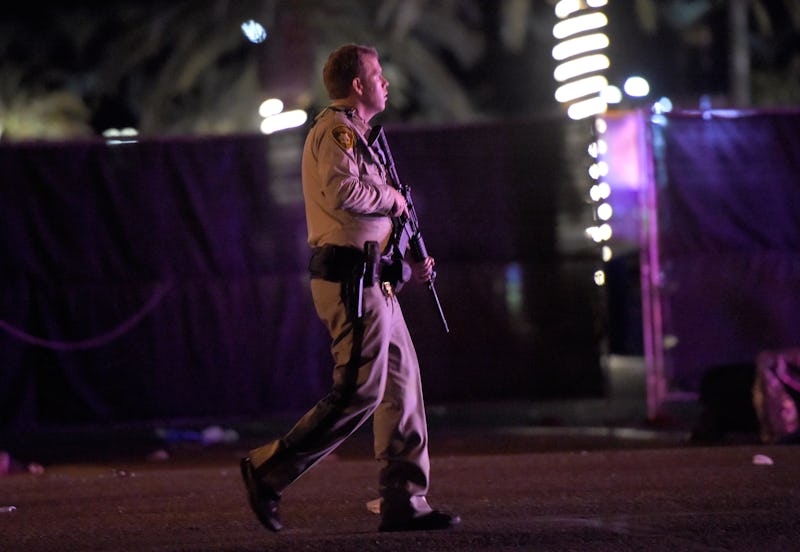 David Becker/Getty Images News/Getty Images
On Monday morning, 64-year-old Stephen Paddock unleashed hundreds of bullets from the 32nd floor of the nearby Mandalay Bay Resort and Casino in Las Vegas into a crowd of more than 22,000 people. In what is now considered the deadliest mass shooting in U.S. history, Paddock killed at least 58 people and wounded more than 500 during the outdoor, three-day Route 91 Harvest festival. After the Las Vegas shooter was found with at least 10 rifles in the Mandalay Resort, it begs the question: How did Paddock get the guns into his hotel room in the first place?
Paddock, who reportedly checked into the Mandalay Bay Resort on Sept. 28, was found dead in his hotel room with at least 10 guns, according to Las Vegas sheriff Joseph Lombardo. Investigators believe that Paddock transported the weapons to his room in separate trips. Paddock brought the weapons into the hotel himself and used "a device similar to a hammer" to break the window to shoot from, according to Lombardo during a press conference on Monday. Paddock killed himself before police and the SWAT team arrived, according to Lombardo.
"The fact that this individual had that amount of firepower in that room indicates that he didn't bring all of that up in one trip, and he certainly didn't have the bellman bring that up," former Las Vegas police officer Randy Sutton told CBS News.
"Having been there for three days, he had the time to bring [his firearms] up, probably in luggage or a golf bag or something of that nature," Sutton continued.
Law enforcement officials believe that Paddock, who has a hunting license, had purchased firearms in the past and that he had bought them legally before the festival. At least one of the rifles was modified to work as an automatic weapon, according to initial reports. The altered rifle would have allowed Paddock to fire faster and multiple bullets with a single trigger depression, while giving him the range to shoot at the concert from his hotel room, according to the New York Times. Investigators also believe that because the shooting occurred from a range of 400 yards between the hotel and the concert, a light machine gun was most likely involved when Paddock fired indiscriminately into the crowd.
Nevada has some of the most relaxed gun control laws in the country and the state doesn't require firearms owners to be licensed, register their weapons, or have a limit on the number of firearms that a person can own. Background checks are conducted when people buy guns in the store, but there are no laws requiring them to be performed when people buy guns privately. Automatic assault weapons and machine guns are also legal in Nevada as long as they're registered, according to the National Rife Association.
The state also doesn't have any restrictions on ammunition magazine capabilities, meaning that Paddock could have bought guns and plenty of ammunition locally that could held multiple rounds, allowing him to fire even longer without reloading his gun, according to the New York Times.
Investigators said that the duration and the length of the shots indicate that Paddock didn't follow military training procedures, if he had any, and that firing in rapid succession could cause the gun to overheat. Paddock fired into the crowd in three blasts over the span of two minutes, according to witness accounts. Because Paddock had three days to himself in the hotel room to prepare for the attack, police believe that he had enough time to create a shooting position that would allow him to stabilize a weapon.
Paddock's home was also searched on Monday and police found additional guns and ammunition, although they have not divulged any details, according to CNN.