The Story Of How Trump & Stormy Daniels Met Involves A Rowdy Weekend 12 Years Ago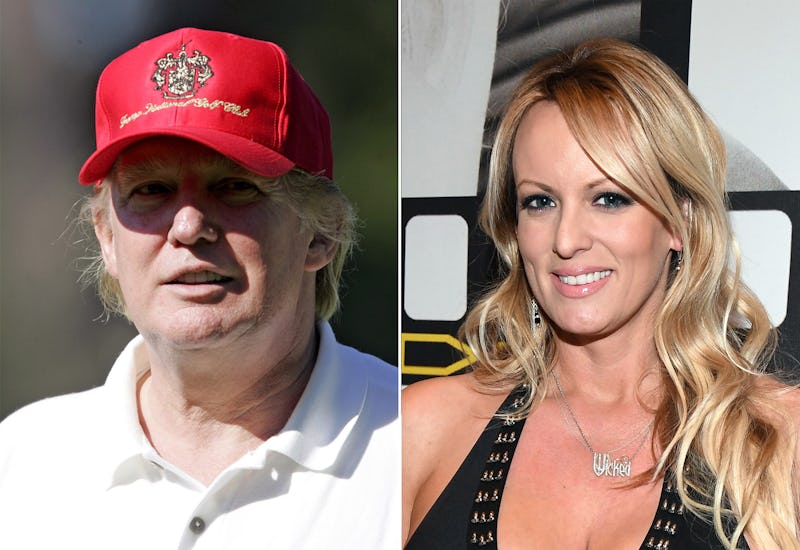 Mike Ehrmann/US PGA TOUR/Getty Images / Ethan Miller/Getty Images Entertainment/Getty Images
Adult film star Stormy Daniels' name has been coming up in the news cycle almost as often as that of President Donald J. Trump. It's all because of an apparent connection they have, which reportedly goes back to Trump's days as a reality TV star. If you want to know how Trump and Stormy Daniels met, you have to look back to a celebrity golf tournament that took place at Lake Tahoe.
Daniels, whose real name is Stephanie Clifford, claims she met the eventual president in July 2006 at the American Century Celebrity Golf Championship. According to a 2011 interview Daniels gave with InTouch, the two met on the golf course, when Trump was being introduced to essentially everyone in his path. Daniels, however, says the two of them were meeting eyes more often than everyone else, and the two then ended up in the same golf cart for a short ride.
"I want to come talk to you later," Daniels said Trump told her. She claimed that later he asked for her number and invited her for dinner, which she accepted. "Who would pass up an opportunity to talk to someone so interesting? I wasn't trying to date him or anything like that."
According to the account of Daniels' tale in GQ, this led to a months-long affair between the two (the White House has denied that the affair took place). Daniels told InTouch that he began calling her about every ten days, and she could contact him through his bodyguard (and former White House employee) Keith Schiller or his secretary. Daniels said that Trump repeatedly promised that he could get her onto The Apprentice, although that never actually materialized, and he often invited her to events and arranged meetings with her. According to Daniels' claims, the affair was a sexual one, but they stopped contacting each other sometime in 2009.
Their original meeting at the golf tournament is also notable, though, because it is also where Trump is alleged to have met former Playboy model Karen McDougal. McDougal claims that she met Trump at that same golf tournament at Lake Tahoe in 2006, and the two began a months-long sexual relationship there. According to McDougal, their affair only lasted until mid-2007. Trump has maintained his silence regarding the alleged affair with McDougal.
According to GQ's story on the golf tournament, if an eventual president was going to allegedly start affairs with a porn star and a Playboy model in the same weekend, it was definitely going to be at an event like this. The American Century Celebrity Golf Championship takes place every year at a picturesque golf course right on the shores of Lake Tahoe, and in 2006 it drew an extremely varied group of celebrities. Maury Povich was there, along with football player Ben Roethlisberger, tennis player John Elway, and hockey great Mario Lemieux. It was a chance to see and be seen, and the attendees were showered with free gear from sponsors and others — including Wicked Pictures, the pornographic film company that Daniels was there representing.
GQ suggests that Trump was having some trouble grappling with the fact that he had just turned 60. According to the magazine, when asked by a Seattle Post-Intelligencer reporter about whether turning 60 or having another child (Barron) at 60 was harder, Trump responded:
Definitely turning 60. The concept of fatherhood I've handled well. But I see friends of mine who are 60 and I go [expletive]! Sixty! That's getting up there. No question about it.
This is the atmosphere in which the president is alleged to have met the porn star. Although the White House denies that the affair took place, it is at least a certainty that they were both at that golf tournament.