How Direct-To-Consumer Brands Are Changing How We Shop Online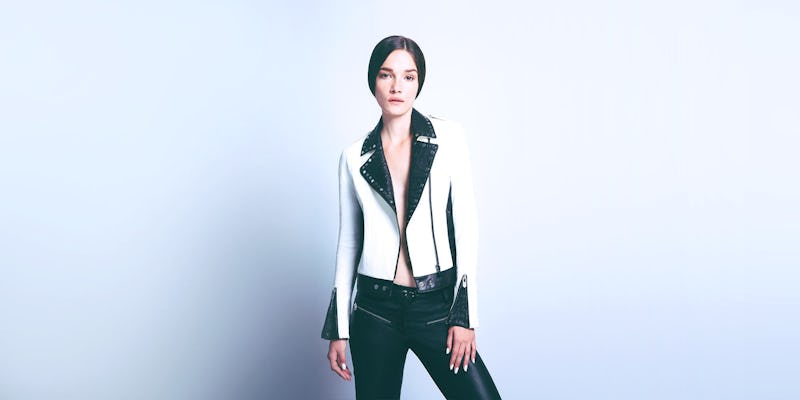 The Mighty Company
Over the past year or so, I've noticed a huge difference in the way I shop. I still go to brick-and-mortar stores and try things on when I have the chance, but more often than not, I end up buying things directly from the brand, with no middleman. This situation is called "direct-to-consumer," and it's changing how we shop online.
The direct-to-consumer business model is pretty self-explanatory; companies sell their products directly to the customer via e-commerce. Chances are, you've probably been involved with a direct-to-consumer brand, and to be honest, it doesn't look like they'll be going anywhere anytime soon. Think: Reformation, Glossier, Monogram, Everlane, and more.
I've always been a huge proponent of supporting local or small businesses. However, if you're like me, you've probably wondered about the business model and the process behind it. Jessie Willner, owner of The Mighty Company, and Ammara Yaqub, owner of Ammara NYC, spoke with me about why businesses are choosing this route in online retailing and how it affects shoppers and consumers.
"The direct-to-consumer business model at its most basic level means that the business sells its product directly to the consumer without a middle man," Yaqub tells me. "In the fashion industry, it means that wholesalers, such as department stores and independent boutiques, are no longer distributing the product and the brand sells directly to its consumers."
As online retailing first appeared from the fires of the age of The Internet, the ease and convenience of shopping from the comfort of your own home started to catch on. Now, it appears, everyone is shopping online — and you can buy just about anything; just take a look at Amazon. From this birthed the online version of fashion distributors like ASOS, Shopbop, Net-a-Porter, and others.
For many reasons, emerging designers have succeeded without a fashion distributor, and so far it's been working to the benefit of the generation they're catering most to: the internet-obsessed Millennial generation. Instead of having storefronts, the focus remains online.
"As a direct-to-consumer brand, your online presence is your main storefront and should be treated as such. You're able to see instantly what resonates and what doesn't," says Willner. "What you can improve upon internally and what is already effective, and you're able to analyze all of it in real time, which gives you the edge over getting reports from a physical retailer."
The direct-to-consumer model doesn't just mean sending clothes to the customer directly, but it also means that owners like Willner and Yaqub can have direct communication with their audience to know exactly what they need.
"The direct-to-consumer model for us is all about connecting directly with the woman on the other side of the experience and treating her right. It's really reminiscent of how most classic heritage brands started — with extreme focus on their relationship with the customer and how they receive their product," Willner says. As a shopper who has asked direct-to-consumer brands many a question, I can honestly say having this sort of access to the company is outstanding.
There's also a level of transparency that these types of companies, such as Everlane, have been pushing forward. For example, Reformation has now opened up its factory doors to the public. This way, customers know exactly what they're paying for. Most of these brands have a page on their website that share the types of materials used to make their clothing, as well as where they're made.
"In this current age, [the direct-to-consumer model] lets us take advantage of the lack of a middleman and give the margin back to our customer — so we are able to make a luxury item from the highest quality materials and actually price it honestly," Willner tells me. Selling products for honest prices is a trend among brands like these, which result in high-quality materials for a fair price, rather than raise the prices for their collections in order to gain back what was sold to distributors for wholesale prices.
Another trend you might see is permanent collections or specializing in a type of item, such as shoes or shirts. Rather than creating seasonal collections that aren't available until nearly six months before the customer can actually wear them, brands like The Mighty Company, who make jackets as part of the permanent collection, or Ammara NYC, who only create shirts, have their items ready for their customers now. This way, you're able to get the items you want as soon as possible, and wear them in the current seasons.
"I decided to shift the focus away from a full collection to shirts and take my business entirely online. The decision to go online, direct-to-consumer and eliminate the wholesale channel, was driven by my desire to provide the customer with designer-level product at a much lower price point," says Yaqub.
This shift doesn't come as a surprise with the rise of slow and sustainable fashion. According to Moody's, apparel sales will increase six to eight percent in 2017 alone, led by direct-to-consumer brands. Overall, the report states that e-commerce will gain momentum for fashion brands, with more and more people using apps, phones, and any other mobile devices in their possession to buy their clothes. Some brands have even worked with platforms like Facebook Messenger to create a more personal experience for the consumer.
Direct-to-consumer shopping is only getting stronger, and in my opinion, it's a win-win scenario for both the brand and the customer. By shopping and supporting this model, not only will you be supporting an independent business, but you'll also be getting well-made pieces at honest and fair prices, from the comfort of your couch. What's not to love about that?