7 People Share How Long It Took To Get An Endometriosis Diagnosis — And It's Infuriating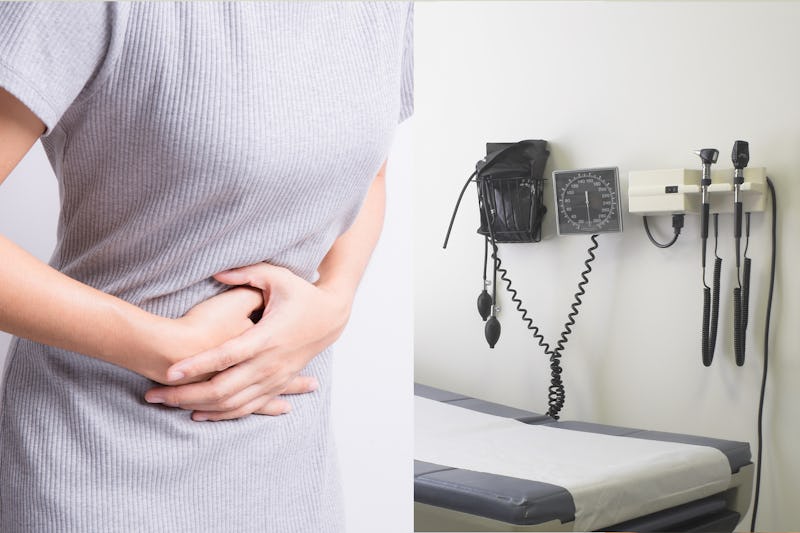 sorrapongs / Rob Byron / Fotolia
Almost every menstruating person has experienced some cramping during their time of the month, but imagine if your period pain was so severe that it stopped you from exercising, or going to work, or even kept you in bed for the duration of your cycle. That's what it's like to have endometriosis (aka, endo) — a disease affects your endometrial tissue and overall reproductive health. Endometrial tissue, or the endometrium, is the lining that grows inside your uterus during your cycle, and sheds when you have your period. According to the Endometriosis Foundation of America, if you have endometriosis, endometrial tissue can grow in your ovaries, fallopian tubes, and even the outer part of your uterus. This abnormal tissue growth can cause downright debilitating abdominal or pelvic pain, as well as painful intercourse, nausea, bloating, constipation or diarrhea, spotting between periods, and issues with fertility. A 2011 study estimated 11 percent of American women, or about one in ten, have endometriosis. There are no stats available about how many trans and non binary people are affected by the reproductive health issue.
Despite the fact that the disorder is fairly common, it can be complicated to diagnose someone with endometriosis. "Endometriosis is still a somewhat mysterious condition that typically involves recurrent and chronic symptoms such as painful heavy periods. Cramps and heavy flow are common enough that endometriosis isn't usually the first thing to come to a practitioner's mind," Dr. Alyssa Dweck, a New York-based gynecologist, tells Bustle. "While patient history, physical exam and pelvic ultrasound might suggest endometriosis, a definitive diagnosis can only be made surgically. In other words, a laparoscopy — a surgical evaluation of the pelvis visually with a telescope — is the only way to be 100 percent certain of [an endometriosis] diagnosis. Diagnosis is often delayed because people are hesitant to undergo surgery."
Patients with endometriosis must often times jump through hoops to receive a diagnosis, or otherwise find that their pain is not taken seriously by doctors who aren't familiar with the reproductive health disease. Dr. Dweck explains that while she doesn't believe sexism in health care plays a role in why it can take so long to diagnose someone with endometriosis, she says, "Women are often urged to 'suck it up' when it comes to menstrual complaints, which leads to delay in diagnosis. The [cause] of endometriosis remains controversial. All of these factors lead to the 'stigma' surrounding endometriosis."
According to the Endometriosis Foundation of America, it takes an average of ten years after symptoms begin for someone to receive a diagnosis of endometriosis. "I just officially got diagnosed with endometriosis a few weeks ago, after years of trying to be taken seriously," Megan, a 24-year-old horticulturist, tells Bustle. The Endometriosis Foundation of America cites a lack of awareness and education — in both the medical community and the public — as a large factor in why many people with endometriosis go undiagnosed, or are misdiagnosed. Seven people spoke with Bustle about how they finally received their diagnosis of endometriosis, and what it's like living with the disorder.