Getting On 'Seatbelt Psychic' Is As Easy As Accepting A Ride — If You're VERY Lucky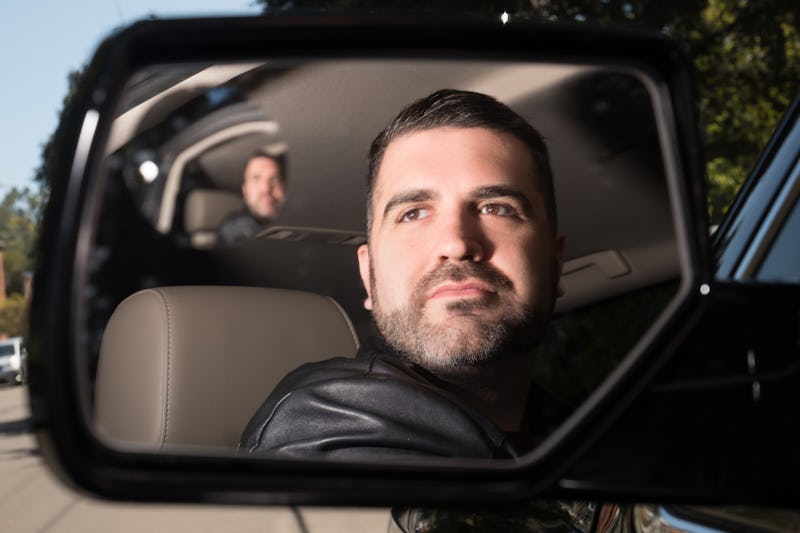 Lifetime
Using ride share programs like Uber and Lyft is a gamble in that you never know who's going to be behind the wheel. Some drivers are talkative storytellers, others are quiet and reserved, and others have their back seats decked out with groovy party lights and tasty free treats. But what if your app revealed that your driver was a medium, and that your free treat was a message from a departed loved one? Lifetime's new series Seatbelt Psychic doesn't give riders that warning. So when they slide into the back seat of world-renowned psychic and medium Thomas John's car, they have no clue what's in store for them. And there appears to be no guaranteed way to get yourself a backseat reading and a spot on the show.
Thomas John is a celebrity medium based in Manhattan who is known for providing his services to stars like Courtney Cox, Goldie Hawn, and Sara Gilbert, per CNN. According to his website, John has made "immeasurable accurate psychic predictions," including the deaths of Whitney Houston and Michael Jackson and the splitting of Tom Cruise and Katie Holmes. He offers a variety of events and private bookings in which he showcases his ability to predict the future and communicate with the dead, but Seatbelt Psychic is unique in that John serves random people within the intimate space of a car, some of whom have never considered the legitimacy of a medium before.
The show, reminiscent of Carpool Karaoke, poses as an up-and-coming ride share program in testing. The riders are asked if they will participate in a half-hour ride and provide feedback, and when they get in the car, they are met with cameras at all angles and of course, Thomas John, who asks if they'd be up for a reading. "This format allows me to reach all sorts of people with my gift — skeptics, believers and people who would never even think about a medium," John told TV Insider. "You will see a lot of people surprised to learn I am a psychic, but I always ask first if they are OK receiving a reading."
So the people who are featured on the show are reportedly not chosen far ahead of time, which may make the readings seem more believable to audiences. Believe it or not, John had never given a reading in a car before, and found the idea kind of strange when it was pitched to him by TV producer Zeb Newman of Fulwell 73, he told The Hollywood Reporter.
"At first, I will be honest and say I thought it was totally nuts to even consider doing readings while driving people around," John said. "But realized that it could be a way to reach people who would never look for something like this but needed some deep healing." And, he says after doing it for a bit, he finds it quite relaxing, since he's so used to seeing and hearing people on the Other Side in his day-to-day life.
John is excited that Seatbelt Psychic is different from other medium-focused shows where the featured clients already have an interest in being read. "It has always been about the healing work for me," he told TV Insider. "I've never been interested in doing a show that exploits the work or focuses on me exclusively as the medium. The great thing about Seatbelt Psychic is that it really features the readings and the stories of people getting into the car, and the healing they experience. To me, that's the most important."
By the looks of it, many of John's backseat riders leave his car in tears or in complete shock by his accuracy. But they seem to be grateful for their experiences. So it's unfortunate that there's no real application for ending up on a ride — the ride has to choose you.