Signs You're *Probably* Ready To Have A Baby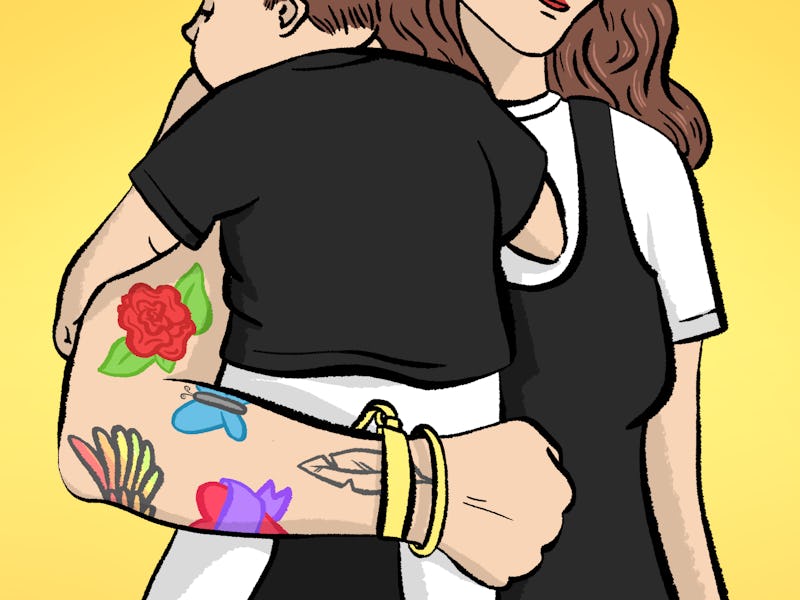 Claire Jones/Bustle
A funny thing happens right after you get married. One by one, your relatives and family friends will start to ask, "When are you going to have kids?" That's what happened to me, at least. Fast-forward three years, it's still just me and my husband — though we did add a fur-baby into the mix — and I'm about to turn 30. I legit called my parents with good news last week (got those reservations we were hoping for!), and they put me on speakerphone because they thought I was giving them *the news*.
So, yes, you can say that I have babies on the brain. But the thing is, my husband and I don't feel ready for such a big step yet. When we tell that to our loved ones, we're often met with, "You're never really ready. Just do it!" The funny thing is that when we got our puppy last summer, we did so much research. Should we crate train? What's the best food? What are the best local daycares and dog walkers? We had answers for everything. By the time we found the puppy we wanted, we were a bit nervous, but we were definitely ready. So why should having a baby be any different?
I reached out to Dawn Michael, PhD, a relationship expert and author of My Husband Wont Have Sex With Me, to find out if there's really a "right" time to have a baby. According to Michael, these are the seven signs you're probably ready — or, well, not:
My Husband Wont Have Sex With Me, $17, Amazon
1. Yes, You Actually Should Feel Ready
Is there really ever a definitive "right" time for a couple to have their first child? "Yes, when they both are ready to have a child, because it is life-altering," Michael tells Bustle. "There is absolute truth to the fact that you will not fully know until you have a child, but you can do research and ask questions until you feel more comfortable."
Michael even suggests babysitting with your partner for a more hands-on trial to see how you feel after a few hours.
2. Feeling Nervous Is Normal
Some of not feeling ready to have a baby might really just be fear of the unknown. Interpreting whether your nerves are more than that might depend on you and how you grew up. For example, Michael says that "people who grew up around many siblings may have some idea what it is like, especially if they were the oldest kid."
Beyond that, it's all about asking questions and doing your research. It's totally normal to have "lots of questions and nerves when making a life-altering decision about having kids."
3. Change Sounds OK
"When you have kids you grow as a person because you are forced to," Michael says, "and this is not a bad thing, but it is also not an easy thing." What's more? She says that you have literally nothing to compare this change to because it's going to be for the rest of your life.
"Having a kid is all about change, not just your life but the person you are," Michael says. So if you're ready for a forever change, then read on.
4. You Have Room In Your Heart
I know, I know, this sounds cheesy AF, but Michael says that "having a kid is about making room in your heart, soul, and life to share with another person. If you can see it from that perspective and want that in your life, then perhaps you are ready."
And if you actually don't feel like you physically and emotionally have more to give because you're already giving so much to your partner or your friends or your job (which is 100 percent fine, by the way), then you should probably hold off.
5. You Have The Right "Parent Qualities"
Would you describe your partner as nurturing, patient, reasonable, trustworthy, and reasonable? Would they say the same about you? According to Michael, these are big signs that you'll be a good parent.
But "if they are lacking these qualities now, chances are they don't get much better after the kid is born." Something to think about!
6. Your Relationship Is Solid
There's no ifs, ands, or buts about it: Having a baby WILL change your relationship, starting during pregnancy. Michael calls it a "balancing act forever," so before you even think about bringing up the "B" word you should make sure you're happy in your relationship. Michael says two of the most important relationship issues to work on before having a baby are how you communicate and how you fight.
"If you have problems resolving issues now, it only gets worse after the baby comes because you are sleep-deprived, grumpy, and it is stressful," she says. "You will have to talk about how each person feels about parenting. Both of you need to be on the same page when raising a child."
7. Oh, You're Ready For Some Perks Too
If you got this far, you may be stressed out and sweating a little. Same here. That's why I was relieved to read Michael's parting words: "It is a rollercoaster ride having kids. Having kids changed me. It made me a better person — more giving, patient, and not as selfish as I was in my 20s. I love my kids more than anything in the world, and with that brings a whole host of other issues because life is no longer about "you" anymore, it is about "us".
Well that sounds pretty darn sweet. And if you're excited for "me" to become "we", then buckle up and get ready for the rollercoaster. As for me? Stay tuned.