How 'The Mindy Project' Ending Affected Your Favorite Characters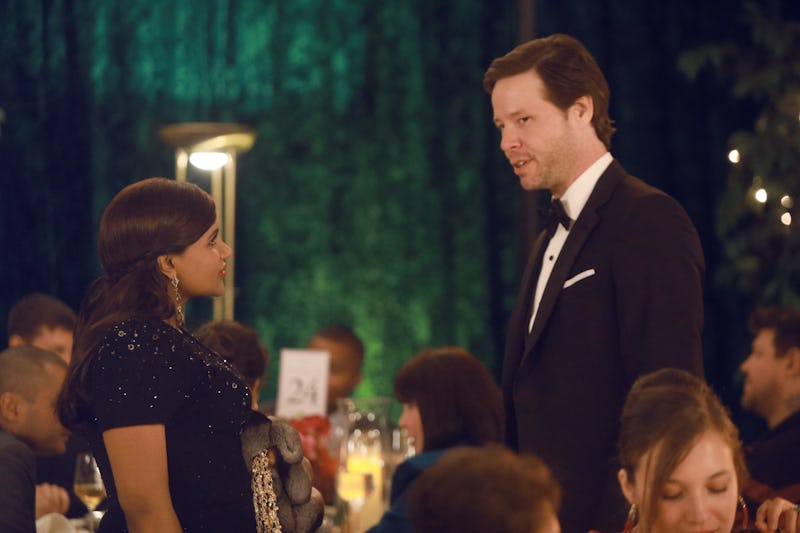 Jordin Althaus/Hulu
Spoilers For The Mindy Project Season 6 finale ahead. The Mindy Project has been through many changes over six seasons, but this Tuesday marked the series finale. How does The Mindy Project Season 6 end? The rom-com sitcom, or romantic situation comedy, hits all the right notes while still managing to throw in a few surprises.
First of all, let's get this out of the way: Mindy and Danny end up together. Are you surprised? The episode is titled "It Had To Be You" and it had to be Danny. He's been the one for her, and she the one for him, from the very start of the show. Their romantic reunion is sweet, and low maintenance, and exactly what you'd expect from a couple with as much history as Mindy and Danny. Yes, if you're wondering, in the final season Danny did redeem himself and apologize for being a jerk.
There are even some homages to the series' pilot. Remember when Mindy spiraled at Bill Hader's wedding, drunkenly left on a bicycle screaming "I'm Sandra Bullock," and then got into an argument with a Barbie doll at the bottom of a pool? The finale recreates that sequence, except this time Mindy doesn't fall into the pool. She glides past it. That's character growth for you. As for the rest of Mindy's pals? Here's what happens to them as The Mindy Project takes its last bow.
Anna & Jeremy
Let's start with the two office romances that defined the final season. Jeremy's father dies, and he goes through an episode-long cockney rebellious stage in response to his "freedom" from the oppressive old man. Through all of that, Anna is right there with him, even though she clearly prefers the sophisticated (if occasionally foppish) man she originally met.
Morgan & Tamra
They're married! Morgan also gets rid of his dogs in the finale, which is pretty major for him. They ask Mindy to be the final toast at their reception, which is kind of a mistake. She has a romantic epiphany and leaves midway through. Thankfully, Morgan understands, and even gives her his bike.
Beverly
While Beverly's newly discovered son stands her up at Morgan and Tamra's wedding, he and his kids make it to the reception, and she does participate in the office's flash mob that didn't include Mindy. So that's something. Beverly will always have people who care about her.
Jody
After falling in love with a philanthropic doctor, Jody went to Africa to do a Doctors Without Borders type of program with her and financially pulled out of Later Baby, forcing Mindy to look for a new business partner.
Collette
She and Karen never got back together, but Collette made a big decision in the penultimate episode to not follow her brother to Africa. She's alone for the first time in her life, and seems all the better for it.
Danny
His mother was diagnosed with cancer, and while she's doing OK and survived a risky surgery, that brought Danny closer to Mindy. In the finale he is at first oblivious to Mindy's romantic gesture, but ultimately goes after her and reciprocates. He also invests in Later Baby, thus helping to save Mindy's greatest career achievement.
Everyone Else
Some characters on The Mindy Project are long gone, like Gwen, Betsy, Shauna, Tom, and Dr. Shulman. However, a few characters returned in the final season. Adam Pally's character Peter, as always, popped in for some good times. His marriage still seems to be putting the fun in dysfunction. Cliff the lawyer is still practicing law, and spilled the beans to Mindy about Danny's divorce. Brenden hit a rough patch after his brother abandoned him, but everything worked out. Casey is married and starting a family. All is well all around.
Mindy
Her practice is financially secure and she's (seemingly) spending the rest of her life with Danny Castellano. The literal end of the episode and the series is Mindy and Danny sitting together in a hospital watching TV after deciding to get back together.
It's a quiet ending that befits the message The Mindy Project has been trying to get across for six seasons. Life is not a romantic comedy, but love is real.