Trump's Got Typos In Every Other Tweet, But Melania's Out Here Sending Secret Texts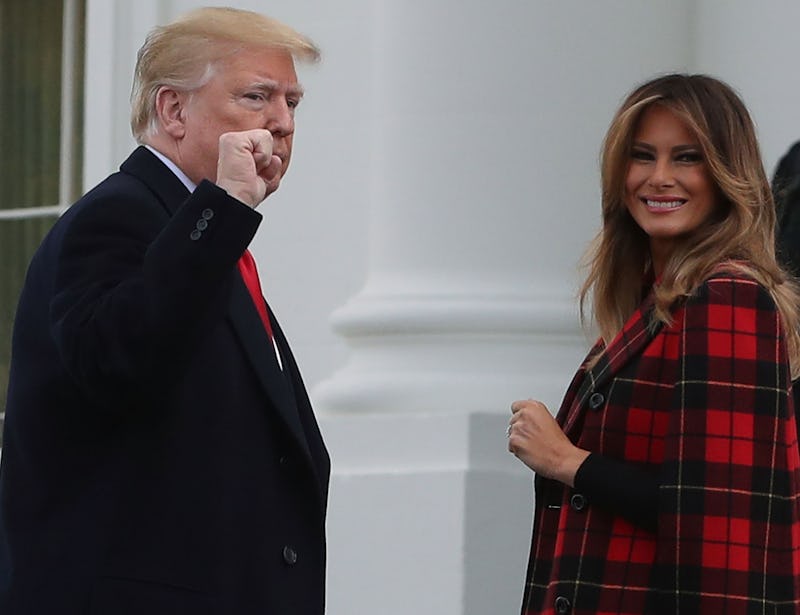 Mark Wilson/Getty Images News/Getty Images
If you've ever found yourself wondering how President Trump and Melania Trump go about using technology in the White House, there are some answers. New York Times' White House correspondent Katie Rogers reported on Wednesday about just that, and revealed that Trump and Melania are, among other things, an "Apple couple."
Both husband and wife are iPhone users, according to Rogers. As far as technological know-how was concerned, Melania has the upper hand on her husband: she's active on Facebook, Twitter, and Instagram for sifting through media coverage about herself, as well to follow topics she's personally interested in, like fashion. Melania also reportedly follows a Taurus astrology sign account on Twitter called @taurusismagic. (Melania was born in late April.)
Trump on the other hand, is reportedly less deft with his use of technology. Rogers reported that aides hand Trump printed copies of news articles, and there are often "mysterious-looking cardboard boxes" on Air Force One, which contains these articles for him to skim. It's how Trump gets the lay of the land, according to Rogers.
That Trump uses an iPhone, Rogers reported, also worries the president's advisers. Now, you might think that the apprehension is due to the president using Twitter to mock and deride critics, often in tweets riddled with typos. Aides, however, have security concerns, and there have been reports that potential hacking issues may arise with his phone. Trump has reportedly rebuffed aides' attempts to inspect his phone's security.
The first lady, on the other hand, uses Signal (an encrypted texting app that can delete your messages after a certain length of time) to stay in touch with her contacts, in addition to texts, phone calls, and emails, The Times reported. Melania also turned to the internet for photo samples to show her aides for her Be Best campaign, according to a previous report.
And if you've ever felt curious to know about how the first lady feels about her husband's tweeting, Melania told reporters in October that she doesn't always see eye to eye with Trump.
"I don't always agree what he tweets, and I tell him that," the first lady said then. "I give him my honest opinion and honest advice. Sometimes he listens, sometimes he doesn't. I have my own voice and my opinions and it's very important to me that I express how I feel."
Reporters had also asked if Melania ever tells her husband to put his iPhone away. "Yes," she said then.
Trump's singular social media habits have become a fixture in the news. In January 2017, for example, Axios' Mike Allen and Jim VandeHei went as far as creating a visual guide on how Trump consumes media and uses the internet.
The first couple's technology usage — particularly President Trump's — is a topic that continues to intrigue the media. And it also seems to have influenced how journalists use tech while covering the president, too. Rogers noted that reporters were now basically hooked to live-tweeting and sharing photos and videos in their coverage of the Trump White House. And it may just stay that way — for the next two years at least.