Olympic Snowboarders' Speed Depends On A LOT Of Factors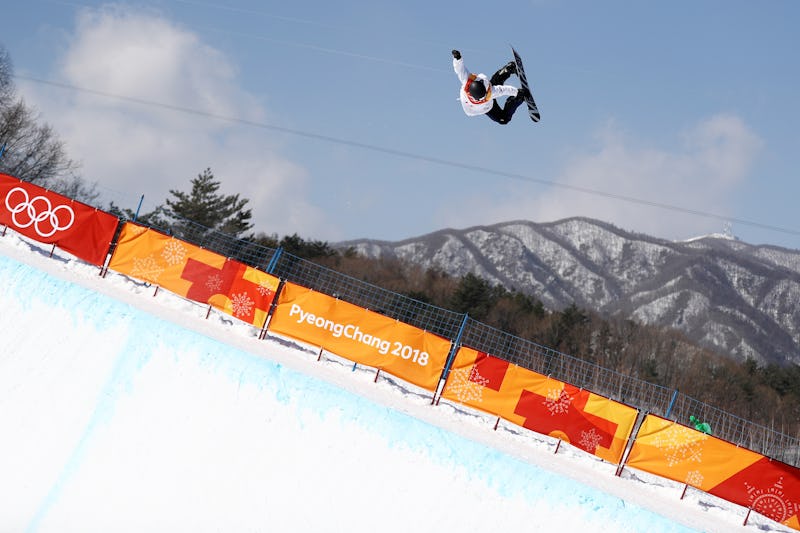 Clive Rose/Getty Images Sport/Getty Images
American snowboarders have been dominating Olympics news recently, with Chloe Kim winning a gold medal in the women's halfpipe and Shaun White delivering an epic qualifying performance in the men's version of the same event. As you consume snowboarding coverage, you might be wondering how fast Olympic snowboarders go as they perform their incredibly daring routines. Ultimately, snowboarding speed depends on a variety of conditions, including the event in which a snowboarder is competing as well as weather factors, like snow and wind.
Edmond Plawczyk, a Swiss snowboarder, holds the world record for the fastest snowboarder, having clocked a speed of 126.309 miles per hour (203.275 kilometers per hour) in 2015 in Vars, France. According to The Clymb, the average snowboarder travels between 25 and 35 miles per hour, making Plawczyk's achievement all the more noteworthy.
Of course, Olympic snowboarders are likely not aiming to travel as fast as Plawczyk, as achieving exceedingly high speeds is not necessarily an asset in all Olympic snowboarding events. For men and women, there are five different snowboarding events at the 2018 Olympic Games in PyeongChang: the giant parallel slalom, parallel slalom, slopestyle, snowboard cross, and halfpipe. There is also a mixed team ski-snowboard cross.
The slalom events as well as the snowboard cross constitute what are known as snowboard racing events, in which snowboarders compete against each other in order to see who can advance down a course most quickly. The slalom events require strong speed and technique skills, as competitors must beat other racers while weaving around gates and tight turns. The parallel giant slalom is known as a particularly fast event, with snowboarders sometimes reaching speeds of up to 70 miles per hour.
Snowboard cross requires similar skills to slalom racing, but the course for it contains even even more features, like jumps and ramps. Thus, in the snowboard racing events, speed is certainly crucial but accuracy in technique is just as essential.
Slopestyle and halfpipe are not racing events, but speed is also certainly important in order to ensure that riders get enough momentum to perform their tricks. Slopestyle features a course full of different obstacles and snowboarders choose which tricks to perform on the features as they head down the course. Halfpipe features riders snowboarding up and down a half cylinder, repeatedly performing tricks, like flips and spins, when they are in the air.
Of course, in addition to event type, weather also plays a large role in determining the speed at which snowboarders travel. Indeed, weather played an enormous role in the women's slopestyle competition on Monday. There were incredibly strong winds that day, with 30 mile per hour gusts and strong crosswinds. According to The Guardian, the wind prevented many competitors from gaining enough speed to successfully perform their routines. The wind and unpredictable speeds resulted in many riders falling and/or failing to execute their tricks.
Indeed, many women who competed in the slopestyle competition on Monday were critical of the International Skiing Federation's (FIS) decision to move forward with the event, saying that the weather made conditions dangerous and did not allow them to compete to the best of their ability. As Enni Rukajärvi, the Finnish bronze medalist, told the paper, "The weather was bad and too dangerous, and I got a lot of wind in my run. They should have cancelled it, or moved it." Another rider, Britain's Aimee Fuller, added, "Unfortunately it wasn't the best day for our sport ... We're flying over 30 metre jumps and if it gusts you're going to go down. Some people got lucky and I didn't."
Overall, the speed at which Olympic snowboarders travel clearly depends on a lot of factors — and one such factor, weather, is clearly already significantly impacting athletes' performances.