How Flint Journalist Jiquanda Johnson Is Reporting On The Water Crisis From The Inside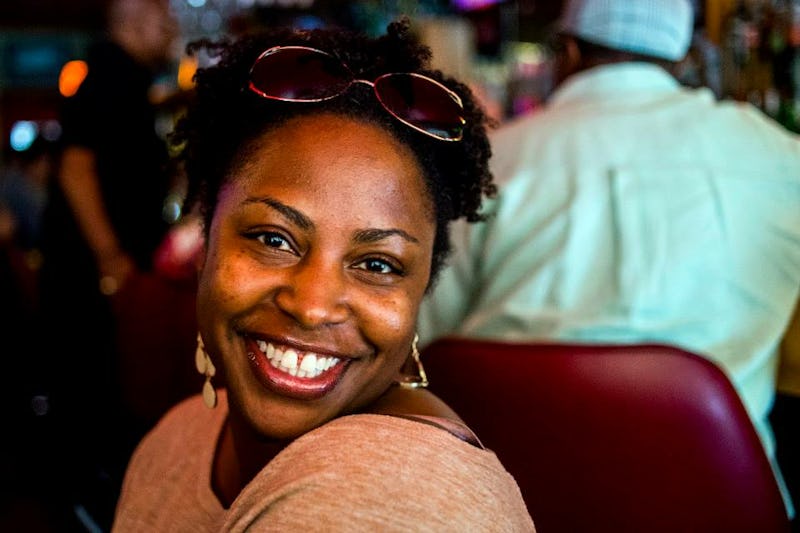 Jiquanda Johnson
The world knows Flint, Michigan, as the site of a four-year-long water crisis that's exposed more than 100,000 people to lead toxins and resulted in at least a dozen deaths. A veteran journalist believes that the catastrophe is still poorly understood, and also that the city is so much more than the crisis. Jiquanda Johnson created Flint Beat, the city's only community news outlet, last year and it's already become indispensable to many locals and national observers. But Johnson is toiling hard to maintain it.
Johnson tells Bustle that for years, she observed Flint was full of "stories not being told" and "people who had a voice but didn't have a platform." She says the few media outlets covering the area mostly publish stories on sports and crime, and she views their articles on the water crisis as one-dimensional.
I also need for the world to understand that Flint isn't just going through a water crisis.
Journalists are "just not doing the digging" on the water crisis, Johnson, who currently lives just outside the city limits, argues. She notes that while most coverage has focused on the Legionnaires' outbreak that infamously followed the contamination, she knows Flint residents who got bacterial infections and cancers they believe could be linked to the water as well. Also under-covered, Johnson says, is the fact that residents no longer trust their water or pipes (some of which haven't yet been replaced), even though officials say the water is safe to drink.
Johnson decided the city needed a new publication and that she should jump in and launch it herself. Who better than a Flint native, she reasoned, who'd covered the area for years as a Flint Journal reporter and gained the trust of the community? So, in March 2017, she launched Flint Beat, a wide-ranging, community-focused website she hopes will become "the #1 news outlet in the city of Flint."
There are clear benefits to reporting on your own community: You have more sources and deeply rooted contextual knowledge. But it's also an emotionally taxing job for Johnson. It's impossible for her to distance herself from the stories she writes — including those about the water crisis.
"To show up to someone's house that you know, and the U.S. Surgeon General pulls up because they have some of the highest lead count per billion in their water," Johnson says. "I mean, that's crazy."
"I opened the mail one day and my daughter had this food card," she continues, referring to benefits Flint gave to children for food that would diminish the effects of lead exposure. "She'd been exposed to the water because her father lived in the city of Flint at the time."
Johnson watched reporters from around the country flock to Flint when the crisis made national headlines in late 2015 and 2016. Suddenly, she was surrounded by strangers who were publishing stories about her city.
"You're scrutinizing them because you're in the thick of it," she says. "You're here every day. You find some of the reporting isn't doing the story justice. Even now."
In Johnson's experience, Flint Journal reporters split their attention between many cities because they cover the entirety of Michigan's Genesee County. Johnson, on the other hand, focuses only on the city of Flint — but she's just one woman. While she's managed to bring in a business partner and intern, she's the main person producing content. She admits to feeling significant pressure. By this point, Flint residents are so used to her presence at events like city council meetings that they will call her if she doesn't show up to one.
"I didn't know the impact I was making until they started reaching out to me, like, 'Yo, you coming back to City Hall?'" Johnson says, laughing. "I've been missing and the mayor has called me."
There's also the financial struggle. When Johnson launched Flint Beat, she didn't have much of a business plan. It's a difficult era for journalism outlets in general, as industry revenues decline and newsrooms get smaller, let alone for small community publications. Recently, Johnson partnered with the organization NewsMatch (which is using #GivingNewsDay on Giving Tuesday to raise awareness) to conduct a fundraising drive.
We think we define ourselves, but people define us by our acts.
Despite the social and financial pressures, Johnson is committed to growing Flint Beat. She believes the outlet is necessary to provide Flint residents with news that's directly relevant to them.
"I also need for the world to understand that Flint isn't just going through a water crisis," she says. "The city is going through a crisis. Gun violence, literacy rate, poverty."
Johnson also dreams of having Flint Beat shed light on more incidents of hate and discrimination (especially since someone spray-painted a racist slur on her parents' car this summer). Although she says she feels a bit "powerless" against forces of hate, she's still found a way to fight back by providing a platform on Flint Beat for people to report hate crime incidents in collaboration with the nonprofit news publication ProPublica.
She's hesitant to call herself an activist, or to place herself among what she describes as a "handful" of Flint residents who don't just show up when issues hit the headlines but never stop working for progress. Flint, on the other hand, has no doubts about what to call Johnson.
"We think we define ourselves, but people define us by our acts," she says. "The community, they've defined me as some kind of activist. I just thought I was this little girl from Flint trying to make a difference in journalism."