How #GoldenShowerGate Sparked A Kink-Shaming Convo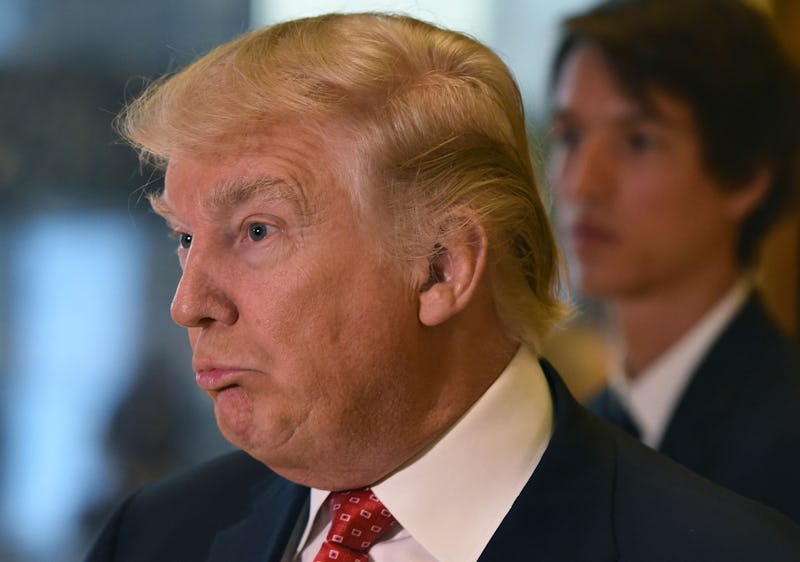 TIMOTHY A. CLARY/AFP/Getty Images
If you had never heard of "golden showers" before unverified intelligence documents about Donald Trump's ties to Russia were released Tuesday night, you're not alone. Urination fetishes are not very popular, and haven't made headlines since news of R. Kelly's sexual assault accusations resurfaced in 2013. Trump has denied these allegations, calling the report "fake news" and "a total political witch hunt."
But despite its high-profile poster boys, "golden showers" are sexual acts that can and do take place between consenting parties and out of view of state police. The unverified reports publicized by CNN and BuzzFeed news are sparking a lot of conversations, and one of those discussions happening in conjunction with #GoldenShowerGate is about kink-shaming.
Chances are if you haven't heard of urination fetishes before, you're also new to the term "kink-shaming," which means to shame or generally disrespect someone over an unconventional sex practice or fetish that they are into. People who enjoy sexual practices outside of conventional sex — whether it be bondage, domination and submission, swinging and group sex, or yes, so-called "water sports" — often have to keep those practices a secret, and can even be subject to disdain or ridicule by others, whether directly or indirectly.
As you probably know by now, the publishing of the unverified intelligence documents detailing Trump's alleged engagement in a "golden showers" party has led to a deluge of jokes online. Which has led many people to ask if kink-shaming is OK when it's a matter of national security or at a president's expense. Those engaged generally fall into two camps.
Some Say It Is OK To Shame Trump
Others Say Shaming Is Always Bad
Some Are Not As Concerned About Shaming
Still others say the jokes have nothing to do with Trump's alleged kink, but rather the fact that the report says he hated Barack Obama so much that he paid people to urinate on the place where he once slept.
There are many sides to the issue and many opinions all being aired out online, and perhaps even in awkward water cooler talk at workplaces around the world. Whether or not the allegations in the report are true, millions of people are now talking about issues of respect surrounding sexual practices.
Of course, in keeping with the platform's reputation, not every exchange on Twitter is being undertaken with civility. But for every thread that devolves into swearing and blocking there is another where minds are being changed or people are simply agreeing to disagree. Whoever would have thought a report on Trump's alleged conflicts of interest in Russia would lead to a worldwide conversation on kink-shaming? I can't be sure, but I'm going to go ahead and guess that no one saw this coming.