Why You Need To Check Out Hannah Hart's New Show 'I Hart Food'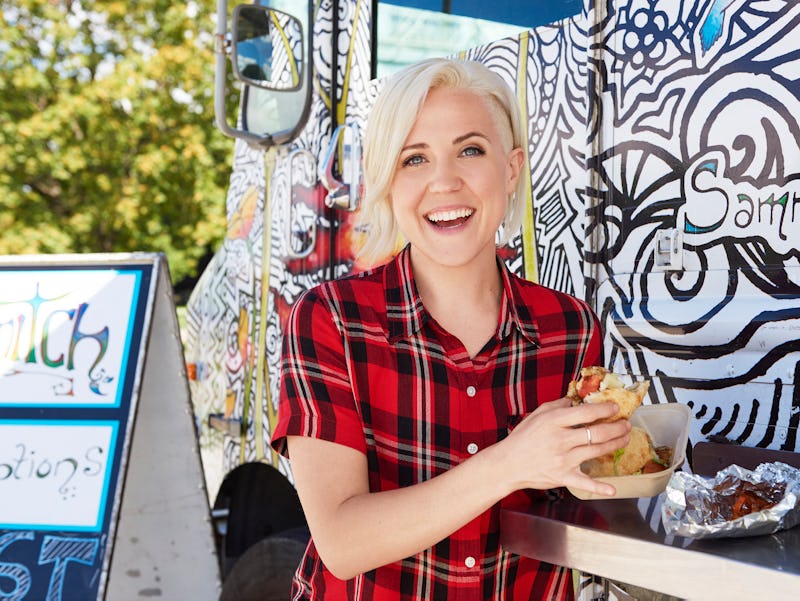 I Hart Food/The Food Network
If you've ever been on the internet, you've probably seen at least one episode of My Drunk Kitchen, foodie sensation Hannah Hart's weekly web series on YouTube that combines her passion for food with her affinity for puns, and originally began as a joke for a friend in 2011. The prank paved the path for Hart's new Food Network show I Hart Food, a six-episode series that premieres Monday Aug. 14 at 10 p.m. ET. I Hart Food has Hart traveling around the country exploring how local staples are used to highlight unique food cultures in different cities and towns in the United States.
From Santa Fe, N.M., to Portland, Maine, and lesser-known places in between, I Hart Food delves into topics like the many ways Mainers prepare lobster, myriad uses for green and red chilis in Santa Fe, and the nuances of raising Bison in Montana.
"I think in America, we have a lot of really great underrated cities, and I want people to feel proud of where they're from," Hart tells Bustle over the phone, her voice sounding excited. Adding that while she hits thriving foodie locales, discovering the secrets of less well known food-influenced towns and cities is part of the magic of the show.
Hart says she hopes I Hart Food viewers will gain a broader sense of American culture, and feel more unified as a result. "Food is such a shared experience, and I'm a caretaker by nature. I derive a lot of value from being able to share with others — having the ability to being able to share resources and experiences by sharing meals," Hart says. It's something that brings me a lot of joy."
From Drunk Kitchen To I Hart Food
Hart says her love of people originally led her to get degrees in both English literature and translation. "I wanted to be an interpreter and translator," she says. However after moving to New York City from California, the economic downturn made it difficult to find work.
A video of Hart drinking wine while attempting to make a grilled cheese sandwich without any cheese that she called My Drunk Kitchen, and uploaded to You Tube, quickly amassed more than 100,000 views, and fans began demanding more. A few months later My Drunk Kitchen had more than 800,000 hits and a partnership with You Tube, according to the New York Daily News.
Despite the popularity of the web series, Hart says she's no overnight success. "There's no such thing as the overnight success where it's like everything just fell in my lap and it was the perfect amount of people and timing," Hart explains. She refers to her book BUFFERING: Unshared Tales of a Life Fully Loaded as required reading for those who want to understand her evolution from My Drunk Kitchen to I Hart Food.
Basically, the path from point A to point B was buffering, which Hart says is just the time it takes to process. "I wanted people to see that not only my personal journey, like family's history with mental health and homelessness, but also how I built this career, and what it took to get here," she says. "The moments of insecurity, failure, and doubt."
Hart-To-Heart Advice
Hart cites the best career advice she ever received as "process not perfection." Sort of like, the journey is more important than the end game. "When you're trying to work toward your goals it's about the process of getting there, not about it being perfect the first time around," she explains.
In 2012, Hannah launched her first scripted format Hello, Harto, a project that helped distribute food to local communities across America. These efforts in turn created Hannah's philanthropic community Have A Hart Day, an international, year-round initiative which encourages young leaders to volunteer their time in their own communities. Hannah was recognized by The White House for her ability to mobilize the youth through this initiative and she was invited to lead a discussion about millennial engagement with President Obama. She was also named to Forbes' 30 Under 30, an annual list in 2015.
She also says she doesn't believe in fear-motivated decision making. There are times when someone is going to tell you that you're never going to have another good idea, she says, and you have to capitalize on it right now. "If an opportunity is really so good then why is it fleeting?" she muses.
And, as a woman dominating in a male-dominated field, Hart says categories are for people who want to keep you inside of a box, and it's important to think outside of those lines. "By virtue of the fact that I'm a woman, I'm a woman in comedy, I'm a woman on the internet, I'm a woman on TV, a woman in food," she explains. "But, I don't view my content that way."
On Her Love Affair With Food
For Hart, food symbolizes a feeling of community, which is what she hopes her show will foster in the hearts of viewers. "That's what really at the heart of it," she says. "I am very attached to food, and it's what gives us life, and life is all we have."
She's also focused on learning the basics of cooking some staples like pasta and eggs. "I feel really confident about my ability to make eggs," she laughs. "I'm really trying to start with basics. In the last couple of years, I've learned how to properly cook scrambled eggs, and properly cook an omelette, and I'm also learning how to make pasta the right way."
She applies her "process not perfection" motto to cooking as well. "If I am cooking for you you have to understand it's an experiment, not expertise," she says, adding that her first memory of pasta is associated with her mom making large amounts of pasta to feed the family.
"I didn't actually like pasta for awhile because we'd make it in bulk, but it's a really great way to feed a family," she says. "You can make a giant pot of pasta, add some red sauce, and boom. No matter how busy you were that day, or no matter strapped you are for cash, you know have a meal that's going to feed anybody and everyone can enjoy."
Now, learning the nuances of cooking pasta correctly has brought the dish back into her life. And, when it really comes down to it, preparing and sharing food is really a social experience, and a way to show love, which is exactly what I Hart Food is all about.
"I love to cook something, dish it out in little bowls, and have everybody sit around talking," Hart says. "As someone who's always in the spotlight, when I share food I get to be on the sidelines for a second and really appreciate the moment of seeing the people around me feeling happy and satisfied."
I Hart Food premiers on the Food Network Aug. 14 at 10 p.m. ET.