How HIV Treatment Changed The World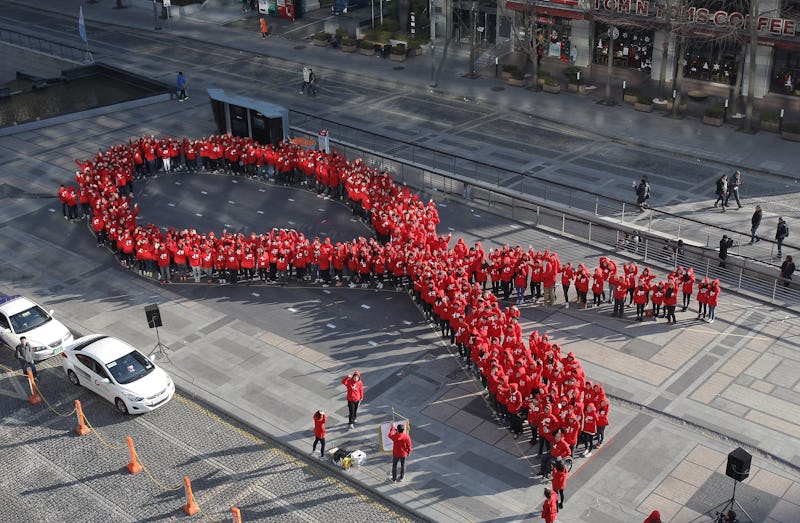 Chung Sung-Jun/Getty Images News/Getty Images
Today is the 22nd annual National HIV Testing Day, an event that encourages Americans to learn their HIV status. Thanks to great breakthroughs in treatment, people who find that they are HIV positive have a very different prognosis than they did when the first National HIV Testing Day was observed in 1995. However, it has taken a long time to get to this point, and while it's important to celebrate our progress, it's also important to recognize the struggle that it took to get here.
Human immunodeficiency virus, which was first identified in 1983, has been hugely devastating for many communities across the world. HIV, of course, can potentially develop into AIDS, which lays waste to the immune system, and can lead to death from opportunistic infection. So the stakes of developing effective HIV medication were very high — and tracking the development of treatment is a hair-raising ride.
For many of us, the "AIDS crisis" of the '80s and '90s, when HIV and AIDS were a topic of frequent media coverage, is a distant memory. However, it has remained a serious medical issue ever since it emerged, even if treatments have improved and the CDC has reported a decline in infections; in 2014, there were 1,107,700 adults and teens living with HIV in the U.S., and 6,721 deaths were directly attributed to the disease. And a 2015 HIV crisis in rural Indiana showed that despite all the information that we now have, policy can still create barriers that discourage people from knowing their status, treating their HIV, or taking steps to prevent infection.
So despite what some think, HIV is still an issue, in the US and throughout the world — but it's still key to recognize how far we've come.