How I Feel Reading LGBTQ+ YA As An Adult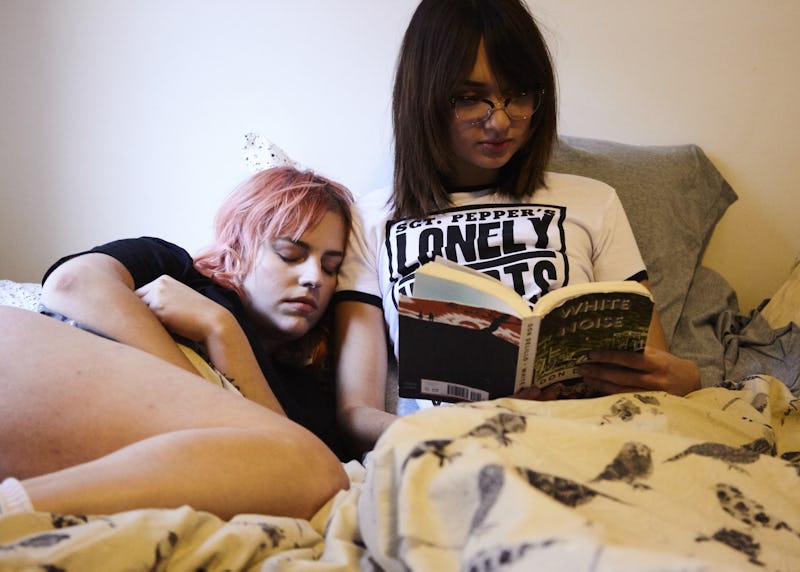 Hannah Burton/Bustle
Hearing young adult fiction dismissed or deemed unworthy of critical attention is something which never fails to make me roll my eyes. Thankfully, the academic study of children's literature is now well established and the quality of much of the work being produced in the YA space is strong enough to defend itself. If any area of traditional print publishing responds to increasing calls for diversity and intersectional representation, it is young adult. Although YA authors don't always get it right, an increasing number of books shake off the shackles of the didactic YA novels which preceded them. They push boundaries by confronting taboos and grappling with issues of relevance to today's teens.
As a teenager in the '90s, I was as enthusiastic about YA as I was about watching My So-Called Life, playing Pearl Jam's Ten on my CD Walkman, and wearing plaid. I thumbed through slick, sexy, and surreal horror stories by Christopher Pike, such as the Remember Me series or Final Friends trilogy. The Point Horror range of teen screams by authors like R. L. Stine (The Baby-Sitter, The Boyfriend) and Caroline B. Cooney (The Cheerleader, Freeze Tag) held endless fascination with their juxtaposition of horror with teen anxiety. I dabbled in teen romance and read every single one of Francine Pascal's Sweet Valley High series, about the lives and loves of identical twins, Jessica and Elizabeth Wakefield. I read all of Judy Blume's stories, which covered everything from masturbation (Deenie) to bullying (Blubber) and first time (hetero)sexual experience (Forever).
I read widely, but my reading was very straight. Almost every book with a romantic plot focused on heterosexual experience. Minor Sweet Valley High character Tom McKay questions his sexuality in one book in a series of well over one hundred. It's only post-2011 that the Sweet Valley Confidential series introduced its first same sex couple (Steven Wakefield and Aaron Dallas). Judy Blume explored many things but homosexuality was not one of them. The Sweet Dreams series positioned itself firmly in the heterosexual romance space and in the absence of widely accessible online content, queer online narratives like fanfiction were not available to the nineties teen.
I read widely, but my reading was very straight. Almost every book with a romantic plot focused on heterosexual experience.
This lack of LGBTQ+ material was compounded by Section 28 of the Local Government Act 1988. In England — where I'm from — the act remained in force until 2003, and its restriction on "promoting homosexuality" rendered a lot of schools silent on the topic. Although queer YA existed, there wasn't much, it wasn't available on school library shelves, and it tended to focus on binary depictions of sexuality. It was only after school that I discovered 1982 queer girl classic Annie on my Mind by Nancy Garden, famed for giving its female protagonists a hopeful ending. It was around the same time that I also discovered the sublime Weetzie Bat by Francesca Lia Block and M.E. Kerr's Deliver us From Evie. Perhaps because I'm bisexual, my perpetually straight YA books didn't prompt questions about my sexuality during my teen years. Assumed heterosexuality didn't jar with me because I lusted after Christian Slater in Pump up the Volume as much as the next straight girl. In hindsight, I now realize I've always found different genders attractive, but because my preferences have never been exclusively confined to same sex attraction, it was easier to dismiss such desire as objective appreciation — aesthetic pleasure — than anything sexuality related. It might sound naïve, but with limited visibility of bisexual experience, I expect my story is not an unusual one.
In this context, reading LGBTQ+ YA evokes a deep sense of queer nostalgia for the teen I once was. I feel an affinity with teenagers grappling with sexuality and gender identity and hope such stories find their way into schools, to be discussed and shared. YA fiction had an enormous impact on me growing up. It taught me all kinds of things, good and bad, about love, loss, body image and female sexuality. YA offers a space to explore the tumult of adolescent anxieties in a safe and private way. As an adult, reading books with teenagers at their heart reminds me of those awkward years of wanting to be accepted and liked, of being on the receiving end of cruelty and being cruel myself. It recalls fragile veneers of confidence, the bluster and bombast of negotiating young adulthood and the way in which fictional characters can help a young reader traverse the path to adulthood.
[YA] taught me all kinds of things, good and bad, about love, loss, body image and female sexuality. YA offers a space to explore the tumult of adolescent anxieties in a safe and private way.
Young readers today are no longer forced to accept limited binary depictions of gender and sexuality. There are plenty of choices, with YA featuring trans* characters (Lisa Williamson's The Art of Being Normal, Cris Beam's I Am J, Jeff Garvin's Symptoms of Being Human, Ellen Wittlinger Parrotfish) and stories featuring queer women by authors like Malinda Lo (Ash, Huntress), Lili Wilkinson (Pink), Gabby Rivera (Juliet Takes a Breath), Jandy Nelson (I'll Give You the Sun) and Julie Anne Peters (Keeping You a Secret, Luna). Multiple books by David Levithan (Two Boys Kissing, Boy Meets Boy) feature gay teen boys, as does Perry Moore's superhero book, Hero, the grittier More Happy Than Not by Adam Silvera and coming of age narrative Aristotle and Dante Discover the Secrets of the Universe by Benjamin Alire Sáenz. Sci-fi and fantasy have long held queer resonance with other worldliness and characters that shape-shift or transcend gender binaries, but increasingly more characters are explicitly LGBTQ+ (e.g. Rick Riordan's Magnus Chase series).
Growing up is hard to do and diverse books with fully rounded, representative worlds and characters are as important today as they were in the '90s. The queer nostalgia of reading LGBTQ+ YA as an adult is coupled with hope that increasingly varied depictions of queer experience will help normalize queerness for today's LGBTQ+ teen. As today's teens become tomorrow's adults, I hope my once small collection of books continues to grow enough that it will soon warrant a bookcase all of its own.