How I Know For Sure Trump Is No Match For Feminism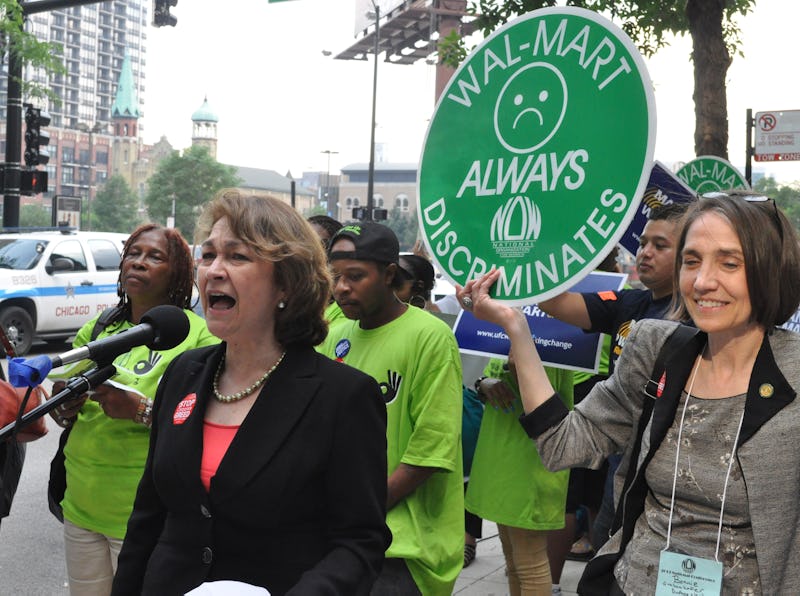 National Organization for Women
This summer I will conclude my term as president of the National Organization for Women. As I prepare to pass the torch to the organization's next president, I've been thinking a lot about what it will mean for her to lead in the age of Trump. And I've been thinking a lot about the challenges that women have faced — and overcome —during my administration.
Looking back to when I became president eight years ago, it's easy to feel nostalgic. In 2009, Barack Obama had just become president of the United States — and the first measure he signed into law was the Lily Ledbetter Fair Pay Act.
To be sure, women were struggling then. The Great Recession widened the gaps between white women and women of color in economic security, joblessness, and health outcomes. Still, progressive and feminist voices dominated the halls of Congress, and it felt like we had a voice and a seat at the table — something that definitely does not feel true in 2017.
I was privileged to be a part of some of the tremendous strides the feminist movement has made in the past eight years. Some of these battles were easier to fight because we had more champions on Capitol Hill and in the White House. But we also made gains that had nothing to do with powerful figures in Washington, D.C., and everything to do with the power and persistence of grassroots activists.
Below I've shared some of my favorite moments from my time as president of NOW. Feminists have accomplished quite a bit: we should celebrate that as we continue to move forward.
Putting Women's Health In The Affordable Care Act
When I took office in 2009, Washington, D.C. was embroiled in the fight to pass the Affordable Care Act. NOW's grassroots activists took to the phones and lobbied their members of Congress to make sure women's health would be protected in the bill. Thanks to them, the Stupak-Pitts amendment, which would have eliminated insurance coverage for abortion care, was defeated. And the Mikulski amendment, which required insurers to cover women's preventive care with no copays or deductibles — including mammograms, cervical cancer screenings, birth control, and breast feeding assistance — made it in.
Getting Arrested For Immigrant Women's Rights
In 2013 I took part in a nonviolent direct action to raise awareness for the rights of undocumented women. It's often difficult for undocumented women to safely protest unfair immigration policies; facing the constant threat of deportation, the stakes are just too high. When the We Belong Together campaign (led by the National Domestic Workers Alliance and National Asian Pacific American Women's Forum) invited me to participate in their action, I jumped at the opportunity. The idea was for women who can protest safely to get arrested in place of undocumented women who cannot. I was honored to stand with my immigrant sisters in calling for an end to unfair deportations and passage of comprehensive immigration reform that includes a path to citizenship.
Calling Out The Misogynists
In the past eight years we witnessed some egregious examples of misogynists committing or condoning violence against women. But we called them out, and held them accountable. In 2014, NOW demanded the resignation of NFL commissioner Roger Goodell because of his failure to ensure the safety and economic security of domestic violence survivors in the NFL orbit. Although Goodell held onto his job, the ensuing national conversation forced the league to change some of its policies in dealing with intimate partner violence. And just this year, NOW called out the toxic culture of alleged sexual harassment at Fox News — and Bill O'Reilly was forced to leave the network in shame because of his sexist and racist predatory behavior.
Putting Intersectionality At The Core Of NOW's Mission
When NOW was founded in 1966, our stated purpose was to "bring women into full participation in the mainstream of American society." We have a proud history of fighting for a truly inclusive feminist movement; our core issues have long included ending racism and homophobia, and fighting for economic justice. In 2015, just before NOW celebrated its 50th anniversary, we took action to update our official mission statement. NOW's purpose is now "to take action through intersectional grassroots activism to promote feminist ideals" and "lead societal change."
As we move forward, this inclusive, intersectional approach to feminism must continue to guide our work. Our numbers are growing; many have been spurred to action by the racist, xenophobic, and misogynistic policies coming out of the White House, and a conservative-dominated Congress. Feminists are fighting back from a place of strength. We stand in proud solidarity with communities of color, with immigrants, refugees and Muslims, with LGBTQIA people and those with disabilities. And because we are making intersectional grassroots activism a priority, we'll have many more victories to tally eight years from today.