'I Love Dick' Is Changing How We See Desire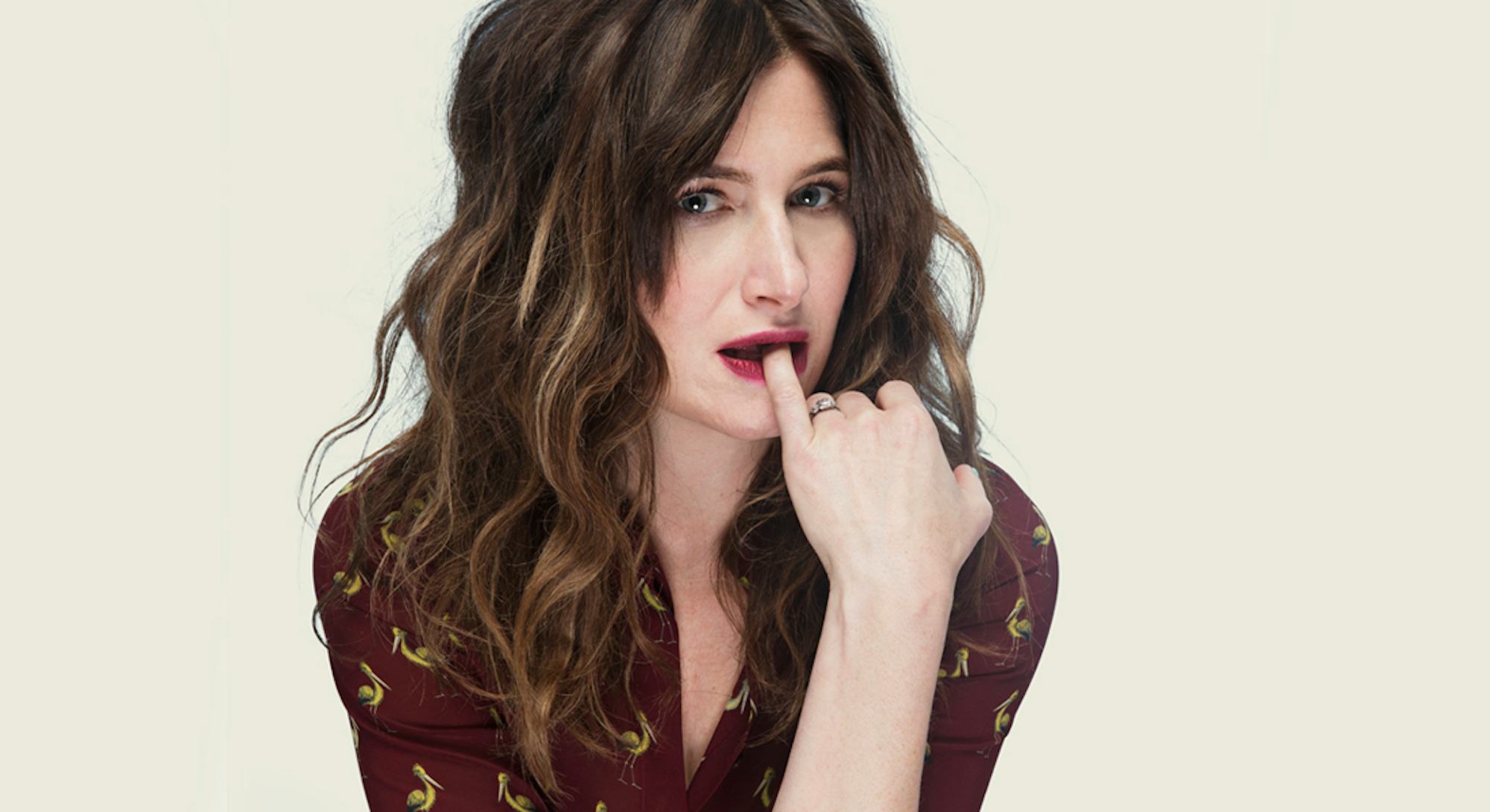 Ashley Batz/Bustle
In I Love Dick, Kathryn Hahn stars as Chris, an experimental auteur who moves from New York City to Marfa, Texas when her husband Sylvére (Griffin Dunne) lands a prestigious fellowship at a local artist's institute. Chris becomes instantly enamored with the program's leader, Dick (Kevin Bacon), leading to revelations about her marriage, her sexuality, and her artistic self. Here, Hahn explains how a charged hotel encounter with Dick shifts everything for her character and challenges how female sexuality is typically expressed onscreen, as told to Entertainment Writer Dana Getz:
In the episode "The Barter Economy," whatever power Chris has gained through this obsession has started to spiral away from her. She's built this world in her mind about how things are going to unfold when Dick finally comes to her, but it simply doesn't align with reality. On set, we laughed a lot about what the idea of romance is, and how many "lovemaking" scenes in film and television have been shot with gauzy white curtains and a thousand pre-lit candles. There's something about the expectation of what we think those scenes would actually look like in real life, and I love that this episode does away with the fantasy.
When Dick shows up at her room, Chris is standing there in a towel with a Biore strip on. And she knows that she's got some scrambling to do to try to reset the course. She's built their coupling up for so long through her obsession with him, and she's just desperately trying to keep that fantasy alive. Our showrunner, Jill Soloway, kept saying, "I want you to put your clothes on, and then keep trying to take them off for him." Chris just wants Dick to ask her to strip, and he won't do it. He never takes the bait, and the physical vulnerability makes it so humiliating for her.
So I think this is where she starts to realize it's not about Dick or Sylveré, it's about her.
Later, we find out that Chris was essentially bartered away and given to Dick by her husband, which is a huge betrayal for her. When she confronts Sylvére, you feel two things. Because for a viewer, Chris is maddening. How could she not see how selfish her actions have been toward her husband? But at the same time, Chris doesn't belong to Sylvére. It isn't actually up to him to give anyone else permission to be with her. It's so bat-sh*t crazy that this was decided for her by two men.
Chris's identity, her whole life since meeting Sylvére, has been being his wife. And on set, we talked about how Sylvére was Chris' first Dick. She married this older guy, and she had to hustle in her 20s to find stupid jobs to keep his writing afloat. She was always supporting him, and in return, he only gave her his half-assed support for her own art. She had no foundation of confidence, because it all came from the outside — from his gaze. Her desire for Dick is the first thing she's really claiming as her own, and in that moment where Sylvére gives his permission to Dick to sleep with her, he takes that ownership away from her.
I think the letters that Chris wrote to Dick allowed her to express herself in a much more complicated, articulate way than she ever could in person. And when Dick decides he's going to be the aggressor and give her what he thinks she wants, he's just putting Chris on the spot. Up to this point, it's been easier for Chris to yell at him about art and to try to have these theoretical and philosophical discussions. That was hotter foreplay for her than the two of them actually being together in a hotel room. It's just two bodies looking at each other, and it's not as satisfying as she thought it would be. Everything is crashing down on her.
This scene is where she starts to realize it's not about Dick or Sylveré... it's about her.
And you start to see Dick understanding that Chris actually doesn't care what he thinks at all. She wants so desperately to claim her own desire, and Dick is just the vessel for that. But Chris has no control over this situation; Dick just shows up. Her narrative is being wrestled away from her, and she's suddenly grasping to hold onto it.
So much of I Love Dick is about this unnamable need to just be loud and to be seen. And after Chris sort of vomits her letters to Dick all over town, it really does feel like there's this muscular shift in all of the women. Devon has moved past found text to create her own art. Paula is taking charge of the gallery, where she used to chase Dick's approval with her selections.
We know by this point in the show what Dick has represented to each of these women, and we start to see that crumble. We start to see him crumble.
And as the fantasy of Dick finally shatters, these women start to find and harness their own voices.
Hair: Christopher Naselli using Evo at Starworks Artists
Makeup: Matin for Chapstick at TraceyMattingly.com