How I Tailor Holiday Fragrances & Beauty Moments To My Favorite Winter Destinations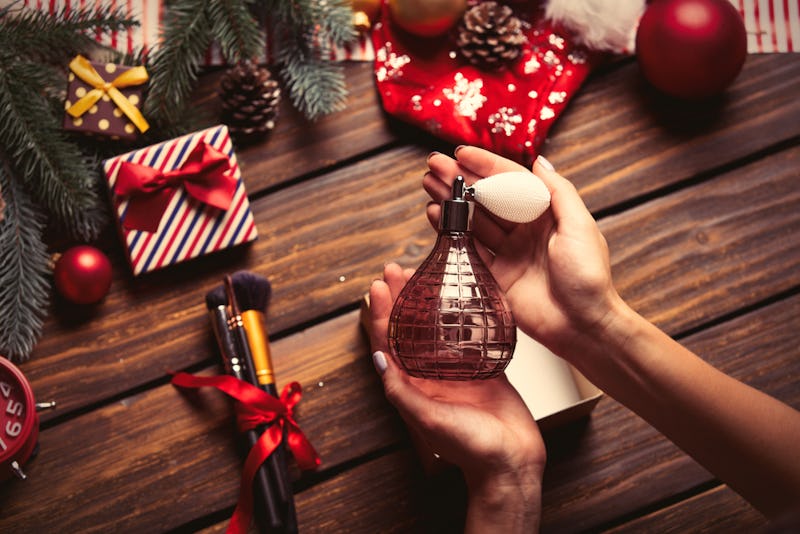 SimonVera/Shutterstock
We're sharing what makes the holidays special in partnership with Macy's, from fragrance and fashion to home decor and jewelry.
Growing up in the perfectly-mild, forever-70-degrees climate of Southern California, my most nostalgic olfactory memories definitely are not your average. Replace the crisp, icy air after winter's first snow with a gentle, salty ocean breeze, and swap out snowmen with carrot noses for surfboards layered in sweetly-scented waxes.
Equally important in my memories of the holidays are the more traditional aromas that cut through the delicate scents of a California's coastal climate: the decadence of my mother's overnight french toast baking in the oven on Christmas morning, the inviting smoke of my father's burning fireplace, freshly brewed coffee, and the gardenia-enveloped hug from my aunt at family dinner. Together, these moments shaped my holiday memories, and they're what ultimately guides me when shopping for fragrances as an adult.
Now that I've moved across the country into a polar-opposite climate, I always look for ways to remind myself of my favorite scents from home, especially during the holidays. I've realized that no matter what I have planned come end-of-year, it's easy for me to bring these aromas along by selecting specific fragrances that highlight notes from the holidays at home. But depending on where I'm heading—whether it be to the tropics, to a snowy shelter upstate, or simply out for a night on the town while half the city is elsewhere—I can easily pair my favorite holiday fragrances with a beauty look fit for my destination. Explore my ideal holiday destinations ahead, and discover how I pair them with my favorite fragrances and beauty looks.
Carribean Getaway: Rich Ouds & A Deep Red Lip
If you're living in New York, the Bahamas are much closer than you think and make for the perfect mid-winter getaway. When heading to a tropical destination during the holidays—since I know I'll be satisfying that oceanside olfactory craving—I keep my fragrance rich and my beauty look simple. The deep ambers and woodsy notes of Narciso Rodriguez for her is my scent of choice. It brings to life my nostalgic fireside memories at home, even when I'm so far from it. Paired with a classic beauty look (an all-over glowy complexion, bold lashes and a deep red lip), I allow this rich fragrance to speak for itself.
Upstate Escape: Fresh Citrus Notes & Glossy Lids
A snowy holiday destination is unbeatable for so many reasons: Queue the faux-fur jackets, thick knit sweaters, cashmere scarves and warm fireside beverages. I know I can expect decadence in all forms when heading to a snowy destination like upstate New York for the holidays, so I always opt for light, fresh fragrances that remind me of California, like Dolce & Gabbana's Light Blue with cedar, citrus, jasmine and amber. Because my fragrance is subtle, I heighten my beauty look with highlighter and eye gloss. When sitting fireside, taking in the scent of burning firewood and fresh pine, these west coast aromas take me back to my favorite memories at home.
Dinner in the City: Decadent Vanilla & A Smokey Eye
Staying put in the city during the holidays is usually a last resort, but one that comes with so many benefits: The streets are quiet, the restaurants less crowded, and the energy much more at ease. For a night out to dinner in the city during the holidays, I reach for a fragrance a bit more decadent like Tom Ford's rich and spicy Black Orchid. My beauty look reflects this theme with a messy smokey eye, subtle blush, and a glossy lip—an indulgent combination that complements the evening's plans.
This post is sponsored by Macy's.