How I Went From Graduating During The Great Recession To Getting Paid To Travel The World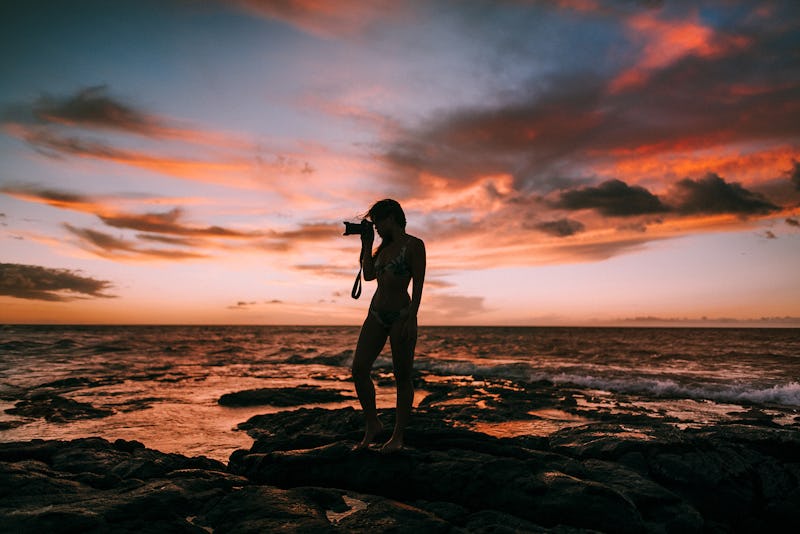 Courtesy of Amy Seder
At 32, I am the last generation that grew up in the "live your dreams" era of America. We were taught that if we went to college and worked hard, we could be anything we wanted. I believed what I was told, did the work, and skipped my way down that path. In August 2008, I turned 21, graduated with a shiny new degree in fashion photography, and moved from my California home to New York City. I had completed all the steps and was pursuing the career I'd been working towards since I was 14. It was finally my time!
Immediately after graduation, I packed up my portfolio and arrived in New York. But a couple months later, news of the Great Recession was everywhere, and it felt like everything I was working for was crashing down. Even in the best of times, photography has never been an easy field to get into, but as I tried to set out on a career, magazines were closing all around me, print media was struggling, and the whole industry appeared to be falling apart at the seams. I had reached the end of my plan, but soon realized I needed many more steps.
Through school, I was told that the best way to break into commercial photography was to start as a photo assistant. What I was not told was that photo assistants are almost exclusively male, and it took awhile to realize that path was not going to work for me. While some aspects of photo assisting are physical, it was nothing that I couldn't do. However, as a young woman, no one would hire me. This has still not changed, and I have continued to almost always be the only woman on the photo team.
I started looking elsewhere, and finally found a full-time job as an office manager for a photo agency, which illuminated the changes in the world around me: budgets were getting slashed, layoffs were abundant, everyone who was already established in the industry was clamoring to keep the jobs they had, and no one was moving up.
A year later, I was laid off too, and prospects felt even worse. I only got a response for one out of every 30 resumes sent. I once spent a week picking out an outfit for a dream job interview at a fashion magazine. I sat in the lobby for two hours waiting, and the interview lasted barely three minutes. I cried the entire subway ride home. I considered leaving New York altogether; I kept thinking, at what point do I just call it? This is supposed to be the time of my life, but I was miserable, lost, and alone.
Finally, I landed a job as a studio manager for a commercial photographer, and it was that job that taught me how to run a business. I started with an incredibly low salary, but I didn't care — I was so happy to just get a job. I got a raise, and then another, and eventually started making over $50,000 for the first time. I was so used to stretching my dollars for so many years, that feeling OK spending anything at all was a difficult change. However, soon after starting, I had to accept the hard realization that shooting fashion was no longer my ultimate goal, even after spending so long working toward it. I stopped shooting altogether for a year or two, and focused on enjoying life, and my career in production.
Before long, I started dating Brandon, my now-fiancé. Neither of us had traveled much before, but from the beginning of our relationship, traveling was at the center of it. One of our first dates was a road trip up to Big Sur, despite barely knowing each other. I had previously only traveled on school or family trips, and the idea of being able to just book a flight was so foreign to me, but Brandon and I started taking every chance we could to travel somewhere new. From the beginning, we always took photos together, and traveling and shooting became a big part of our lives — without thinking that it would be something we could ever monetize.
Traveling began filling me with passion again, and we started shooting more and more. We had both always been interested in film, but knew absolutely nothing about what went into creating videos. In the spring of 2015, we went to Hawaii and haphazardly filmed our first travel video together on my old photo camera and a phone. The process got us both hooked. We bought new cameras, we learned about stabilizers and frame rates and drones, and we spent our entire summer filming everything we could. Brandon was working in finance but hated what he was doing, and despite being well-established and making good salaries, we both felt like our careers were going nowhere. We realized we were working just to afford travel, booking our flights almost a year in advance. So we decided to make a change.
That June, we sat out at the Brooklyn waterfront, sipping wine out of plastic cups, and mutually decided to travel full-time and see if we could somehow make it sustainable through creating photo and video. We gave ourselves a full year to learn, plan, build a website, and formally form a company as Away Lands. We started saving as much money as we could, and set a goal to save up $25,000 between the two of us. We had previously booked a trip to Thailand and Bali, but with our new plan we decided to utilize our upcoming trip to create our first real video. That video was posted in March 2016, and we were immediately hired to shoot a tourism commercial in Vermont. We couldn't believe that our plans were starting to work!
It was at this time that I started focusing on Instagram as well, and I had no idea how many opportunities that would open up for us. I had dabbled in blogs and social networks and building followings on early internet sites since basically the dawn of time, but I never set out to be an influencer. I always loved creating, and as my following and Brandon's following started to grow, we embraced it for the opportunities Instagram began bringing us.
We moved out of our New York City apartment on September 1, 2016 and took off for two and a half months across Southeast Asia. I emailed thousands of hotels and asked if we could make videos for them for free, as a way to sustain our travel and build a portfolio, and enough of them agreed. We came home just before Christmas, and started getting (very low, at first) paying projects by January.
In the three years since we've left New York, we have travelled to 35 countries — from France and Italy to Ethiopia, Sri Lanka, and South Africa to Fiji and the Maldives. We've gone from filming just the two of us on my old camera to building out a real cinema rig, and now sometimes directing on sets with 50 or more people.
A lot of commercial photographers scoff at social media, and hate the changes the industry has made. Yes, a lot has changed, but I am proud to be a part of this new media world. It is no longer the boys club I tried to enter in 2008; social media is often female-dominated and led in a way that photography never has been before.
We had no idea what was going to happen when we left New York, but I don't think either Brandon or myself dared to visualize what being successful would look like. Making money the first year or two was very slow, and took an incredible amount of work, but we have now surpassed the salaries we made in our previous lives.
I graduated from college and entered the workforce at a time when the whole country was in financial turmoil, and tried to make my way in an industry that was in a free fall. Now, I feel like I created my own dream job. Not only do I get to create my own shoots, but I have the chance to appear on-camera in them and still have creative control. And then to make a living while doing everything I've ever loved? It's a dream I never thought could be possible.
This post is sponsored by Visa.