Why ICE Needs To Stop Deporting People From Courthouses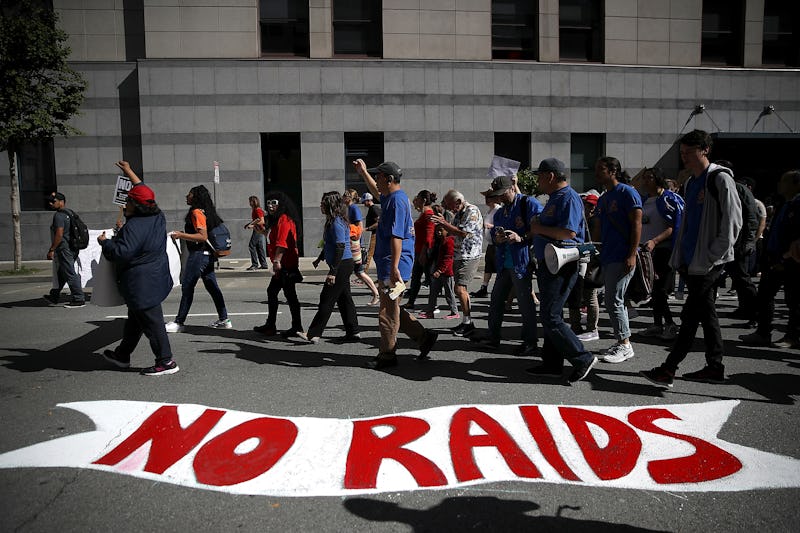 Justin Sullivan/Getty Images News/Getty Images
Ever since Trump was inaugurated in January and issued his executive order undoing Obama's protections of undocumented immigrants, the number of arrests in courts across the country have gone way up. And that's problematic for the entire system. Immigrations and Customs Enforcement would have you believe that this makes us all safer. But the opposite is actually the case: ICE's courthouse arrests are undermining the criminal justice system and putting all of us in danger.
The exact numbers are not known. In general, though, immigration arrests are up by 38 percent in the first months of 2017, and the news has been filled with stories about arrests at courthouses, from permanent residents who have lived in the country for 20 years to transgender victims of domestic violence, and many cases in between.
One of the most recent occurred in Nashville, Tennessee last week, when a man showed up to court for an arrest for driving without a license. ICE met him there with an arrest warrant and took him on the spot. It sure makes the traffic ticket seem scary.
The concern, then, is that immigrants won't feel safe enough to turn up in court. Obviously, this is a concern for undocumented immigrants, but now legal immigrants are worried too. Stan Germán, executive director of New York County Defender Services, explained to the Daily Beast that many of his clients with legal status are afraid to attend their day in court because ICE could show up and send them back to their country of origin. "People just don't know, and they hear so-and-so went to court and got deported, and that kind of stuff spreads like wildfire," he explained.
And that could completely undermine the whole justice system. That's obviously true of victims of crimes, like the trans woman in El Paso who was arrested while trying to protect herself from an abusive partner. But it's also true of people who have broken laws, be they big or small. The system works only when people can show up to court, face what they did, and do their time. If people get deported at some point in the process, where is the justice?
Plus, there are court cases that have no victim. According to Pete Mancina, an anthropologist with a PhD from Vanderbilt University who studies migration and sanctuary cities, immigrants have stopped showing up for family court too, even though ICE hasn't started targeting people there for arrests. "Immigrants are afraid to go to family court to stabilize the future of their children because it could mean them getting deported," Mancina tweeted.
Court systems across the country have asked the federal agency to stay away from their courtrooms, but so far those requests have been ignored. State supreme court justices in states like Washington, California, and New Jersey have all asked ICE to stay away, but the department has ignored those calls.
This is so controversial that ICE already has a Q&A section published on their website regarding the courthouse arrests. The agency avoids arrests in sensitive areas, which include schools, hospitals, places of worship, and at protests. Courthouses are not considered sensitive, and they most definitely should be. ICE's explanation is to blame the matter on sanctuary cities and law enforcement that doesn't cooperate with ICE:
Now that some law enforcement agencies no longer honor ICE detainers, these individuals, who often have criminal histories, are released onto the street, presenting a potential public safety threat.
But does arresting victims of domestic abuse make you safer? I don't think so. Nor does making perpetrators flee the system. The only solution to all of this is comprehensive immigration reform that provides a pathway to citizenship and allows those living in the country to participate in the criminal justice system without fear of deportation.
Because as much as Trump would like you to think he's making Americans safer with his focus on deportations and the Victims of Immigration Crime Engagement, the exact opposite is the case. Call ICE today and let them know that courthouses should be considered sensitive areas. Then call your senators and representative to let them know that immigration reform can't wait.