How Indiana's New Abortion Law Could Put Doctors Behind Bars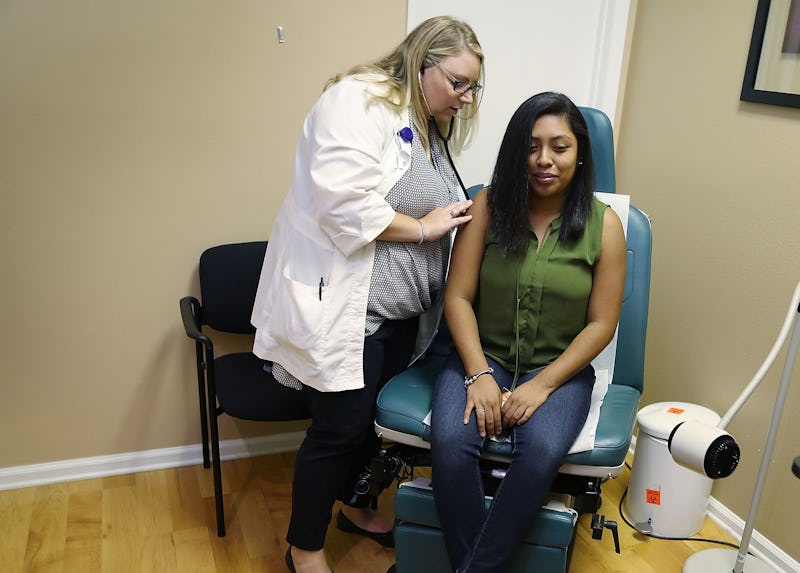 Joe Raedle/Getty Images News/Getty Images
Becoming the latest state to crack down on a woman's right to choose, Indiana passed a new abortion law — and it's a pretty shocking one. Beginning in July this year, women in Indiana that are suffering from potential "abortion complications" are required to provide detailed information about their abortion history to their care providers. If medical professionals don't report these details to the state, they'll face fines and possible jail time.
On Sunday, Indiana Gov. Eric Holcomb — who considers himself "pro-life" — signed into law Senate Enrolled Act 340, which dictates that medical providers treating women with any complications from abortions must report the age and race of the patient, in addition to the location and date of any abortion procedures in their past. According to the law, complications include physical ailments like hemorrhaging and blood clots as well as psychological disorders like depression and anxiety.
If healthcare providers don't give the State Department of Health that information on their patients, it's considered a Class B misdemeanor and they'll face a fine of $1,000 or up to 180 days in prison.
Supporters of the law, according to the Associated Press, believe it will ensure abortions are administered safely. But critics argue that the major complication rate for abortion is extremely low, occurring about less than a quarter of a percent of the time, according to a UC San Francisco study published in Obstetrics and Gynecology. That's about the same frequency as complications after colonoscopies, according to the Centers for Disease Control and Prevention.
Those against the law fear it will only make the stigma surrounding abortion worse. "It seems to me that this is an attempt to make this appear like a dangerous procedure, and it's not," Democratic Rep. Sue Errington told the Indy Star.
However, Holcomb believes this law is a step in the right direction. "This bill does what 27 other states have done," he said in a statement, "to gather information on these procedures without restricting access to them." According to the Guttmacher Institute, 27 states require providers to report post-abortion complications, though each law is enforced a little differently.
The American Civil Liberties Union (ACLU) in Indiana is reviewing the new law and will consider suing the state — which the group has done in the past when it comes to strict abortion regulation. Last year, the ACLU sued Indiana after Holcomb signed a law that made it more difficult for minors to obtain safe abortions. The law was subsequently blocked by a federal judge. The year before that, the organization sued after then-Gov. Mike Pence passed a law requiring women to hold funerals for fetuses, among other regulations. That law, too, was eventually blocked by a federal judge for violating a women's right to choose, the Indy Star reported.
"It seems like our Legislature's dead set on passing radical abortion restrictions every single year," ACLU Indiana director of advocacy, Katie Blair, told the Associated Press.
Meanwhile, anti-abortion groups are celebrating the new law. Indiana Right to Life, a nonprofit "dedicated to restoring and protecting the Sanctity of Life," according to its site, tweeted after the law was signed "BIG weekend for LIFE in Indiana!"
In addition to Senate Enrolled Act 340, Holcomb also signed legislation over the weekend that allows additional charges if a murder victim is pregnant. Senate Bill 203 mandates that murder and voluntary and involuntary manslaughter may be committed against a fetus in any stage of development, with the exception of legal abortions.
Both of these new laws are expected to go into effect July 1.