The Country's Largest Nurses' Union Says Trump Is Leaving Puerto Ricans "To Die"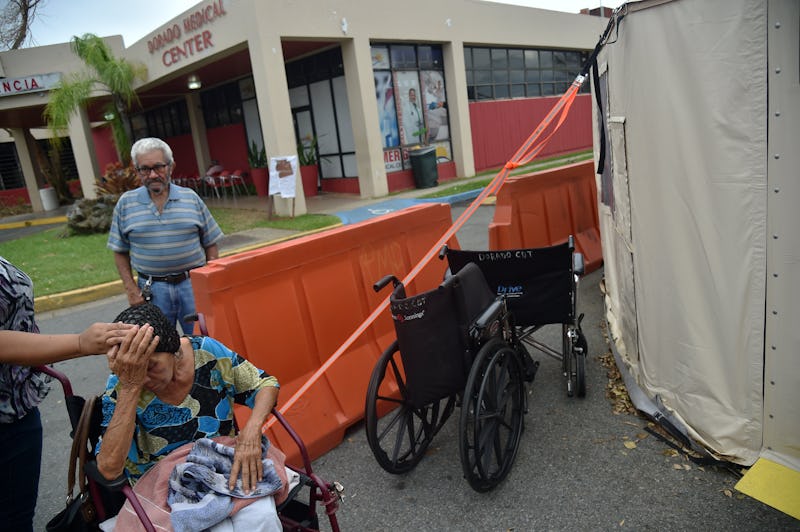 HECTOR RETAMAL/AFP/Getty Images
Six weeks after Hurricane Maria struck Puerto Rico with deadly force and left the island dark, the negative news about the situation for the island's residents keeps pouring in. Now, in a sharp criticism of the federal aide response in Puerto Rico, a nurses' union, via a representative on Capitol Hill, said that the response had had the effect of "delaying necessary humanitarian aide to its own citizens and leaving them to die."
The group, called National Nurses' United, had sent over 50 nurses to towns all over Puerto Rico, and they felt compelled to speak out after hearing reports of conditions that the nurses had seen. Bustle has reached out to both NNU and FEMA for comment.
Hurricane Maria hit Puerto Rico nearly 40 days ago, and it has now caused officially the largest blackout in U.S. history. Approximately 75 percent of the island's inhabitants still don't have power, and while the official data says that only 25 percent of people still lack running water, unofficial reports from the ground tell a much darker story.
With those statistics, the grisly stories that the nurses came back to tell are, while disturbing, unsurprising. Given that much of the island still lacks power, it makes perfect sense that, as they say, doctors would have to perform surgery using cell phone cameras for light and people all over the place would still be going hungry.
NNU is the nation's largest union of registered nurses, and 50 of its members had gone to Puerto Rico as a part of the NNU-sponsored disaster relief program, the Registered Nurse Response Network (RNRN). On Thursday, nurses returning from their volunteer stint in Puerto Rico spoke with Democratic members of Congress to criticize the federal response to the ongoing crisis in Puerto Rico.
"Many communities our nurses encountered had never seen anyone from FEMA. And for those Puerto Ricans that did have contact with FEMA, many did not receive a sustaining level of food or water," said Bonnie Castillo, director of the RNRN program.
"Our nurses were deployed across the island, in urban and rural areas, and returned with heartbreaking stories," said Cathy Kennedy, an NNU vice president who had been deployed to Puerto Rico along with the other nurses. "Many people they met continued to live in homes with roofs blown off, sleeping on soaking wet mattresses, black mold beginning to spread that can cause rashes, severe respiratory distress and other serious health problems."
Reports like this directly contradict the statements of President Trump, who has continued to claim that the federal response to the disaster in Puerto Rico has been excellent. "I would say it's a 10," he said last week, when the number of American citizens in Puerto Rico without access to water or power was even higher than it is now.
He has declined to comment on several of the pressing health issues that the nurses reported seeing with their own eyes, like the multiplying cases of leptospirosis in Puerto Rico, a bacterial infection caused by drinking contaminated water.
"People were so desperate for drinking water they were forced to make terrible choices," Kennedy said. "Do they suffer from deadly dehydration or drink from contaminated streams that could also lead to death?"
The president just signed an emergency aid bill that will send at least $5 billion dollars to FEMA's effort in Puerto Rico, but estimates say that Maria could have caused up to $95 billion worth in damage to the island. The NNU volunteer nurses are raising serious concerns, but they're not informing the administration of anything completely new. The response, quite simply, has been slow and inadequate — and millions of American citizens are suffering because of it.