Glossier Just Announced A MAJOR Change To Its Lipstick Line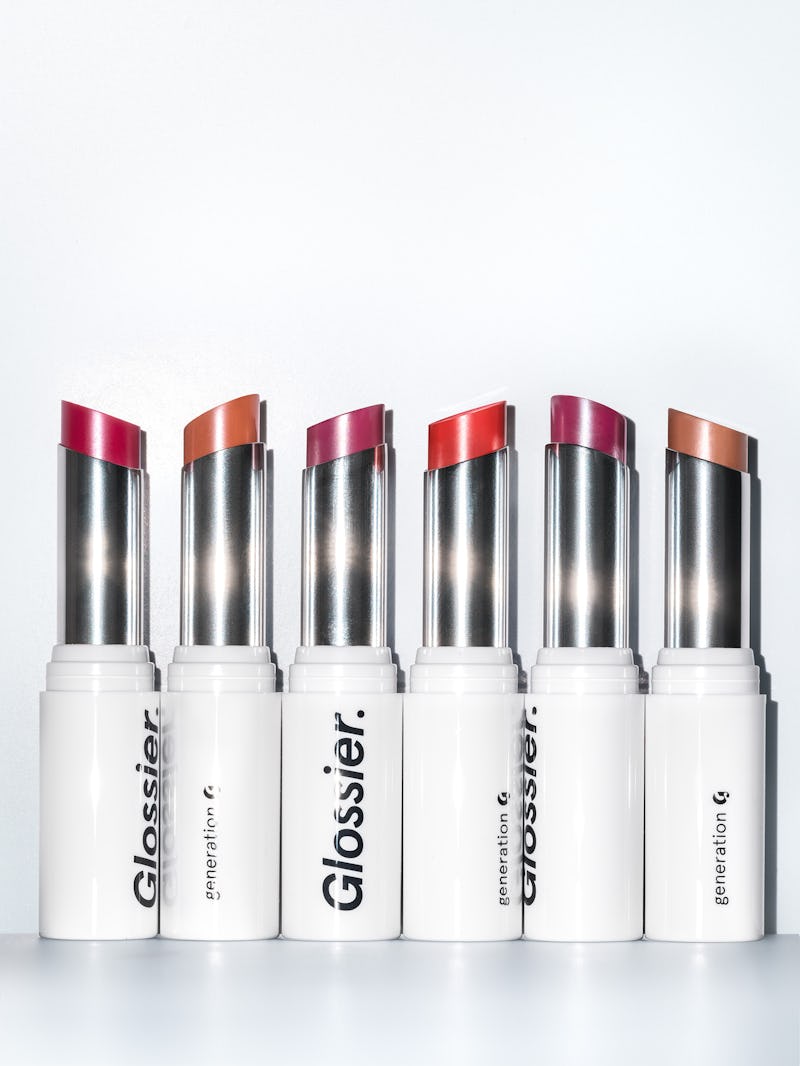 Courtesy of Glossier
Just when you thought Instagram's favorite beauty brand would ride the wave of its game-changing zit stick, it brought fans another fave. Upon the opening week of its first flagship retail experience in New York, Glossier reformulates its Generation G sheer matte lipstick. If you thought you couldn't love them even more, guess again, G-squad.
The original pack of Glossier lippies launched back in 2016, but fans made mention of the product's breakage. Though, today on the brand's Instagram, Glossier shared the deets on the lipstick's 2018 version of its revamped formula.
"The new Generation G sheer matte lipstick has a smoother, softer, more cushion-y texture that gives you the classic, diffused look, truer matte finish, and stronger, more luxurious packaging."
And the texture isn't the last of its powers. The wearability makes it so each user has a shade made just for them. The dubbed "just-blotted lipstick without the blot" look is remade in six of its most important shades to adapt to all lips, making the wearers natural lip shade shine through. Hence, the need for sheer. Your shade is your own, and that's a look no one cane steal.
Not everyone is ready to rock a bold lip for fall, so these more diffused pigments to serve something more natural is perfect on those Netflix & (literally) Chill days.
In the lineup of shades, the brand brings back a universal product for makeup girls who are always on the go.
The colors selected in this are pretty much made to appeal to literally anyone who wears lipstick. Glossier delivers fans "Cake" the subtle peach, "Crush", the hot raspberry pink shade, "Like," the light cool pink, "Zip," the poppy red, "Leo," the neutral cocoa brown, and "Jam," the deep berry. If you watch the demo videos the brand posted on its site, it's as if it made a shade for every one of your moods. So maybe make this your fall lip collection.
Glossier Generation G Sheer Matte Lipstick
If you're a Glossier fiend like most minimal makeup fans, then you're more likely to go ham and buy them all, rather than one-shade wearers. The cost won't burn your budget either as each one sells for $20. Thankfully, it's the holiday season, and the probability of there being a Glossier gal in your life is pretty high. So, there's bound to be some gifting opportunities in this relaunch.
While the Generation G stick claims a sheer finish, its totally buildable to get more pigment out of its tube. For a subtle wash of color, swipe it on once or twice, and if you're looking for a bigger color payoff, three or four swipes will do the trick.
The G-gang is back in full swing with its six new and improved lipsticks accommodating anyone who puts it on. Whether you're a makeup geek or not, this may be a lipstick everyone will gravitate to. Some days a full face with eyeshadow warrants something subtle and other "makeup no makeup" days look begs for a natural lip. When trying either look, reach for this lipstick.