Why Leta Lestrange Could Be Really Bad News For Newt Scamander In 'Fantastic Beasts'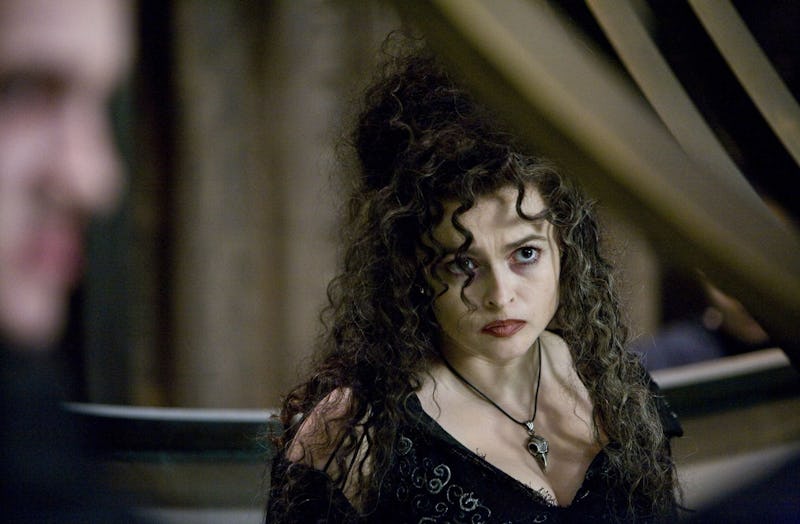 Warner Bros.
There are many new characters introduced in Fantastic Beasts and Where To Find Them, but one in particular seems poised to cause some major drama in the four forthcoming Fantastic Beasts movies: Leta Lestrange. It's not totally clear who she is or if Leta is connected to Bellatrix Lestrange, since they share a last name. But it's possible that Leta is Bellatrix's grandmother-in-law.
In Fantastic Beasts, Leta is not seen in-person, but rather in a photograph that Newt Scamander keeps in his briefcase. Their relationship isn't explained, but Newt says that the two haven't spoken in a long time. It's implied that he has romantic feelings for her that perhaps aren't reciprocated.
At a New York City press junket, Director David Yates hinted Leta will play a major role in future movies — which could throw a wrench in the blossoming romance between Newt and MACUSA agent Tina Goldstein. "Leta comes into the second movie," says Yates. "She's quite complicated, a little damaged, and confused... she's kind of tragic figure in a way."
Spoilers ahead. As fans will recall, Bellatrix Lestrange is the Death Eater in the original Harry Potter series, and was responsible for the deaths of Sirius Black, Nymphadora Tonks, and Dobby. Truth be told, she wasn't a very nice person, and she receives her just punishment in the final book of the series at the hands of Molly Weasley.
Leta, her presumed ancestor, is said to be the same age as Newt Scamander. That makes her about 29 years old during the events of Fantastic Beasts, which takes place in December 1926. There was also a pure-blood wizard called Lestrange who was born sometime around 1926. The wizard, a Slytherin, was a member of Tom Riddle's gang, and after Hogwarts, he became one of Voldemort's earliest Death Eaters. It is speculated that this Lestrange was the father of Rabastan and Rodolphus Lestrange — and Rodolphus just happens to be the husband of Bellatrix Lestrange.
It wouldn't be outside the realm of possibility to assume that Leta is the mother of this Lestrange, and Lestrange is the father of Rodolphus, and thus, Leta is the grandmother-in-law of Bellatrix Lestrange.
Only time (and the four forthcoming movies) will tell us if Leta has ties to Rodolphus and his wife, Bellatrix. But either way, prepare for some drama between the too good, too pure Newt Scamander and the maybe-not-so-good, possibly-not-pure Leta Lestrange.
*Editors Note: This post has been updated to reflect the accurate spelling of Leta Lestrange.