This Is How Mexico Wants To Help Harvey Victims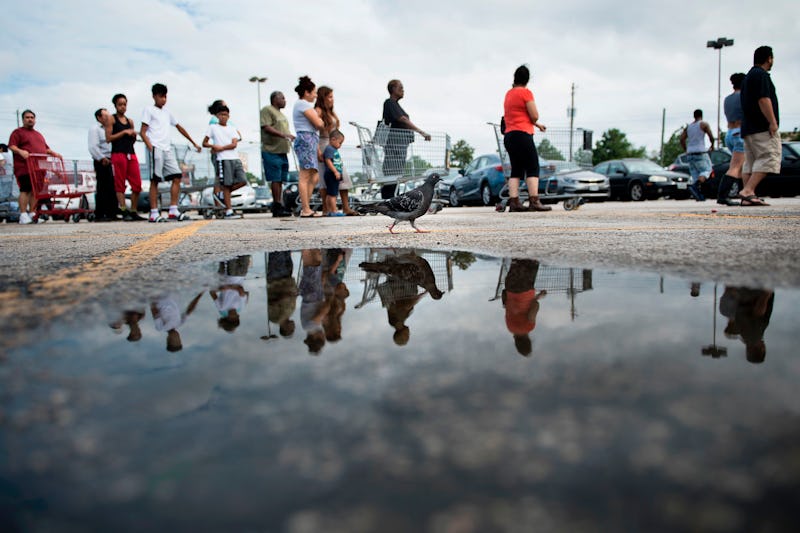 BRENDAN SMIALOWSKI/AFP/Getty Images
On Sunday, after days of catastrophic flooding throughout the great Houston area, Texas' neighbor to the south extended a helping hand. Specifically, Mexico offered to provide Harvey storm emergency assistance, making a diplomatic and humanitarian show of goodwill amidst a politically contentious relationship with the president of the United States.
For his part, President Trump has made no public comment on the offer, which raised concerns that his recent political saber-rattling might interfere with the acceptance of Mexico's offer. In a series of tweets antagonizing Mexico early on Monday morning, Trump dredged up his longtime rhetoric about renegotiating NAFTA and building a border wall that Mexico will supposedly fund.
According to a report from The Daily Beast early Wednesday morning, the State Department said in an email that the United States would "work with our partners, including Mexico" if the need for assistance arose, although another email from an unnamed Mexican official stated that neither Texas nor the federal government had answered the offer.
Later on Wednesday, however, Texas governor Greg Abbott announced that the Lone Star State will accept Mexico's help, not waiting on any further weigh-in from Trump, who left the state on Tuesday to head to Missouri to promote his tax cut plan. The real question now is what sort of assistance will be provided, and how long it will take to begin.
According to The Dallas Morning News, the Mexican government (by way of Carlos Sada, the undersecretary for North American relations) is offering to send drinking water, portable showers, food, medical supplies, and even soldiers to the stricken parts of Texas to help stabilize the situation and begin the recovery.
Needless to say, all of these things would be hugely helpful to the residents of Texas who've been displaced by the storms. With the offer just accepted by Abbott on Wednesday afternoon, it should theoretically be underway in relatively short order. Bustle reached out to Abbott on Wednesday to ask when the Mexican aid is expected to begin, and will provide any reply once it's received.
This latest aid offer is in keeping with how Mexico responded to the cataclysmic Hurricane Katrina in 2005, which ultimately left more than 1,200 people dead. Back then, Mexican president Vicente Fox (now a forceful and occasionally vulgar Trump critic) authorized the deployment of Mexican soldiers into Louisiana to assist with the recovery, medicines and supplies, and more than 184,000 meals.
In other words, providing this kind of humanitarian aid to the United States isn't new for Mexico, despite the fact that the current American president regularly treats the country as a rhetorical and political punching bag.
Granted the relationship between Mexico and the United States was a lot rosier in 2005 than it is now, given Trump's years-long history of statements about Mexican immigrants and the intentions of its government. But by all appearances, the tightening of tensions at the federal level hasn't dampened Mexico's willingness to help out it's northern neighbor under some deeply dire circumstances.