How Jane Austen's 10-Pound Banknote Is Secretly Witty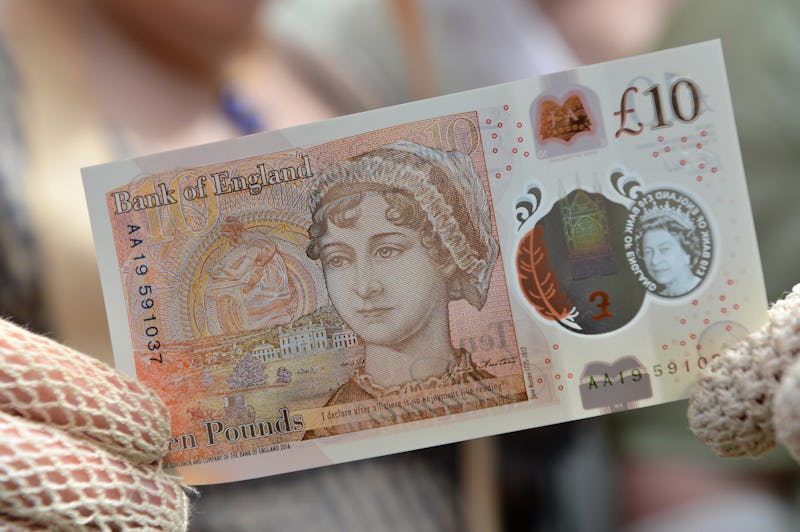 Pool/Getty Images News/Getty Images
Two-hundred years after Jane Austen's death, the acclaimed writer is making good money, literally. On Tuesday, the Bank of England unveiled a new, 10-pound banknote that features Austen, illustrations of her writing table and brother Edward Austen Knight's home, and a quote from her famed novel, Pride and Prejudice.
"I declare after all there is no enjoyment like reading!"
The banknote, like Austen's work, isn't devoid of humor — the selected quote, "I declare after all there is no enjoyment like reading!" was spoken by Miss Caroline Bingley, Elizabeth Bennett's rival who never actually enjoyed literature, instead only pretending to be a book lover to woo the wealthy Mr. Darcy.
Several people had already flagged the Bank of England about the irony of the quote, after a prototype of the note was released four years ago. In 2013, The Guardian also wrote a piece higlighting the misconstrued quote. Nonetheless, the Bank still chose Bingley's sentence for the banknote.
Currently, the only woman featured on currency in England and Wales is Queen Elizabeth II. The new banknote was designed to mark the 200th anniversary of Austen's death at the age of 41. She was chosen after Labour MP Stella Creasy and writer Caroline Criado-Perez launched a campaign for increased female representation, and she will be the first female author to appear on a British banknote.
She becomes the fourth woman to be featured on banknotes, compared to 14 men. Last year, controversy arose after the Bank of England announced Sir Winston Churchill would be featured on the 5-pound banknote, replacing prison reformer Elizabeth Fry.
"Our banknotes serve as repositories of the country's collective memory, promoting awareness of the United Kingdom's glorious history and highlighting the contributions of its greatest citizens," said Mark Carney, the Bank of England's governor, at Winchester Cathedral, where Austen is buried, on Tuesday. "Austen's novels have a universal appeal and speak as powerfully today as they did when they were first published."
Carney said the new bill, worth around $13 at current exchange rates, will be printed on polymer, for durability, and are set to enter circulation in September.
Austen, born in 1775, is known for novels like, Sense and Sensibility, Mansfield Park, and Emma. She died in 1817.