Jennifer Hudson Had A Ton Of '90s Inspo For 'Sandy Wexler'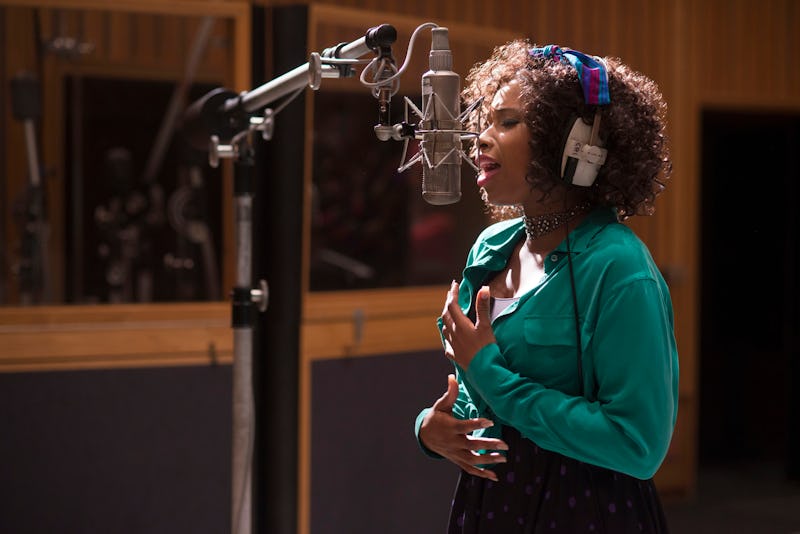 Glen Wilson/Netflix
Adam Sandler's latest film for Netflix, the '90s-set Sandy Wexler, is rife with pop culture references and cameos from some true Hollywood legends. There was one '90s legend, however, that left her mark on Sandy Wexler offscreen, becoming a part of the very DNA of one of the main characters. In order to play budding starlet Courtney in the film, actor Jennifer Hudson channeled Whitney Houston, with the late pop diva not only serves as a point of comparison for Courtney, but providing a major source of inspiration for Hudson.
"I'm the biggest Whitney Houston fan," Hudson tells Bustle during our phone interview ahead of the film's April 14 release. "[She's] is my absolute favorite. The film is based in the '90s and [Houston]'s the queen of the '90s. I asked [Sandler] and our director, Steven Brill, 'If you could give me a referral to an artist from the '90s, who would it be?' They said, 'Whitney Houston.'"
In Sandy Wexler, which Hudson reveals was was pitched to her as a "comedic version of The Bodyguard," the actor's Courtney is a talented singer who is discovered by the movie's titular Hollywood manager (Sandler) at a theme park. Sandy signs Courtney as one of his clients and begins throwing all of his effort into helping turning her into one of the biggest pop stars of the '90s. At one point, while meeting with record execs, Courtney is compared in both style and sound to Houston and Mariah Carey, which Hudson says helped keep her character grounded despite the wacky shenanigans she is regularly thrown into during the film.
Channeling Houston definitely didn't go to Hudson's head, either. "I'm just honored to be mentioned in the same breath as those ladies. So for that reason, it's amazing," Hudson says. The actor adds, though, that she knew balancing honoring Houston's spirit while being true to her own instincts would be tricky. "It can be tricky and difficult because I do get compared a lot to [them] today," she explains. "People go, 'Jennifer has a similar talent to [Houston] or [Carey] or Aretha [Franklin],' you know what I mean? Artists like that. But their time was the time for that type of talent, to be respected more and appreciated."
And while Houston may have had a role in helping Hudson get a better handle on Courtney, but make no mistake: the singer/actor served as her own inspiration, too. In order to connect to Courtney's character, Hudson searched for relatable parallels in her own life. "Just like Courtney got discovered in an amusement park, well, I used to work on a Disney cruise ship and my Disney director became my manager," she recalls. "My manager today, I call him 'Mr. Manager' and Courtney calls her manager 'Mr. Manager Man'."
"There's so many little things and big things," she continues, chucking at the comparisons. "Just the way her whole journey was throughout the story. It's so true how the music industry works." For instance, Hudson explains, "the thing where she's at the Grammys. OK, I just won a Grammy this past year. Or, like, going to the Pre-Grammy party. I go to the Pre-Grammy party every year. It was the kind of thing where I would get my lines mixed up with reality. I would go 'OK, guys, well, I would really go to these things, but it's called 'The Clive Davis Pre-Grammy Party' versus 'The Quincy Jones (whatever it is in the film).' It was so similar to my own story in so many ways."
All that Houston-channeling and drawing on past experiences definitely did the trick for Hudson in bringing Courtney to life. The star's performance in the film definitely helps fulfill that original "comedic Bodyguard" pitch, and will leave you dancing on a '90s cloud of nostalgia by the time the credits role.