How Joey King Is Avoiding A Career In Elephant Dentistry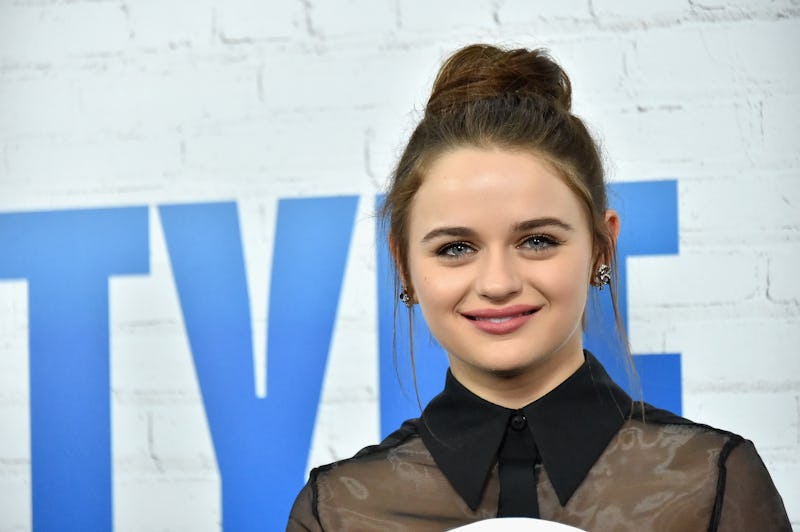 Mike Coppola/Getty Images Entertainment/Getty Images
If she wasn't an actor, Joey King would be an elephant dentist. It's definitely not a job you hear about everyday, but what's perhaps even more striking about King's secondary career choice is the confidence with which she talks about it. The actor recently went on a safari in South Africa and learned that when elephants lose their sixth set of molars, they can starve to death. "I heard that there are elephant dentists, who make prosthetic teeth for them so that they can live longer," she tells me when we speak at Bustle HQ in New York. "And I was like, 'Oh my god. If I'm not an actor ever in my life, which I hope that never happens, I'm gonna become an elephant dentist.'"
At 17, King's at an age where a lot of young women don't know what they want to do with their lives at all, but she is a talker and is self-assured when speaking about everything, whether that be elephant dentistry, the time James Franco helped her with a breakup, or playing Michael Caine's granddaughter in her latest film, Going In Style.
King has been acting since she was four years old (her first big starring role was in Ramona and Beezus in 2010), but right now things are really taking off — she has nine movies in various stages of production. Even though she's been doing this, basically, her entire life, and counts Franco and Zach Braff as close friends, she's still in awe of the people she gets to meet.
"I totally get star struck," she says. "I think it's really neat because I look up to so many different people."
Those people include the stars of Going In Style: Morgan Freeman, Alan Arkin, and her on-screen grandfather, Caine.
"Being around those guys, as much as it was exciting, I was like, 'Oh my god. What if they don't like me?' And they just put those thoughts at ease the minute I met them," she says. "They're such legends and they're so successful, and I just love the fact that they just stayed so humble and nice."
King has also stayed "so humble and nice" for someone who has had James Franco help her breakup with someone. The actor — who King describes as "one of those people who you don't quite understand the minute you meet them but then when you understand them you're like, 'Oh my god. I get it now'" — was there when she was ending a relationship via text.
"He was actually with me when I was writing the message out," she says. "And I was like, 'I don't know what to say. This is terrible,' and he's like, 'Calm down.'"
King says she, Franco, and Braff all grew close when working on 2013's Oz the Great and Powerful. "If I want advice on either something about my work or anything to do with my regular life, those two will always be there for me," she says. In the time since Oz, King has gone on to work with Braff on two more films, including Going In Style, which he directed, and with Franco on several projects, including the upcoming Zeroville.
While King is used to hanging out with celebrities who are much older than her, she, somehow, still seems like such a 17-year-old — and she relates to characters who are normal teens, too. In the upcoming The Kissing Booth she says, "I play this character named Elle Evans and she's kind of awkward and funny and doesn't really realize that she's gone through puberty yet. And when I read the script I was like, 'Oh my god. This is so me. She's so awkward. I love it.'"
King hopes she never has to put her plan B with the elephants into play, simply because she loves acting so much. "I love working, it's my favorite thing to do is to act. And to do what I love, nothing about that makes me nervous," she says. "I'm just nervous about hoping that people like everything."
And with her many upcoming projects and a little help from her industry friends, she can probably keep "making elephant dentures" pretty low on her to-do list for now.