JT's *NSYNC Days Affected His Parenting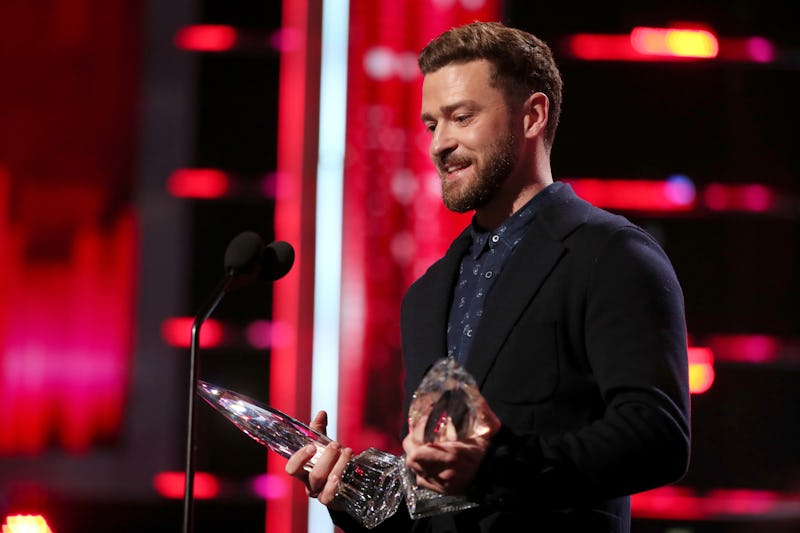 Christopher Polk/Getty Images Entertainment/Getty Images
If there's anyone in Hollywood who could teach a class on navigating life as a pop star, it's Justin Timberlake. But while his unmistakable talent helped him reach the pinnacle of success, the prince of pop is skeptical about his son following in his impeccably choreographed footsteps. In an interview with The Hollywood Reporter, Timberlake said that if his 2-year-old son, Silas, gets the entertainment itch, he'll be cautious.
"If he wanted it bad enough, I suppose I could teach him a lot about what not to do," Timberlake told The Hollywood Reporter. The "Can't Stop the Feeling" singer explained that he looks back on his years as one of the lead singers of the pop phenomenon *NSYNC with somewhat bittersweet memories. "We were on a stadium tour, and I just felt like the whole thing was too big," Timberlake said. "It started as a fun snowball fight that was becoming an avalanche."
The age-old story of too much success at a young age is practically Pop Star 101. However, it is quite striking hear from Timberlake how his experience as one of the biggest pop stars in the world shaped his parenting. He told THR of how his own past may have played a role in why he's overprotective of baby Silas:
"You go through your life with your own traumas, big and small, and think, 'It's not that bad, I have a lot to be thankful for, my parents did the best they could. But then you have a child of your own, and suddenly it opens all the floodgates, and you're like, 'No, no, no! That childhood trauma really did f— me up!'"
Timberlake went on to find success as a solo artist thanks to his multiplatinum albums Justified, FutureSex/LoveSounds, and The 20/20 Experience. He also parlayed his brief sketch comedy experience from his early days on The New Mickey Mouse Club at just 11 years old into a full-blown, genre-transcending acting career. By Hollywood's standards, Timberlake is basically a unicorn. But sacrificing a childhood for Silas is not on Timberlake's agenda. He told THR he's just trying to get the hang of fatherhood — although Hollywood is never too far away. "Watching him jump around to 'Can't Stop the Feeling!' starting to learn the words because of that song — it's the best thing in the world." The apple never falls far from the tree, I suppose.