Trump "Joked" That He Should Be President For 16 Years & It's SO Uncomfortable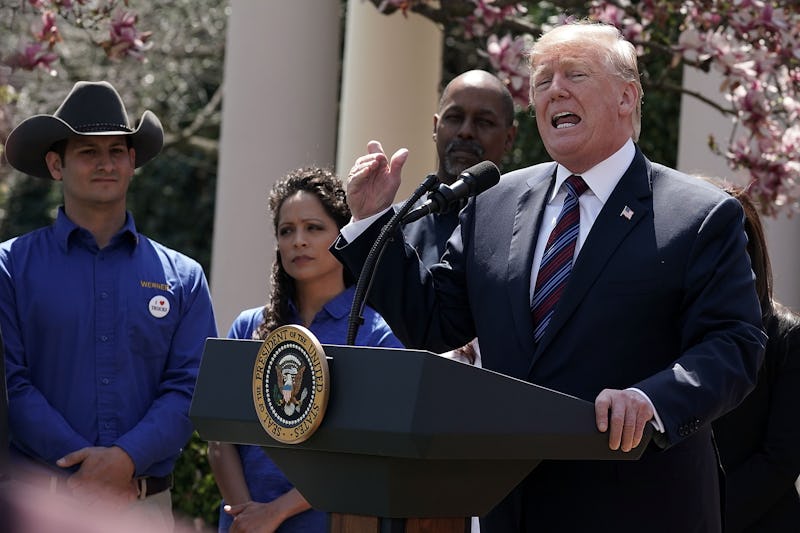 Alex Wong/Getty Images News/Getty Images
While speaking on the White House lawn Thursday, President Trump "joked" about being president for 16 years, and "jokingly" asked a nearby congressman about extending presidential term limits. It's not the first time the president has mused about the possibility staying in office beyond the limits imposed by the Constitution.
"We've cut more regulations in a year and a quarter than any administration, whether it's four years, eight years or, in one case, 16 years," Trump said, incorrectly implying that a U.S. president was once in office for 16 years. "Should we go back to 16 years? Congressman, can we have that extended? The last time I jokingly said that, the papers started saying 'he's got despotic tendencies!' No, I'm not looking to do it. Unless you want to do it."
Trump's "in one case, 16 years" line is presumably a misinformed reference to Franklin D. Roosevelt, the only U.S. president to serve more than two terms. But Roosevelt died only months after being elected to a fourth term in 1944, so he served 12 years rather than 16. After his death, Congress passed the 22nd Amendment to the Constitution, which states that "no person shall be elected to the office of the President more than twice."
Thursday wasn't the first time Trump has "joked" about becoming a dictator. In March, while addressing a change to China's constitution that allows its president to serve for life, Trump said that America might have to eliminate presidential term limits at some point as well.
"He's now president for life," Trump said of President Xi Jinping. "President for life. No, he's great. And look, he was able to do that. I think it's great. Maybe we'll have to give that a shot some day."
Moreover, Trump has often expressed great personal admiration for authoritarian despots. At various points in his presidency, he's praised Thai Prime Minister Prayuth Chan-ocha, who took power in a military coup; Philippine President Rodrigo Duterte, who once compared himself to Hitler and has admitted to participating in extrajudicial killings; Turkish President Recep Tayyip Erdogan, who's imprisoned journalists, judges, opposition leaders and lawmakers during his 16-year reign in office; and of course, Russian President Vladimir Putin, who's enacted over 50 undemocratic, authoritarian laws since 2012, according to a report from the Worldwide Movement for Human Rights. Trump even called North Korean leader Kim Jong Un, who rules the most oppressive state on the planet, a "smart cookie."
"Inviting these men to the White House in effect places the United States' seal of approval on their heinous actions," Rob Berschinski, senior vice president at Human Rights First, said of Trump's approach to dictators of the world. "Nothing excuses President Trump's clear inclination to reward mass murderers and torturers with undeserved honors."
In a recent interview on The View, former Secretary of State Madeleine Albright called Trump "the most undemocratic president we have had" in the country's history.
"We cannot have a president who believes that he's above the law, and that is what he's doing," Albright said during a conversation about the prospect of Trump firing Special Counsel Robert Mueller. "We can't have a president who doesn't tell the truth and is also taking in his own hands, the law." She added that Trump "is trying to undermine democratic processes."
Although it's illegal for a U.S. president to be elected to more than two terms, there are ways for an American presidents to serve more than eight years in office. A vice president who ascends to the presidency after the death, resignation or impeachment of a sitting president is eligible to run for reelection twice thereafter, so long as they assumed the presidency with less than two years remaining in the current term.
Additionally, a two-term president who later became vice president could theoretically become president again if the president they served under resigned. This has never happened, although that hasn't stopped some from dreaming.